Tix Corporation (OTCQX:TIXC) is a ticker broker based in Las Vegas, Nevada. Since inception, they have sold >13mm discount tickets, offering customers the biggest discounted tickets for every show in Vegas. The company has been serving Vegas customers since 2002, operating out of 11 ticket booths. Finally, TIXC has bought out all competition in Vegas. They are now the only game in town.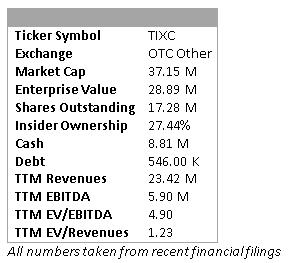 Investment Thesis
TIXC is a cash-generating, undervalued microcap. With zero direct competition, the company has more than enough potential to continue producing cash at double-digit margins. Furthermore, the strong balance sheet protects investors from an unwanted/unprecedented downside.
Why Does the Opportunity Exist?
There are a few reasons why an opportunity for an investment in TIXC exists. The most obvious is due to the absolute small size of their market cap coupled with the OTC listing and low volume traded per day/month. Another more subtle reason why the opportunity exists is from negative corporate governance overhangs.
In the past, upper management took hefty salaries, greenmailed shareholders and initiated a poison pill. For detailed information on these past negative actions from management, read this article on the Value Investor's Club.
Today, there are still some uncertainties with regard to management, such as higher-than-average salaries and disgruntled employee reviews on Glassdoor. However, I feel like management is taking a step in the right direction with their recent quarterly dividend program.
Governance uncertainties are always a huge issue when it comes to equity investing. However, in my opinion, these issues are overblown.
Valuation
TIXC presents itself as an undervalued company on an absolute basis.
| | | |
| --- | --- | --- |
| | EV/EBITDA | EV/Revenue |
| TIXC | 4.90 | 1.23 |
Furthermore, since the company's turnaround, they have successfully expanded margins, with the potential of stable double-digit profitability to continue.
| | | | | |
| --- | --- | --- | --- | --- |
| | TTM | 2014 | 2013 | 2012 |
| Gross Margins | 60.0 | 58.4 | 57.7 | 57.3 |
| Operating Margins | 22.42 | 19.64 | 7.61 | 8.31 |
| EBT Margins | 22.34 | 18.72 | 7.13 | 8.01 |
| Net Income Margins | 21.42 | 18.28 | 7.10 | 5.65 |
For being the only player in town, TIXC has created a monopoly. This is very valuable, to an extent. Investors should realize that TIXC does have a monopoly and is immensely profitable, but there are low barriers to entry. How long will this $100 dollar bill be lying in the street before someone picks it up?
However, as long as TIXC remains unscathed, it will continue to produce a very good return for shareholders.
| | | | | |
| --- | --- | --- | --- | --- |
| | 2015 | 2014 | 2013 | 2012 |
| FCF | 6,442,000 | 5,575,000 | 1,602,000 | 4,388,000 |
| Shares Outstanding | 17,741,834 | 18,347,168 | 23,641,083 | 24,374,724 |
| FCF Per Share | 0.36 | 0.30 | 0.07 | 0.18 |
| Current Share Price | 2.15 | 2.15 | 2.15 | 2.15 |
| FCF Yield | 16.74% | 13.95% | 3.25% | 8.37% |
What is even more interesting, and shows that the market either doesn't know or care about it, is the recent quarterly dividend announced in 2015. With a quarterly payment of $0.05/share or an annualized payment of $0.20/share, the dividend is yielding 9.22%. If the program continues (which it should), investors should expect the company to pay out ~$3.5mm in dividends going forward.
The current FCF run-rate is more than enough to continue funding this program and will allow the company to continue building up their impressive cash position (cash equals ~24% of the market cap). Furthermore, with $30.5mm in NOLs, the company should continue to keep their tax rate percentage in the low single digits for years to come.
| | | | | |
| --- | --- | --- | --- | --- |
| | TTM | 2014 | 2013 | 2012 |
| Tax Rate % | 4.11 | 2.35 | 0.32 | 1.49 |
Even if the company's TAM is maxed out, with a FCF run-rate of $6mm-7mm, an investment in the company will pay itself off in around 4-5 years on the basis of the current EV. There is no arguing that the company is undervalued.
What is interesting is that there have been multiple parties who have wanted to take it private. First, Baker Street Capital tried taking the company over in 2011 at $2.10/share, a 56.7% premium at the time. Management denied the takeover attempt and this is when the drama with the greenmail/poison pill started. Then in 2012, Mitch Francis, the CEO, offered to take over the company at $2.25/share. Needless to say, the deal ended up falling through.
Think about it: who wouldn't want to take this company private given the monopoly, high FCF and undervaluation? Even at $5.00/share, the company's FCF yield would be a solid 7.2%.
Applying an 11.00x P/E ratio on an expected $0.40/share earnings, would mean an estimated share price of $4.40/share. An 11.00x P/E ratio is pretty conservative given the fact that the company has a monopoly, is very profitable and pays a respectable/stable dividend. Moreover, the expected $0.40/share EPS is also conservative given the fact that it is only 11.11% higher than the 2015 EPS.
Furthermore, the absolute high NOLs will help shield TIXC's bottom line for years to come. This will allow the company to continue building up their impressive cash position and/or pay a dividend. Finally, with almost zero debt on the balance sheet and a cash position that makes up 23% of the market cap, the downside is limited and an absolute loss is low to nil.
Things to Like
EVC Group is TIXC's IR firm that recently started covering the company on February 1, 2016. I spoke with Brian Moore from EVC Group about TIXC. I find it interesting that EVC Group has just started covering TIXC. It could be a catalyst if they start, for lack of a better word, "promoting" the company. Remember, TIXC flies pretty much under the radar. Exposure due to an IR firm's efforts could provide for short- to medium-term price movements.
The company's competitive advantage over new entrants into its business are the relationships that Mitch has built with the original ticket producers -- the secret sauce. Furthermore, every company that has tried to enter the playing field has failed. There is also a patent that further protects the company's business model.
If the reason for the competitive advantage is Mitch's relationship with the ticket producers, he may deserve the high salary he takes (it could be correlated to a geologist's salary for E&P producers). Additionally, the past greenmail and poison pill makes more sense now. Think about it: if Mitch was oustered from the company and Baker Street Capital came on board, would the relationships with the ticket producers go down the drain? Just some food for thought.
Another catalyst for short- to medium-term price appreciation is an increase in the quarterly dividend. Currently, TIXC is more than able to continue paying their quarterly dividend, and even raise it a bit. I believe that if the company raises the dividend in the next year or so, it will provide for additional capital appreciation.
The company has more than enough cash and FCF to jump into another market (think New York or Chicago). If the company is successful in opening another discount ticket booth in New York or Chicago, their TAM will only increase.
I am also currently in the process of chatting with TIXC's CFO and CEO. At management's discretion, I may be able to do a recorded interview. If a recorded interview is out of the question, I should still be able to provide a better context of the company's competitive position and plans for future revenue growth.
Risks
In reality, there are zero barriers to entry into TIXC's business. Even just a minuscule amount of monetary assets can buy someone a ticket booth. However, the company could have built up decent intangible value (through customers and ticket suppliers), which could protect them from potential competitors. Also, if another company does open up shop downtown, TIXC has more than enough potential to buy them out given their cash generating ability.
A hole in the thesis could come from a smartphone app. First, to make things clear, a smartphone app does not compete with TIXC, at least not yet. However talking to Brian, he and I both have concerns that a smartphone app could be developed. This could potentially hinder ticket sales (think how online shopping has decreased in-store foot traffic).
This could wholly destroy TIXC's business model in the worst case scenario. Research needs to be done to find out who the main customers are (locals or people out of town who come to Vegas maybe once a year). If it is out-of-towners, a smartphone app wouldn't be as game changing. If the majority of tickets sold are to locals, then a smartphone app could cause more damage. I believe that TIXC will start developing a smartphone app of it own to shore up that portion of the market against potential competitors.
A recessionary period may also be damaging to TIXC's topline. However, in the past recession, TIXC managed to growth their ticket sales, despite declining numbers of Vegas visitors.

Source: Created By Nicholas Bodnar
Also, Vegas visitors only fell a small amount during this time. Sure, gaming revenue fell to the low double digits, but ticket revenue actually held its ground pretty well. To me, this suggests that during recessionary times, individuals will not gamble as much, but instead go to shows, and by necessity, continue to buy tickets for those shows.
Another risk is the past governance issues explained above, which will continue to act as a concern for investors.
Conclusion
Despite these risks, TIXC is just too cheap to ignore at its current valuation. With a stable ~9% dividend yield and a high FCF yield, an investment in TIXC will pay itself off in 3-4 years. Moreover, I believe that investors will start to recognize the value in TIXC's share price in due time. Also, the recent IR coverage should help to provide additional visibility for the company. All in all, I believe that investors will do well holding this name due to the stable high dividend coupled with the potential for double-digit upside.
Disclosure: I/we have no positions in any stocks mentioned, and no plans to initiate any positions within the next 72 hours.
I wrote this article myself, and it expresses my own opinions. I am not receiving compensation for it (other than from Seeking Alpha). I have no business relationship with any company whose stock is mentioned in this article.
Editor's Note: This article covers one or more stocks trading at less than $1 per share and/or with less than a $100 million market cap. Please be aware of the risks associated with these stocks.