It's the best of time for Alphabet's (NASDAQ:GOOG) (NASDAQ:GOOGL) Google, which delivered a 2015 op. profit of $23.4B on revenue of $74.5B (+13% Y/Y). And if recent reports are accurate, it might be the worst of time for some parts of Alphabet's "Other Bets" reporting segment, which posted a 2015 op. loss of $3.6B on revenue of just $448M (+37% Y/Y).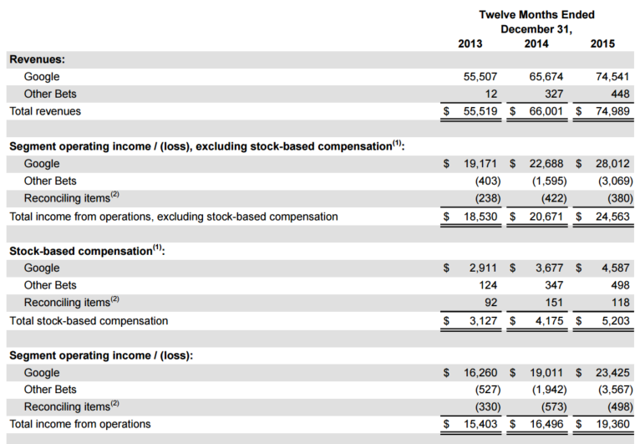 Source: Alphabet's Q4 earnings report
Boston Robotics, Nest, and Verily
Bloomberg reported two weeks ago, Google plans to sell its Boston Dynamics robot unit, which until recently was part of its broader Replicant robot initiative, after Boston execs proved reluctant to work with Google robot engineers in California and Tokyo, and Alphabet execs concluded Boston "isn't likely to produce a marketable product in the next few years."
Moreover, Bloomberg noted Replicant has been folded into the Google X long-term R&D unit, and that the initiative has been "plagued by leadership changes, failures to collaborate between companies and an unsuccessful effort to recruit a new leader" since former chief Andy Rubin left in Oct. 2014.
Meanwhile, smart thermostat/smoke alarm maker Nest, which Google spent $3.2B to acquire in 2014, has seen major employee defections at its Dropcam home camera/cloud video recording unit, which was acquired for $555M a few months after the Google deal closed. Much of the tension appears to revolve around the micromanaging, hard-charging, leadership style of Nest CEO Tony Fadell, who possibly picked up his way of doing things while working for Steve Jobs at Apple.
Fadell was critical of Dropcam workers to The Information, stating a lot of them "were not as good as we hoped" and that Dropcam overall didn't have "a very experienced team." That didn't sit well with Dropcam founder Greg Duffy, who sounded off in a Medium post:
"I would almost find such blatant scapegoating amusing if it weren't so insulting to the team… if you knew what percentage of all of Alphabet's 'other bets' revenue was brought in by the relatively tiny 100-person Dropcam team that Fadell derides, Nest itself would not look good in comparison… The ~50 Dropcam employees who resigned did so because they felt their ability to build great products being totally crushed… According to LinkedIn, total attrition to date at Nest amounts to nearly 500 people, which suggests that we were not alone in our frustrations."
And just yesterday, medical research site STAT reported of large-scale turnover at Alphabet's Verily life sciences unit, while noting many former employees blame Verily CEO Andy Conrad for the exodus.
Those former employees claim Conrad "exaggerates what Verily can deliver, launches big projects on a whim, and rashly diverts resources from prior commitments to the next hot idea that might bring in revenue." STAT notes several Verily leaders have returned to the Google "mothership," and that Alphabet's Calico anti-aging unit hasn't seen similar brain drain.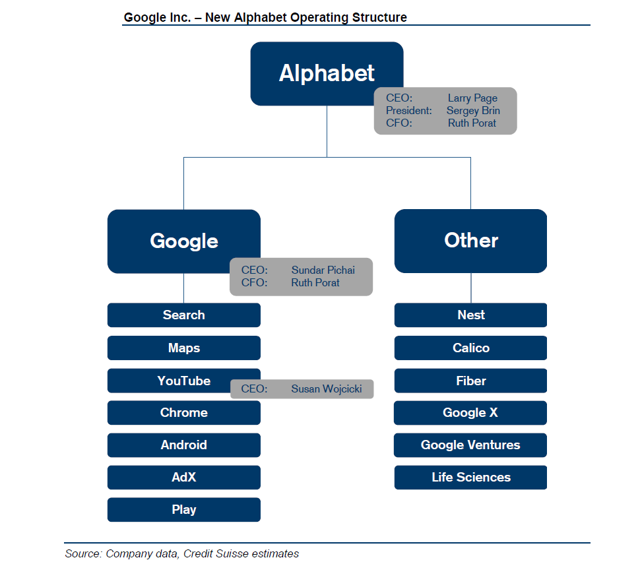 Source: CIO.com
Will Larry Page need to step in?
Citing both the reports and its own sources, Re/code states a lot of the Alphabet tensions have to do with "leadership squabbles, namely with the exec at the top." Some of this might amount to growing pains for the Alphabet structure itself, given CEO Larry Page's promise to give division chiefs plenty of autonomy.
From Page's original letter announcing the Alphabet structure: "Alphabet is about businesses prospering through strong leaders and independence. In general, our model is to have a strong CEO who runs each business, with Sergey and me in service to them as needed. We will rigorously handle capital allocation and work to make sure each business is executing well."
Page and fellow co-founder Sergey Brin put their imprint on core Google's culture, and in Sundar Pichai chose a CEO for the business whom they can trust to keep that culture intact. But units such as Nest and Verily feature leaders who have (judging from reports) very different management styles - styles that seem to yield discontent with those more at home with core Google's way of doing things.
That, in turn, could compel Page, who topped Glassdoor's CEO approval ratings last year with 97% employee approval, to take more of a hands-on approach in "Other Bets" units where talent loss stemming from employee discontent has become a serious issue.
Disclosure: I/we have no positions in any stocks mentioned, and no plans to initiate any positions within the next 72 hours.
I wrote this article myself, and it expresses my own opinions. I am not receiving compensation for it. I have no business relationship with any company whose stock is mentioned in this article.