Introduction
In our previous article titled "Bear Market Investing: Diversify Your Portfolio With Managed Futures", we provided an overview of managed futures strategies and the potential benefits they can provide in an equity-heavy portfolio.
In this article, we will review some of the available funds out there that require relatively low minimum investments. It is important to note that managed futures is an active investment strategy with performance determined by the efficacy of underlying computer models and its algorithms. This is not an asset class and there is no "passively managed" equivalent where investors can invest with low fees.
Managed Futures ETFs
These ETFs are designed to track rule-based managed futures indices. Due to various constraints such as the use of leverage, trading frequency, and methodology transparency, these indices are simplified and are less effective than strategies structured as mutual funds or hedge funds managed by specialized investment managers.
There are currently three ETFs in the market today:
WisdomTree Managed Futures Strategy (NYSEARCA:WDTI), tracking the Diversified Trends Indicator Index
First Trust Morningstar Managed Futures (NYSEARCA:FMF), tracking the Morningstar Diversified Futures Index
ProShares Managed Futures Strategy (NYSEARCA:FUT), tracking the S&P Strategic Futures Index
Here are their index descriptions: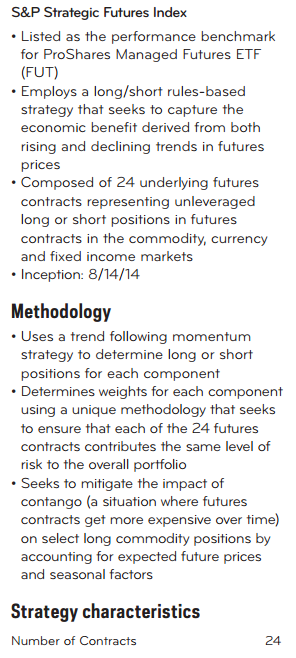 From the descriptions, it is immediately clear that there are some flaws associated with these products:
The indices tracked by WDTI and FUT do not invest in equity index futures. This means they cannot profit from falling equity markets by shorting index futures. This will likely diminish the strategy's usefulness as a "hedge" during equity bear markets.
The Morningstar Diversified Futures Index tracked by FMF does not invest in government bond futures. This means it cannot go long treasuries, a traditional safe haven asset that is negatively correlated to equities.
Tracking just 24-35 futures contracts, all of these indices are relatively concentrated and, therefore, their investment universe is fairly restricted.
Vendors like S&P and Morningstar are not exactly quantitative investment firms with expertise in developing complex computer models. As such, the efficacy of their rule-based indices are at best half-baked managed futures solutions.
Managed Futures Mutual Funds
For better exposure to managed futures strategies, we believe investors should look to mutual funds. We have short-listed 3 funds with i) Morningstar ratings of 3 stars or more, ii) minimum investment of <$100k and iii) assets under management of >$100m. Here are brief descriptions of the funds:
Natixis ASG Managed Futures Strategy (MUTF:AMFAX): Natixis is the parent company behind well-known investment boutiques such as Harris Associates (equities) and Loomis Sayles (bonds). The Managed Futures Strategy is managed by AlphaSimplex LLC, an affiliate under its belt specialized in quantitative investing. Managing $7.5bn, AlphaSimplex was founded in 1999 and is based in Cambridge, MA. For more information, see the product page here.
Guggenheim Managed Futures Strategy (MUTF:RYMTX): This fund has been around for some time and is run by an in-house team within Guggenheim. The named PMs on the product are Jayson Flowers and Michael Byrum, both of which serves on several other Guggenheim products. This likely serves as a distraction and gives us some pause. The fund changed its investment objective in 2013, and previously tracked the S&P Diversified Trends Monitor Index. For more information, refer to the product page here.
Finally, for comparison purposes, we also include the AQR Managed Futures Strategy (MUTF:AQMNX), which is by far the largest managed futures fund out there. The strategy is for institutional investors only with a minimum investment of $1m. AQR was founded in 1998 by a group of former Goldman Sachs employees and manages north of $140bn in alternative strategies. For more information on AQR and the fund, see here.
ETFs and Mutual Funds At A Glance
Below is a comparison of the 3 ETFs and 4 mutual funds: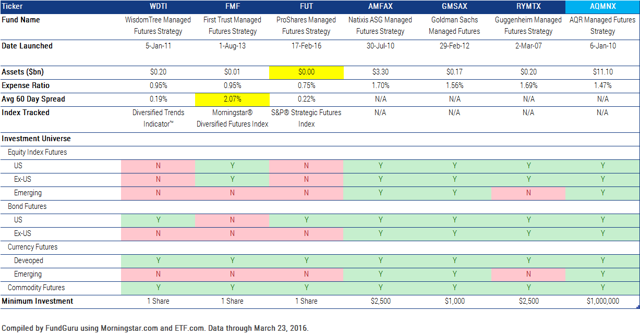 Key observations:
The investment universe of managed futures ETFs are severely restricted. The WDTI and FUT do not invest in equity index futures, and for the FMF, no bond futures. Mutual funds have greater flexibility.
Managed futures strategies have a premium price tag. All ETFs/mutual funds have total expenses amounting to 1%-2% or more, if one factor in the spread of ETFs. The spread of FMF is particularly large, making it prohibitively expensive.
The AUMs for FMF ($10m) and FUT ($5m!) are very small and likely not profitable. We doubt these ETFs will be around for long if assets remain at these levels for an extended period.
Quantitative Analysis
How have the strategies performed? We present the results below over a common trailing 4-year period. The FMF and FUT are excluded as these do not have a sufficiently long track record.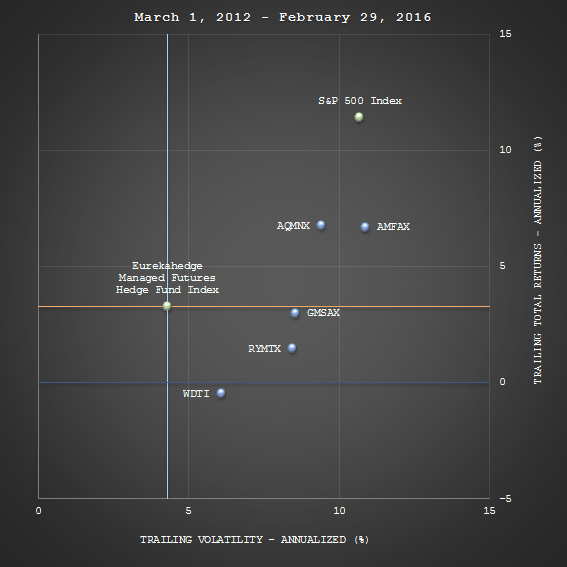 As expected, the WDTI is the poorest performer of all, severely underperforming the Eurekahedge Index. With a low R-Sq of 0.26, this indicates that the ETF behaves nothing like other managed futures strategies. Also, it has captured more downside than the upside. These stats make this ETF a poor investment proposition.
The GMSAX and RYMTX have performed better, although their alpha are still negative relative to the Eurekahedge Index. Their up/down capture ratios are still not great.
The AMFAX appears to be the best investable option of the group, with a sufficiently high R-Sq of 0.62, and an alpha of 0.50. It should be noted however, that it has a beta of 2.00 to the Eurekahedge Index, which means it is a higher-volatility, higher-return managed futures strategy.
Finally, our AQR reference fund is the best performing product of the group, although its minimum investment of $1m puts it out of reach for most investors.
Summary Thoughts
For investors comfortable with including managed futures in their portfolio, we recommend the Natixis Managed Futures strategy. The fund is managed by AlphaSimplex, a specialized investment boutique within Natixis.
Investors should avoid managed futures ETFs due to their lower quality investment process based on simplified, rules-based indices. The largest ETF, WDTI, has fared poorly relative to mutual fund counterparts. The FMF and FUT are too small to consider.
Disclosure: I/we have no positions in any stocks mentioned, and no plans to initiate any positions within the next 72 hours.
I wrote this article myself, and it expresses my own opinions. I am not receiving compensation for it (other than from Seeking Alpha). I have no business relationship with any company whose stock is mentioned in this article.