I sold my entire long position of Micron (NASDAQ:MU) in the fall of 2014 at over $30 per share and I have not owned shares since. I came very close to taking a long position in October 2015 ahead of earnings, but decided to wait. Micron reports earnings after the closing bell tomorrow and I will be sitting this one out as well.
The issue I have with Micron and the company's position in the marketplace is an industry wide issue versus a company specific issue. The memory industry faces significant headwinds with PC's entering the Dark Age and smartphones reaching the point of saturation globally outside of specific under penetrated markets. Unfortunately for Micron and the memory industry there is not a positive catalyst that can improve demand and drive up prices fast enough.
I have been following Micron and the memory industry for nearly a decade now. I went into Micron shares with both feet after the company announced plans to acquire Elpida in 2012. The Elpida acquisition opened up a tremendously profitable mobile footprint for Micron. However, as we fast-forward to the present Micron has fully integrated Elpida's operations, but the profits have vanished.
The memory industry continues to be dominated by the same manufacturers that dominated the industry in 2012, which include Samsung, Hynix and Micron. So why is 2016 a difficult year for Micron and the memory industry? The answer really comes down to product maturity cycles. In 2012 the PC market declined slightly, but market researchers expected growth to resume through 2017 with 382 million units shipping in 2017.
2012 PC Unit Forecast Image Source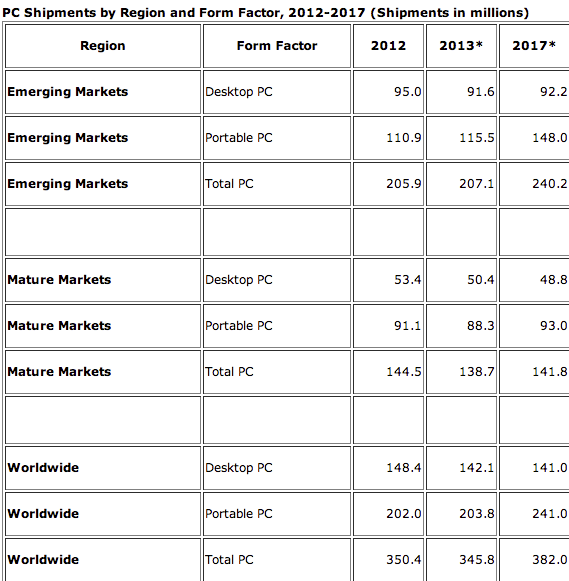 The latest forecast from Gartner published in January 2016 calls for 299 million PC units shipped in 2017, the 2012 estimate was off by 83 million units or nearly 22%. For what it's worth Gartner expects the PC market to return to positive growth in 2017 and 2018. History will repeat itself and the PC market will be lucky to print a growth rate above 0% for the foreseeable future.
January 2016 Gartner PC & Computing Device Shipment Forecast Image Source

Windows (NASDAQ:MSFT) operating system upgrades have failed to spur PC market growth and there is no reason for this trend not to continue. Non-business PC users continue to leverage other technology and there is diminishing need for PC purchases by consumers. Businesses will continue to push the envelop and extend planned refreshes to squeeze out cost savings and reduce capital expenditures as company's continue to perform financial engineering to beat earnings estimates absent of revenue growth.
In 2011 IDC estimated that 1.16 billion smartphones to ship annually by 2016. The latest forecast from Gartner predicts 1.959 billion mobile phones will ship in 2016 with more than 82% (1.6 billion) handsets falling under the smartphone category. The actual smartphone growth rate from 2011 to 2016 blew past expectations, but looking ahead a 0% smartphone growth environment is just around the corner, which will be problematic and potentially catastrophic for Micron and the memory industry.
The next wave of consumer electronic devices that are expected to drive unit growth are wearables including smart glasses. However, the demand for wearable devices will not impact have a material impact on memory demand or prices for several years.
Micron reports Q2 results after the bell tomorrow and analysts are expecting a moderate loss per share of 8 cents per share. Analysts expect Micron to flip back to positive earnings over the remainder of FY16 with an average estimate of $0.35 for the full year.
My expectation is that economics will continue to rule the roost and derail Micron's turnaround back to profitability in 2016. Absent of demand catalysts that can offset continued PC weakness and smartphone saturation shares of Micron remain a sell and I don't expect the company to regain profitability until 2017 at the earliest.
Disclosure: I/we have no positions in any stocks mentioned, and no plans to initiate any positions within the next 72 hours.
I wrote this article myself, and it expresses my own opinions. I am not receiving compensation for it (other than from Seeking Alpha). I have no business relationship with any company whose stock is mentioned in this article.