MannKind Is On Its Way To Bankruptcy - Are Executives Jumping This Sinking Ship?
Summary
MannKind's distribution partner, Sanofi, has given up on Afrezza, MNKD's only product, after investing over $300 million in it.
MNKD executives seem to be moving over to their new collaborative partner, Receptor Life Sciences. Is this to transfer over some assets before bankruptcy?
MNKD was burning $25 million of cash per quarter and will burn even more now as it takes on all the marketing costs for Afrezza.
The bullish thesis that Sanofi was intentionally trying to sabotage Afrezza and make it fail doesn't make logical sense.
MannKind's Eventual Bankruptcy Is Virtually Certain
We believe the chance of MannKind (NASDAQ:MNKD) going bankrupt is just about 100%. MNKD's fast-acting insulin inhaler, Afrezza, has been a commercial flop. It's not a good product and most doctors in the diabetic community don't prescribe it for a variety of reasons explained later in this report.
Sanofi (SNY, OTCPK:SNYNF), MNKD's previous marketing partner for Afrezza, tried selling Afrezza for one year before calling it quits in January 2016. Sanofi stated "commercialization of AFREZZA is no longer economically viable in the United States." Sanofi invested over $300 million in Afrezza and only sold 7 million euros worth of the drug in the entire year 2015. Now, MNKD is attempting to market Afrezza all by themselves. This will cost MNKD a fortune hiring a new sales force and setting up new distribution channels with pharmacies and hospitals.
We believe management should responsibly sell the rights to Afrezza and shut the company down. By hanging on and attempting to market it themselves, they are leaving less for debt holders once they are eventually forced to file for bankruptcy.
Receptor Life Sciences - An Empty Shell Created For MannKind Executives To Transfer To?
MNKD announced a new collaborative partner named Receptor Life Sciences on January 21, 2016.
Andrea Leone-Bay worked for MNKD from 2003-2015, a long time, as the VP of pharmaceutical development. In 2015, she left MNKD and immediately joined Receptor Life Sciences in October, 2015.
Is this going to be a trend with executives leaving MNKD to join Receptor Life Sciences?
Receptor Life Sciences doesn't appear to be a legitimate company. It has nothing on its website, receptorlife.com, as shown below.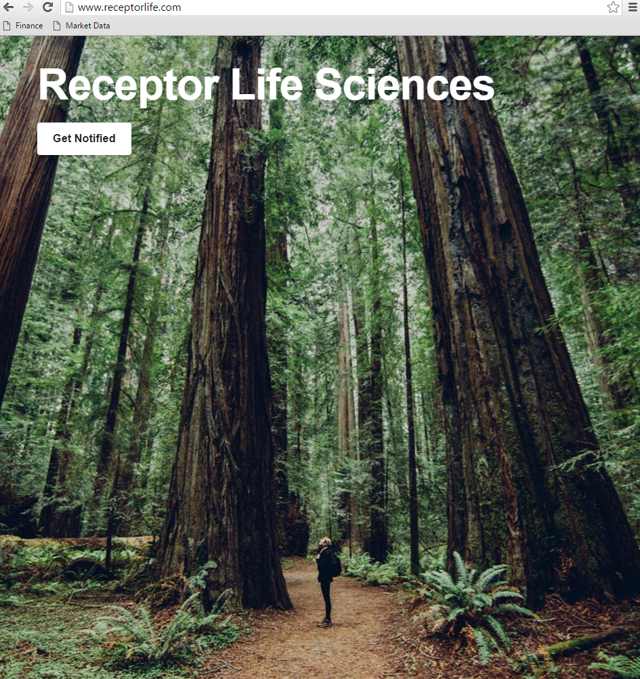 There is no information about the company online except that it's partnering with MNKD.
Receptor Life Sciences was filed as a corporation in Washington state on 12/16/2015.
The filing shows Gregory Wesner is a director. Stated on his LinkedIn profile, Mr. Wesner is a partner at a Washington law firm, Lane Powell.
The filing also shows Traci Carman as Receptor's President, Secretary, Treasurer and Director. Wow, that's a lot of hats! There is only one Traci Carman on LinkedIn, which says she's from Los Angeles and the Creator of "Who I Am" cards.
With the limited info that we have, we can see that Receptor Life Sciences is clearly some kind of a start-up and possibly just a shell. The purpose of creating this company isn't quite clear. If it was a genuine, independent company from MNKD, it would likely list more employees, have information on its research, and/or have a website. We believe the most likely purpose is to transfer MNKD's executives and assets over to it before MNKD goes bankrupt. That way management can salvage whatever assets it can and start over with Receptor Life Sciences.
MannKind Will Burn More Cash Trying To Sell Afrezza Without A Partner
Sanofi was a great distribution partner for MNKD. The pharmaceutical behemoth is the world's second biggest diabetes drug seller, with $9.2 billion in diabetes drug sales in 2014. Sanofi has all the distribution channels in place, with its sales force and relationships with hospitals and pharmacies. However, in early January, Sanofi announced it would no longer market Afrezza and will return the license to MNKD. Despite substantial marketing spend, Sanofi only sold 7 million euros worth of Afrezza in the entire year ending December 31, 2015.
From MNKD's latest 10-K:
Sanofi's notice indicated that the termination was pursuant to Sanofi's right to terminate the agreement upon Sanofi's good faith determination that the commercialization of AFREZZA is no longer economically viable in the United States, in which case the effective date of termination (the "Termination Date") would be April 4, 2016.
Wrote Sanofi in a letter to colleagues on 1/5/16:
Despite substantial efforts leading to high levels of brand awareness with key diabetes-treating healthcare professionals, Afrezza has continued to demonstrate low volume and revenue performance in the marketplace.
As stated in the 2015 10-K, Sanofi entered into an Afrezza license agreement with MNKD which became effective on September 23, 2014. Under this agreement, MNKD granted Sanofi exclusive, worldwide licenses for the development and commercialization of Afrezza.
Sanofi paid MNKD an up-front cash payment of $150 million and additional milestones of $50 million, which was received in 2015. The deal was profits and losses due to Afrezza were to be shared 65% by Sanofi and 35% by MNKD. For 2015, MNKD's portion of the loss was $57.7 million, which means Sanofi's portion was $107 million.
With an over $300 million investment so far in Afrezza, for Sanofi to drop it and take the loss at this point, there must be no hope. MNKD was already burning through about $25 million per quarter in 2015. Now, without Sanofi picking up the marketing costs and taking 65% of the losses, MNKD will take 100% of the losses going forward.
From the Q415 earnings call, on March 14, 2016, Rose Alinaya, MNKD's Principal Accounting Officer, said:
We will incur sales and marketing expenses in 2016 as the sales and marketing efforts transition from Sanofi this year.
Also on the call, MNKD's CEO, Matthew Pfeffer said:
With Michael now on board as our Chief Commercial Officer we've taken a critical step in building our commercial infrastructure, activities towards what will essentially be a relaunch of Afrezza are well underway.
This confirms that MNKD is not seeking another distribution partner, but will attempt to market Afrezza by itself. The firm brought in a new Chief Commercial Officer, with the previous one resigning. This guy, Michael Castagna, was a VP of Sales for Amgen (AMGN). But if a powerhouse like Sanofi couldn't successfully market Afrezza, then a company starting a marketing department from scratch won't be able to, even with a new, qualified COO.
From a question in the earnings call:
Jay Olson said:
I'm just looking at the current run rate for Afrezza scripts, which have declined steadily since the beginning of the year. Can you talk about when we should expect that to reverse, and how fast that trajectory could turn around?
Matthew Pfeffer replied:
But I think the first thing has to happen, is we have to have control of sales of Afrezza. It's really essentially not being marketed anymore.
Also from the call:
Adnan Butt said:
Sure. And then one more, in terms of cash how long will current cash last, assuming things stay the same?
Matthew Pfeffer replied:
Well things won't stay the same but if they did - I mean if we use that as a simplifying assumption, yeah takes us into early into the second half of the year. That's not drawing upon any of the sources that are available resources we have now. But clearly we have things underway.
What Mr. Pfeffer is saying here is that if costs were the same as what they were with Sanofi marketing and distributing Afrezza, then MNKD's cash would last until the second half of 2016. But with MNKD ramping up its commercial department, it will burn a lot more cash and it won't last until the second half of 2016 with what it has now. It needs a big raise and possibly another "at the money" ATM offering as MNKD has already depleted its previous ATM.
That has got to be a scary thought for MNKD longs. Afrezza isn't being marketed at all right now. Sales and marketing could burn another $10 million-$20 million per quarter on top of the $25 million it's burning now. MNKD will also be at a disadvantage because the company doesn't have Sanofi's distribution network in place anymore.
MNKD reported that it had $59 million in cash on 12/31/15. With a burn of $35 million-$45 million per quarter, it won't have any cash left by the end of Q216.
Dr. Alan Marcus, a diabetes doctor in Laguna Hills, California, has prescribed Afrezza to many of his patients. But says:
It's not an easy prescription. They have to go through testing. Then you have to take a moment to demonstrate it. Then you have to deal with the insurance companies. Then you have to deal with the pharmacists, because most of the pharmacies don't have it in stock. This is a process that takes a lot of time, a lot of effort.
The fact that most pharmacies don't have Afrezza in stock is a huge issue for MNKD which is now going at it alone. With Sanofi as the distributor, it could much easier place the drug with the appropriate pharmacies. Sanofi already had the relationships and a smooth distribution with its other insulin drugs in the pharmacies. Now that Sanofi wants nothing to do with Afrezza, MNKD is now a direct competitor with Sanofi, which will try to keep Afrezza out of the pharmacies, not put it in. And MNKD needs to establish relationships with the pharmacies from scratch.
Management Changes
On January 12, 2015, MND's COO and President, Hakan Edstrom succeeded Al Mann as CEO for MNKD. He had been President and a director of MNKD since 2001.
On November 23, 2015, MNKD's CEO, Hakan Edstrom, stepped down. This was surprising since he has been with the company for so long. Alfred Mann returned as the interim CEO.
On January 11, 2016, MNKD's CFO, Matthew J. Pfeffer, replaced Al Mann as CEO. Mr. Pfeffer is also still doing his CFO job. This is another data point that shows a bleaker picture for MNKD, as now the CFO can take on the CEO job as well. MNKD couldn't find an interested outside candidate to take on the CEO job. Mr. Pfeffer is also listed on MNKD's website as the investor relations contact.
Afrezza Isn't A Good Drug
For many reasons, the majority of diabetes patients are shunning Afrezza. The following is a list of reasons why:
1. To get access to the drug, patients have to undergo lung testing with a spirometer, which isn't a common piece of physician equipment.
2. The FDA has cautionary language about breathing difficulties. See the FDA label here.
3. Most diabetic patients don't mind the small injections of insulin. "I personally haven't prescribed it yet", said Dr. Mark Goodarzi, director of the endocrinology division at Cedars-Sinai Medical Center in Los Angeles. "None of my patients have been so unhappy about injections that they want to switch to the inhaler."
4. It's more expensive. The wholesale price for 20 units a day for Afrezza is $9.29, compared with $5.23 for Sanofi's injected insulin, Apidra.
5. Reviews are overall not good. Some diabetics say they like Afrezza, but many say it's ineffective. You can find reviews online here. This article reports that a review from The Medical Letter, a medical industry newsletter, shows that Afrezza is only modestly effective and coughing is a common side effect.
Other Problems At MannKind
1. MannKind's founder Alfred Mann's recent death may cause the liquidation of his shares by his heirs, pushing down the stock price.
From the 2015 10-K:
As a result of the death of Alfred Mann, the stock that he previously controlled is currently controlled by various trusts, and we cannot assure you of the manner in which the trustees will manage the holdings.
At December 31, 2015, Alfred E. Mann beneficially owned approximately 35.7% of our outstanding shares of capital stock, including shares held in the Alfred E. Mann Living Trust, Mann Group LLC, Mannco LLC, Biomed Partners, LLC and Biomed Partners II, LLC.
Mr. Mann passed away on February 25, 2016. All of the shares beneficially owned by Mr. Mann in the Alfred E. Mann Living Trust, The Mann Group LLC and Mannco LLC are controlled by an administrative trust during the period of administration of Mr. Mann's estate. The trustees of the administrative trust are Mr. Mann's wife and two other trustees. The trustees have the power to sell the shares or deal with them as an owner.
Although we understand that the trustees now in control of Mr. Mann's holdings have been advised of Mr. Mann's objectives, we cannot assure you as to how those shares will be distributed or how they will be voted.
2. A new class of oral diabetes drugs is likely taking market share from Afrezza.
In 2014, the same year that Afrezza was approved, a new class of diabetes drugs hit the market. These are taken orally, not injected, and could be taking market share away from Afrezza. These drugs, brand names Farxiga and Invokana, allow the kidneys to expel some excess sugar through urine. Doctors say these drugs could be taking some of the market share Afrezza hoped to capture.
Dr. Alan Marcus, an endocrinologist in Laguna Hills, said these drugs allow patients to take less insulin than they otherwise might. He noted that Afrezza may have come too late to be a big hit.
Reviews for Farxiga and Invokana, here and here, are overall very good.
It Isn't Logical To Believe Sanofi Intentionally Tried To Sabotage Afrezza
The biggest bull case for MNKD longs is that Sanofi had no interest in successfully marketing Afrezza, and that's why it only had 7 million euros worth of sales in 2015 after spending over $300 million on the drug. Some bulls state that Sanofi purposely made the drug fail commercially so it wouldn't interfere with Sanofi's huge business of injectable insulin products.
This isn't a logical conclusion for a few reasons. First, it doesn't make sense to spend $300 million on Afrezza themselves, and then return it to MNKD if the company really wanted to shut it down. If Afrezza was a successful, commercially viable drug, that isn't the way to sabotage it because then another company can successfully market it. If Sanofi really had this plan, it would've acquired Afrezza outright and let it sit on the shelves so no one else could market it.
Secondly, Sanofi wants to be the market leader in treating patients with diabetes. Therefore, it wanted Afrezza because it already has the infrastructure to treat diabetes patients, so it's in a good position to present a new, novel drug to those patients. Companies don't get as big as Sanofi by fighting the tide. They go with whatever is the popular drug on the market and they found that Afrezza wasn't it. But if it was, Sanofi would happily still be selling it today and reaping the profits.
Conclusion
With the failure of Sanofi to successfully sell Afrezza after investing over $300 million, MNKD stock should further approach zero, not be at the $800 million+ market cap and $1 billion + enterprise value where it is today. By marketing Afrezza itself and refusing to close down the company, management is putting extra risk on its debtholders when MNKD finally does file for bankruptcy. When this short squeeze ends, the selloff in MNKD will be swift and vicious.
Editor's Note: This article discusses one or more securities that do not trade on a major U.S. exchange. Please be aware of the risks associated with these stocks.
This article was written by
We provide deep research and valuable information on small cap stocks to hedge funds and high net worth individuals. We specialize in the technology and healthcare sectors. We have an over 80% success rate, see our reports at whitediamondresearch.com. See the 3rd party verified return on each of our bearish reports over the last 24 months at: https://breakoutpoint.com/as-summary/white-diamond-gvmtg/To inquire about becoming a premium subscriber, send a PM here or email us at research@whitediamondresearch.com.Follow us on twitter @whiteresearch.
Analyst's Disclosure: I am/we are short MNKD. I wrote this article myself, and it expresses my own opinions. I am not receiving compensation for it (other than from Seeking Alpha). I have no business relationship with any company whose stock is mentioned in this article.

White Diamond Research is not a registered financial advisor and does not purport to provide investment advice regarding decisions to buy, sell or hold any security. White Diamond Research currently holds a short interest in MNKD and during the past 12 months has shared fundamental and/or technical research with investors who hold a short position in the stock. White Diamond Research may choose to transact in securities of one or more companies mentioned within this article within the next 72 hours. Before making any decision to buy, sell or hold any security mentioned in this article, investors should consult with their financial adviser. White Diamond Research has relied upon publicly available information gathered from sources, which are believed to be reliable and has included links to various sources of information within this article. However, while the author believes these sources to be reliable, the author provides no guarantee either expressly or implied.
Seeking Alpha's Disclosure: Past performance is no guarantee of future results. No recommendation or advice is being given as to whether any investment is suitable for a particular investor. Any views or opinions expressed above may not reflect those of Seeking Alpha as a whole. Seeking Alpha is not a licensed securities dealer, broker or US investment adviser or investment bank. Our analysts are third party authors that include both professional investors and individual investors who may not be licensed or certified by any institute or regulatory body.