Introduction
After having written an article about Omnicom (NYSE:OMC) and Publicis (OTCQX:PUBGY), wherein I was positively surprised by the very strong performance of these advertising agencies, I decided to also have a look at JC Decaux (OTCPK:JCDXF) ("JCD"). JCD isn't exactly designing advertising campaigns, but operates an advertising business by posting ads on billboards and buses.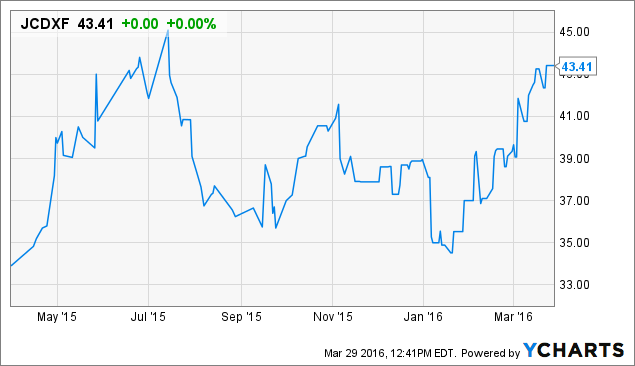 JCDXF data by YCharts
JC Decaux is a French company and its listing on Euronext Paris with DEC as its ticker symbol offers better liquidity. Approximately, 175,000 shares are trading on a daily basis and that's definitely superior compared to the US listing.
2015 was uninspiring
JC Decaux reported a total adjusted revenue of 3.2B EUR ($3.58B) which is an increase of 14% compared to the previous financial year. That's great but you should keep in mind the stronger US Dollar was actually working in JCD's favor. Whereas American companies have to deal with a lower result when expressed in USD, JCD's financial results are positively impacted by the lower EUR/USD exchange rate. This took care of approximately 70% of the 14% revenue jump with the remainder (4%) being caused by organic growth (which also is a very respectable result!). In this article, however, I will use the IFRS results (as the 14% revenue growth includes the impact on the financial results of companies under joint control).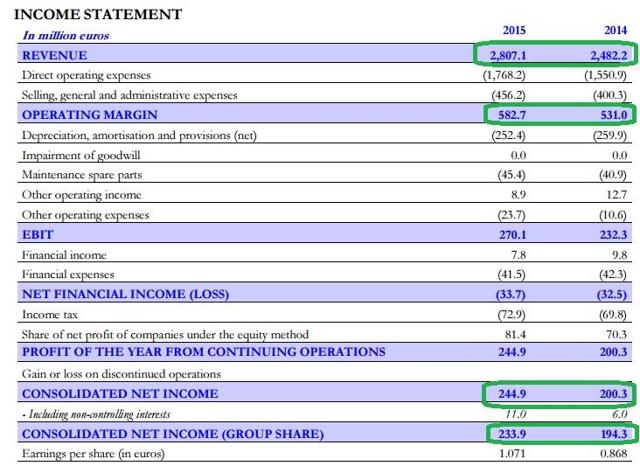 Source: press release
Using the IFRS-compliant financial results, the revenue increased to 2.8B EUR ($3.1B) (+13%), but unfortunately the operating expenses and SG&A expenses increased at a slightly faster pace, resulting in a 51M EUR ($57M) increase in the company's operating income to 583M EUR ($653M). This represented an operating margin of almost 21%, which is still very decent, but lower than the 21.4% from the previous financial year.
Taking everything into consideration (so also the contribution of (semi-) subsidiaries using the equity method), the net income increased by 12% to 245M EUR ($276M). That's nice, but with an EPS of 1.07 EUR ($1.20), the company is now trading at more than 30 times its net income and that's quite pricey!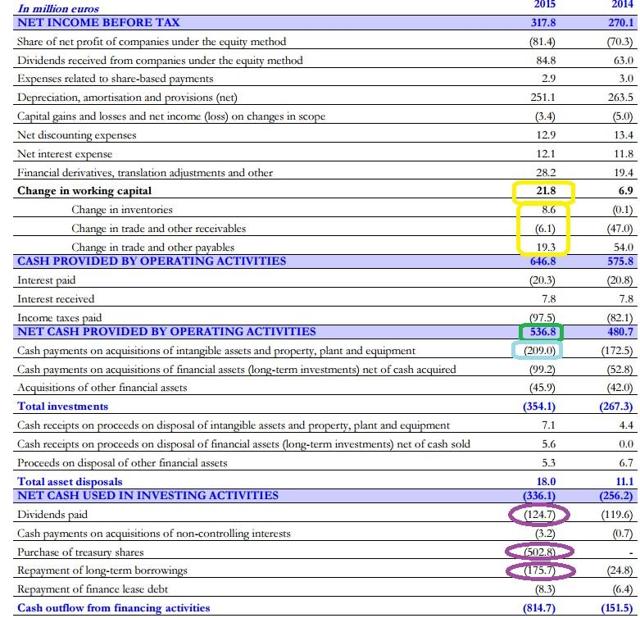 Source: press release
That being said, I refrain from judging a company purely on its income statement as I have noticed in the past the cash flow statements can sometimes tell you a different story. That's also the case at JC Decaux. The operating cash flow (after deducting the net interest expenses and the tax payments) came in at 537M EUR ($601M) (515M EUR (576M) after adjusting this result for changes in JC Decaux' working capital positions and as the total capex in 2015 was just 209 M EUR ($234M), the company generated a free cash flow of 306M EUR ($343M). Indeed, the free cash flow was approximately 25% higher than the net income, and this proves my point about why you should never be too fast to judge a company by having a quick look at the income statement!
And I don't have the impression 2016 will be much better
Of course, a free cash flow of almost $350M is really nice, but keep in mind JC Decaux has a total market capitalization of approximately $9B. So the free cash flow yield does remain extremely limited to less than 4%. Approximately 40% of the free cash flow is being used to pay the company's dividend (with a current dividend yield of just 1.3%) whilst the remainder has been used to retire some of its debt.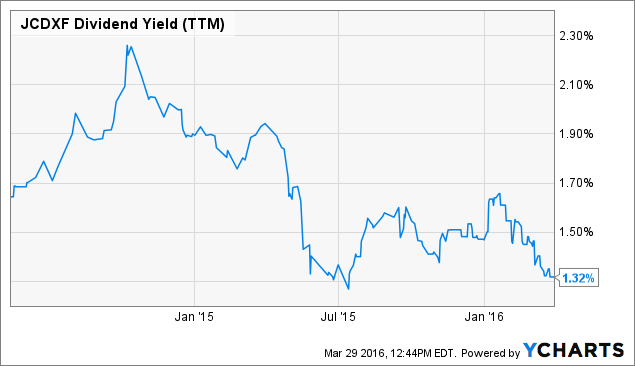 JCDXF Dividend Yield (TTM) data by YCharts
On top of this, JC Decaux used its cash reserves to spend almost $600M on a share buyback program, which retired exactly 12.5 million shares (as the buyback didn't happen through on-market purchases, but by a public tender offer at $45/share). 87% of the share capital was tendered to the offer, so JC Decaux decided to retire the shares on a pro-rata basis. This reduced the share count to a little bit over 212 million shares (which hasn't been updated yet in the YCharts chart here below), but it also converted JC Decaux net cash position into a net debt position of almost $450M and the 12% dividend hike will obviously also reduce JC Decaux' possibility to reduce the net debt (but of course a net debt/EBITDA ratio of less than 0.7 is still really good).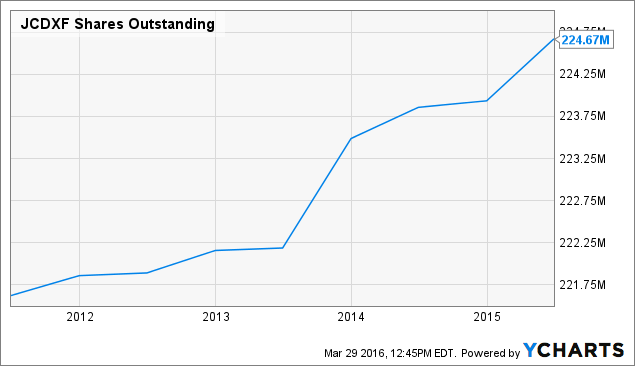 JCDXF Shares Outstanding data by YCharts
The company hasn't really provided a fixed guidance for the current financial year, but it expects to achieve an organic revenue growth rate of 9% in Q1 2016 and it might be able to keep this growth rate stable during 2016. The conversion rate of the net profit to free cash flow should remain above 100%, but it's a bit difficult to estimate how JC Decaux will perform in 2016, as it will predominantly depend on the company's investment plans. That being said, I'd aim for a free cash flow of 325M-340M EUR on a fully-adjusted and IFRS basis.
Investment thesis
Using the mid-point of my expectations and a share count of 213M (assuming 800,000 options will be exercised during the current financial year and JC Decaux doesn't launch another tender offer), the FCF/share will be approximately 1.56 EUR. This means the free cash flow yield will come in at approximately 4.1% and that still fails to excite me.
I realize JC Decaux has a strong balance sheet and its business model is relatively safe, but keep in mind the company's performance will be correlated with the world economy. Should the share price fall back towards its 52-week lows at around 30-31 EUR, I might be interested as the FCF yield would increase to in excess of 5%.
Disclosure: I am/we are long PUBGY.
I wrote this article myself, and it expresses my own opinions. I am not receiving compensation for it (other than from Seeking Alpha). I have no business relationship with any company whose stock is mentioned in this article.
Editor's Note: This article discusses one or more securities that do not trade on a major U.S. exchange. Please be aware of the risks associated with these stocks.