After almost a week of sideways trading, markets finally moved on Tuesday following Yellen's comments. While the gain looked fairly modest on the S&P 500 (NYSEARCA:SPY), there was a big split between that index and the riskier ones.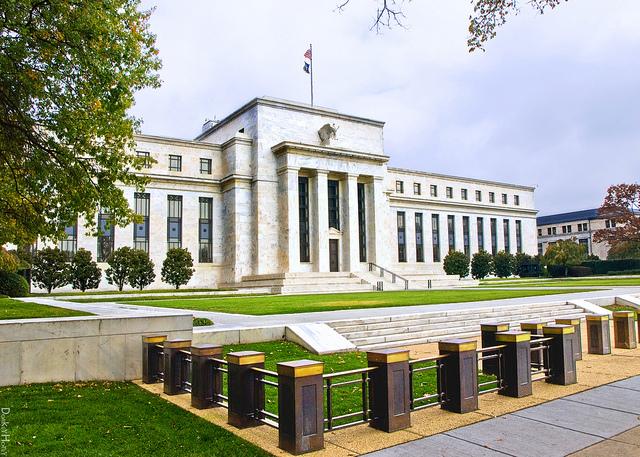 Both the tech-heavy Nasdaq (NASDAQ:QQQ) and the Russell 2000 (NYSEARCA:IWM) shot higher, posting huge gains on the day. The Nasdaq was up almost 2% and smallcaps moved 2.7% higher.
On the other end of the spectrum, commodities-exposed companies fared relatively poorly. Oil (NYSEARCA:USO) was the main culprit, falling several percent on the day. Copper (OTC:JJC) also failed to impress. Notably, oil was down prior to Yellen's announcement, and following her comments, oil failed to rally, even as everything else shot upward.
Despite the lack of traction from oil, energy stocks (NYSEARCA:XLE) (NYSEARCA:FCG) spiked higher on Yellen's comments. The gap between oil and natural gas (NYSEARCA:UNG) and the energy stocks that trade based off them continues to grow. This is a very bad time to be long energy stocks as a shorter-term trade. Companies like Chevron (NYSE:CVX) are wildly mispriced given the current energy price deck. If you're bullish on oil, buy oil, don't buy the majors.
What's The Fed Thinking?
Several people have commented on my previous articles that the Fed shouldn't be allowed to comment publicly with nearly such frequency as they do now. I agree fully. The Fed continues to destabilize markets with its seemingly random approach to raising interest rates.
For the longest time, we were told that the Fed would aggressively hike interest rates as soon as the conditions could justify it. At first, they were even talking about four rate hikes in 2016, as crazy as that sounded.
Given the most unpleasant start to the year, as far as global equity and credit markets went, it's not surprising that the Fed backpedaled a bit. They do have a tendency to lose their courage the moment the S&P 500 loses 100 points or more.
That said, even during the darkest days in January and February, there was no indication the Fed was about to abandon its general plan. As global markets recovered, the Fed indicated they would be moderating the number of hikes for 2016, but that they were definitely still quite hawkish.
With all that in mind, Tuesday's about-face is entirely puzzling. Oil made a 40% move off the lows. China has stabilized, or at minimum, it's not generating nasty headlines every night. European financial system troubles have receded for the time being.
The US economy continues to run at the same generally subdued but not outright bad level it's been grinding along at for a while. Inflation, as measured by US core CPI, continues to rise at a level that might support a hike. Unemployment hasn't shown any reason to deviate from previously laid plans. Yes, some GDP estimates just got lowered, but I wouldn't overstate the importance of that data point. As long as housing and autos remain fairly strong, the economy isn't going into outright recession yet.
To be clear, I've opposed rate hikes throughout the last year. The global economy is in poor shape, hiking rates while the rest of the world goes farther into negative interest rates sets the scene for an overly strong dollar, a counterproductive carry trade, and further compression of US multinational firms' profits.
The US economy was never strong enough that there was imminent need for rate hikes. Inflation is subdued, GDP growth is modest and wages (see yesterday's Briefing) remain depressingly constrained for most of society. But if the Fed was selling us four rate hikes and normalization, what's the justification for suddenly saying: Sorry guys, we were just kidding. It isn't April Fool's Day yet!
Global equity and credit markets are relatively calm at the moment. The S&P 500 is back toward new all-time highs. If there was ever a time to hike under the Fed's questionable logic, it would have been now. The Fed has lost all policy credibility and its weather vane-esque utterances at this point only serve to generate additional unneeded market volatility. Yellen has been a dismal chairwoman and her continued leadership acts as a significant threat to international economic stability.
How To Trade The Mess
Moves generated by Fed talk or action have a tendency to run for a couple days before you can trade with good odds against them. So the tempting but wrong impulsive move is to short the stocks that were up big on Tuesday.
If oil can stem its recent losses, the road is now wide open to S&P 2,100 and potentially higher. The surge you saw in smallcaps and tech stocks Tuesday is indicative of a huge rush of sideline money that feels the need to get in now that the Fed has taken rate hikes off the table for the time being. Never underestimate the potential strength of a Fear of Missing Out (FOMO) rally.
However, earnings for the coming quarter are likely to come in poorly (I'll cover this in more detail in a full-length article soon). The market still faces strong resistance if and when it gets to 2,100. And both commodities and emerging markets look tired.
Much of the rally in the broader indices was led by beaten-up companies like Caterpillar (NYSE:CAT) that rallied with great power off the lows, as suddenly China, Brazil, and the broader mining and commodities markets are apparently fixed.
I own Caterpillar and I can't say I'm displeased with the recent rally. But it's hard to justify the stock being at $76 when it was at $57 so recently. Even a modest negative catalyst could cause the whole oil/commodity edifice to crumble.
I'm market neutral but quickly heading toward negative bias by the day. We're way overbought and there's not a lot of fundamental basis behind the recent move. To the extent that a rally is built atop the Fed's constantly changing utterances, I'd definitely be looking to fade that strength. If you do want to go long stocks to try to play this rally, buying tech is probably the best way to go, but use a tight leash - markets could quickly reverse at any moment.
Finally, on a side note, I'd mention that Seeking Alpha's website was quite buggy yesterday. It seems not many people had a chance to see my article on Airbnb and its impact on the Hotel REITs. In case you missed it, you can find that article here. Thanks for your loyal readership and insightful comments.
Disclosure: I am/we are long CAT.
I wrote this article myself, and it expresses my own opinions. I am not receiving compensation for it (other than from Seeking Alpha). I have no business relationship with any company whose stock is mentioned in this article.
Additional disclosure: I'm short FCG.