Investors are making far too much noise about the hikes in minimum wage. There is a concern that the rest of the country might follow suit and theories about the impact it could have on McDonald's (NYSE:MCD) earnings. I find a great deal of this hand-wringing to be entirely absurd. Running some rough numbers over the McDonald's statements demonstrates that this is unlikely to be a large factor and that it is more likely this will help earnings later in the decade rather than hinder them. That premise may sound absurd to investors terrified of the impact a $15 minimum wage would have on McDonald's, but follow me through the math and I think you'll agree that this is not worthy of concern.
For clarity's sake, I want to point out that a substantial portion of this article will use the term EBIT (earnings before interest and taxes). Because McDonald's has some non-operating gains and losses, I have excluded those values. Therefore, the values I use for EBIT will align with the values the company reports for "operating income".
Dollar values that are not listed on a per share basis are provided in millions of dollars.
Strategy
The first thing investors need to remember is that McDonald's does not make the majority of their money from operating restaurants. They make the majority of the money from operating a franchising operation. While "revenues" primarily come from the restaurants, the earnings come primarily from the franchising operations. When we take a look at the EBIT level, the breakdown by source looks like this: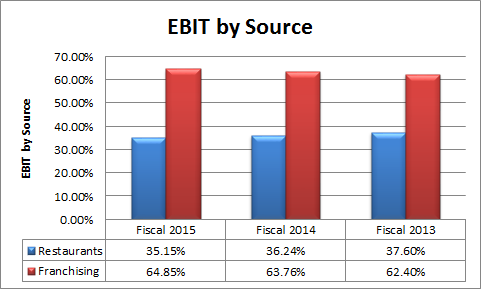 Quick Tables
Since this bill isn't set to start until 2017, I want to skip over the results for 2016. We might as well use the known results for 2015 to establish the baselines. I'll also incorporate 2014 and 2013 for comparison.
The following table will demonstrate the theoretical costs as a percentage of total restaurant sales and the resulting total restaurant margin. Rather than being fair to McDonald's, I've built this to be as harsh as possible. The model is designed assuming no gain to same store sales from higher pay for the employees. It also assumes that no portion of the cost can be passed on to other consumers in higher prices. Then we might as well go a step farther and assume that there are no savings in employee turnover, no savings from automation, and no savings from getting more effort from employees.

To ensure that this really incorporated the most bearish assessments, I scaled up the cost of all restaurant level labor by the rate of increase in the minimum wages. This assumes that every McDonald's employee in the world, including other countries and managers, sees the same percentage increase that is forecasted for California for 2017 and 2018.
The total cost here would be about $220 million in the first year and another $220 million ($440 million total) by the end of the second year.
For comparison's sake, this represents about 4.75% of the level of EBIT generated by franchising operations in 2015. I'll bring out some tables for that data later. First, I want to explain the rationale for this running only 1.86% of franchising EBIT.
Back to Strategy
In 2015 management revealed a plan to accelerate their integration of more franchisees. I'll let management describe it:
"The modifications to McDonald's operating approach are accompanied by strategies to enhance financial value. In 2015, management announced plans to optimize the Company's restaurant ownership mix by refranchising about 4,000 restaurants through 2018, deliver net annual G&A savings of about $500 million, the vast majority of which is expected to be realized by the end of 2017, and return about $30 billion to shareholders for the three-year period ending 2016."
The quote comes from their 10-K. At the end of 2015 they had approximately 36,525 total stores and about 82% of those were owned by franchisees. That leaves roughly 6,574.5 to be operated by the company. If 4,000 of those are handed over to franchisees, then only 39.16% of the current level of company-operated stores would remain in the current format. Both costs and revenues from company-operated stores would be expected to decline to about 40% of current levels, excluding the impact of any change in same-store sales over the next 3 years (the plan duration).
Franchising Format
The franchising format offers McDonald's substantially better margins. While restaurants have been running around 15% to 18%, the franchising margins were running around 52% to 60% after applying all overhead costs such as SGA (Selling, General & Administrative) expenses to the franchising side of the business.

I want to emphasize that assigning cost this way is designed to amplify the challenge. If there were no company operated stores, it would not eliminate the SGA costs. When McDonald's looks at the franchising margins they don't apply the SGA expenses. As a result the pre-tax margins on the franchising side of the business run around 80%.

These franchising revenues are very useful to McDonald's because it is allowing them to leverage gains in gross sales. A decline in same store margins would make it more difficult to attract franchisees, but this change hits minimum wage so it means competitors face the same challenge. That dramatically increases the chances of McDonald's being able to pass this cost on to customers.
Simplify the Math
Payroll and employee benefits ran 26.69% of restaurant sales last year. A 5% increase on these costs would pressure margins by 1.33%. If menu prices can be increased by about 1.33%, the cost would effectively be passed on to consumers. Since McDonald's is already a low cost leader, a price increase from McDonald's may encourage competitors to create their own slight increase in prices.
If margins are maintained by raising prices 1.33% to offset the increase in labor costs (without losing traffic), the resulting income from restaurant operations would not be suffering. However, the increase by franchisees would drive up the royalty fees McDonald's collects. In that scenario, I would estimate the increase in franchising revenue to add $.07 to EBIT per share.
Geography
In the first part of this article the numbers were run on the basis of all restaurants facing the same rate of increase in labor costs that California is establishing over the next few years.
However, it does not cover the entire United States and it certainly does not cover the entire world. Even if there were absolutely no gains to productivity or savings from lower turnover, the impact would be minimal.
While I believe the numbers demonstrate that an increase in wage rates would cause minimal challenges for McDonald's due to the structure of their business (focused on franchising) and the ability to pass costs onto consumers, some readers still won't agree with me. They may want to focus on the worst possible case projections of EBIT for company operated stores declining by $.23 (excluding the impact of refranchising). When we assess the geographic layout for company operated stores, it further weakens those arguments.

McDonald's provides the company-operated margins by market and includes both the dollar amount and the percentage. This means we can easily test the total sales. $632 / 15.1% = domestic sales of $4,185.43 for company-operated restaurants. That is only 25.38% of total sales. That suggests that even if California's increase in minimum wages was mirrored across the country (in percentage terms), the projected impact would be $.06 per share before taxes.
Conclusion
Looking at the projected impact across the entire company demonstrates that an increase in labor rates with no offsetting benefits would create a moderate impact. Once we adjust for the majority of the revenue coming through franchising fees rather than through restaurant operations, the impact is substantially weaker. If restaurant operators are able to pass on the costs to consumers in the form of 1.33% price increases it would indicate stronger earnings for McDonald's rather than weaker.
Once we adjust our expectations based on the percentage of revenue coming from domestic sales the potential for a material impact on earnings is heavily muted. Operating income last year was $7,145.50. On a per diluted share basis that would be $7.56. Adjusting the metrics to reflect the intended change in the percentage of restaurants operated by the corporation would leave the impact at around $.06 per share. A threat of losing 1% of operating income is no cause for concern. There could be several factors that materially influence results for McDonald's over the next several years, but the increase in California's minimum wages is unlikely to be one of them.
View on Share Price
At the time of this writing shares are trading just under the 52-week high of $125. I found McDonald's shares substantially more appealing when they were trading in the $90s. I'm fairly neutral on the company at current prices. The focus of this article is not to suggest that investors need to immediately buy or sell shares. Instead, I believe investors should tune out the conversation regarding minimum wage increases impacting MCD.
Disclosure: I/we have no positions in any stocks mentioned, and no plans to initiate any positions within the next 72 hours.
I wrote this article myself, and it expresses my own opinions. I am not receiving compensation for it (other than from Seeking Alpha). I have no business relationship with any company whose stock is mentioned in this article.
Additional disclosure: Information in this article represents the opinion of the analyst. All statements are represented as opinions, rather than facts, and should not be construed as advice to buy or sell a security. Ratings of "outperform" and "underperform" reflect the analyst's estimation of a divergence between the market value for a security and the price that would be appropriate given the potential for risks and returns relative to other securities. The analyst does not know your particular objectives for returns or constraints upon investing. All investors are encouraged to do their own research before making any investment decision. Information is regularly obtained from Yahoo Finance, Google Finance, and SEC Database. If Yahoo, Google, or the SEC database contained faulty or old information it could be incorporated into my analysis.