Introduction
Every once in a while, I like to highlight some unknown gold producers (at least in North America) that definitely deserve a closer look from the investment community. Today I'm revisiting Polymetal International (OTCPK:AUCOY) which is now trading 40% higher (45% if you include the dividends) compared to when I first discussed the company here on Seeking Alpha in July last year.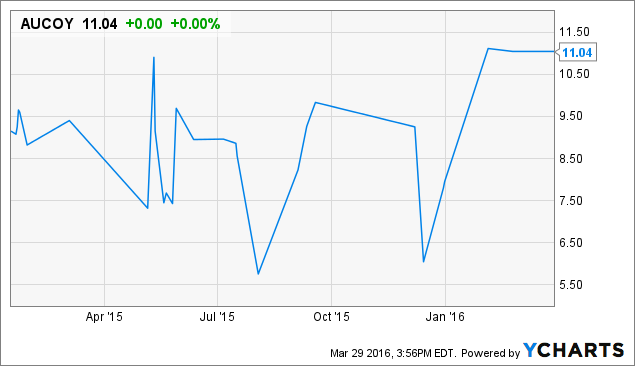 Polymetal is a Russian company with its main listing on the London Stock Exchange. As trading is way more liquid in London, you should try to trade in the company's shares on the LSE. The ticker symbol of this company with a $3.9 billion market capitalization is POLY. The average daily dollar volume is approximately $5.5 million.
The damage remained limited in 2015, but the 5% dividend is generous
Polymetal performed really well in 2015 as the total production came in at 1.27 million gold-equivalent ounces, approximately 4% higher than the original guidance. Approximately 70% of the gold-equivalent production did consist of pure gold (861,000 ounces) whilst Polymetal also produced in excess of 32 million ounces of silver. Thanks to the fact the company's operating mines are located in Russia which continued to experience a weak Russian ruble, the operating costs remained very limited, and Polymetal said it was able to produce its gold at an all-in sustaining cost (AISC) of just $733 per gold-equivalent ounce and that's approximately 5% lower than the mid-point of its original production cost guidance.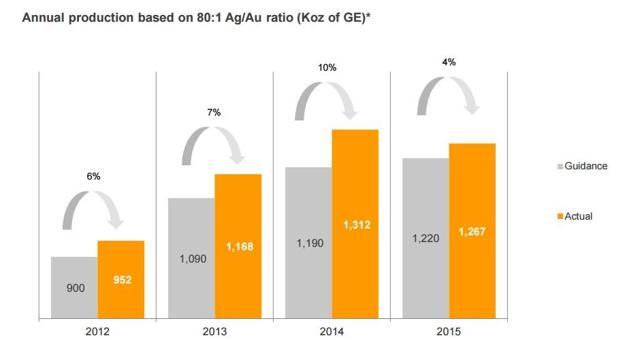 Source: company presentation
The cheap Russian ruble is definitely noticeable in the company's income statement. The top line result fell by approximately $250 million but due to a $260 million reduction in the company's operating expenses, the gross profit remained pretty stable before special items. In fact, the operating profit increased by 10% to $479 million and that should really give you a good indication of how strong Polymetal's performance was in 2015!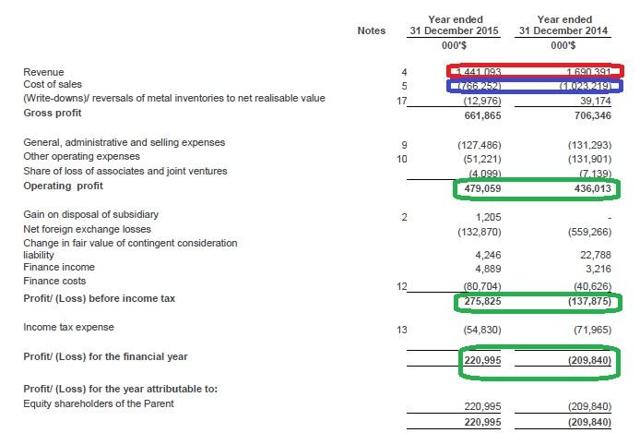 Source: press release
The bottom line was now even showing a net income of $221 million, whereas the company had to confess a $209 million net loss in FY2014 on the back of a substantial forex loss of in excess of half a billion dollar.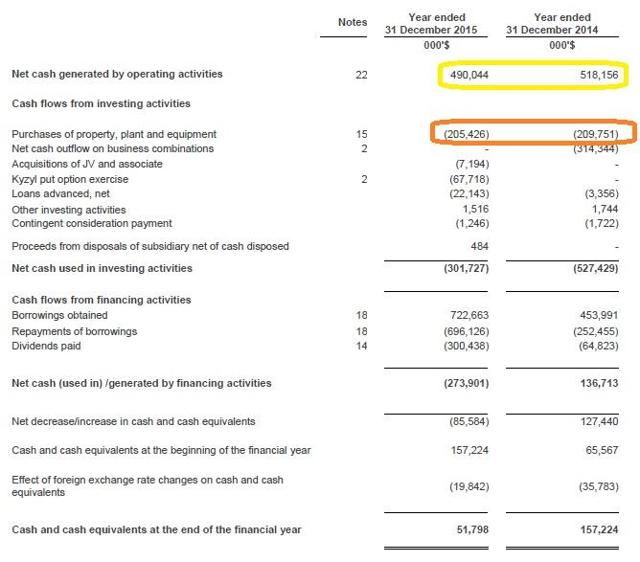 Source: press release
The cash flows are painting approximately the same picture. The operating cash flow fell by just 5% to $490 million and as the total capex was just $205 million, Polymetal generated a positive free cash flow of $285 million for a free cash flow yield of 7.3%. That's very nice, but keep in mind there still is a certain risk involved with an investment in Russian mines, so a 7.3% FCF yield for a Russian company is the equivalent of a 3% FCF yield for an American or Canadian producer (due to the higher risk).
The entire free cash flow was used to acquire full ownership of the Kyzyl gold project in Kazakhstan (see later) and to pay the special dividends.
Counting down to the start of the new Kyzyl gold project
Polymetal has now also decided to move ahead with the Kyzyl gold project in Kazakhstan. This is a major gold project containing 10.4 million gold-equivalent ounces at an average grade of in excess of 7 g/t gold . The mine will start with an initial 22 year mine life with 10 years of 325,000 ounces of gold per year from an open pit operation followed by a production rate of 275,000 ounces per year from the underground mine. The AISC? Just $630/oz which means the current operating margin would be $600/oz or approximately $200 million per year. This will ensure the payback period of the initial investment will remain very limited and the initial capex of $328 million should be repaid within 2 years after starting the Kyzyl mine (keep in mind this does not include a $69 million pre-stripping cost). Adding Kyzyl (and the Kapan mine acquired from Dundee Precious Metals (OTCPK:DPMLF) ) will push Polymetal's production rate to in excess of 1.5 million gold-equivalent ounces by the end of this decade.
To be honest, I didn't (and still don't) have a good idea of why Polymetal bought that mine from Dundee, but according to Polymetal there will be some synergies with its own 100% owned deposit nearby whilst it also thinks it can improve the operational efficiency of Kapan. Additionally, Polymetal intends to use the Kapan processing plant as a 'central hub' for smaller gold deposits around the plant, which are too small to warrant the construction of their own production facilities. Anyway, I think Polymetal knows what it's doing and the $25 million price tag to acquire Kapan from Dundee won't be a hurdle.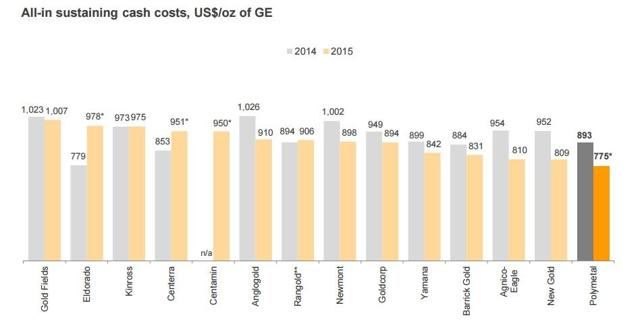 Source: company presentation
For 2016, Polymetal expects to produce 1.23 million gold-equivalent ounces at an AISC of $700-$750/oz. This should most definitely generate a sufficient amount of cash to cover the $340 million in capital expenditures which include the construction start and pre-stripping activities at Kyzyl.
Investment thesis
Polymetal is still generating quite a bit of cash flow and will be able to fund the development of the Kyzyl project without having to draw down more cash from the $1.2 billion it has available on its credit facility. That being said, I'm not sure paying special dividends is Polymetal's best way to spend its cash, and I think the company should be looking for more acquisitions whilst keeping its dividend at a reduced level.
Even by paying out just 50% of the free cash flow, the dividend yield would still be in excess of 3% and this will be sufficient to attract gold investors. Meanwhile, this would allow the company to allocate an additional $150 million per year to debt reduction (reducing the interest expenses) or additional growth initiatives.
Disclosure: I/we have no positions in any stocks mentioned, and no plans to initiate any positions within the next 72 hours.
I wrote this article myself, and it expresses my own opinions. I am not receiving compensation for it (other than from Seeking Alpha). I have no business relationship with any company whose stock is mentioned in this article.
Editor's Note: This article discusses one or more securities that do not trade on a major U.S. exchange. Please be aware of the risks associated with these stocks.