Background
Orion Marine Group (NYSE:ORN) provides construction and specialty services both on and off the water in the continental United States, Alaska, Canada, and the Caribbean Basin.
It currently operates through two segments:
Heavy Civil Marine Construction - constructs marine transportation facilities, marine pipelines, bridges and causeways, and marine environmental structures and provides specialty services including salvage, demolition, diving, surveying, towing and underwater inspection, excavation and repair
TAS Commercial Concrete ("TAS") - provides turnkey services covering all phases of commercial concrete construction including dirt work and layout; forming; rebar and mesh; and pour and finish.
At the time of this article, ORN's stock price was $5.08 - above its 52 week low of $3.25 with a negative current PE, a forward PE of 11.29 and a market capitalization of $138.64 million.
This analysis is based on information from ORN public SEC filings, press releases, earnings calls and investor presentations from the period 1Q05 through 4Q15.
History
ORN has grown through various acquisitions since it was founded in 1994. The stock commenced trading on the NASDAQ in Dec. 2007 and later moved to the NYSE in May 2009.
These acquisitions have created growth opportunities that expanded both project capabilities and geographic footprint. A history of these acquisitions is embedded in an investor presentation on the Orion Marine Investor Relations home page.
The acquisition of TAS in Aug. 2015 is the cornerstone in ORN's growth plans as well as diversifying from specializing solely on marine construction and maintenance.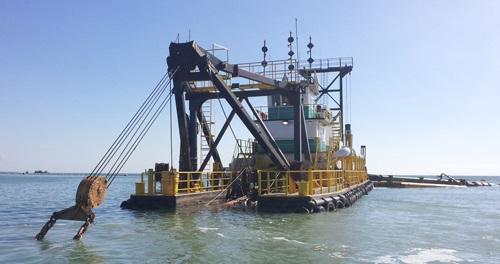 Commercial concrete acquisition consistent with strategic plans for double digit growth
ORN maintained double digit profit margins from 2005 through 2010 when increased competition decreased margins and a slow economic recovery from the recession resulted in a pullback in project opportunities in the private sector. These opportunities reemerged in 2012, but margins were still pressured by intense competition. The chart below illustrates these trends.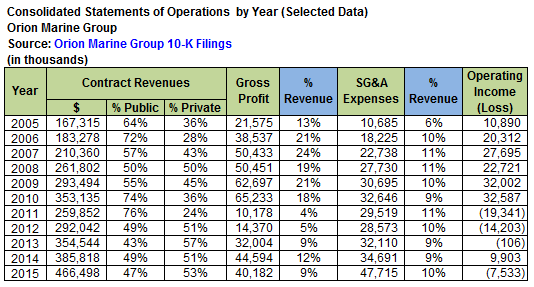 While 2013 to 2015 were each record years for revenue, margins did not recover to the highs experienced in the 2005 to 2010 time period.
Acquisition producing immediate results
The TAS acquisition in Aug. 2015 is a milestone for ORN as it was the first divergence from the marine construction and maintenance business and necessitated the creation of a separate operating segment.
The impact of the acquisition is also apparent in the financial statements.
From an income statement perspective, even though TAS was acquired midway through 3Q15 it contributed $2.4 million in operating income to ORN. The trend continued in 4Q15 with TAS contributing $3.8 million in operating income to ORN. The chart below illustrates the breakdown of revenue and operating income by segment.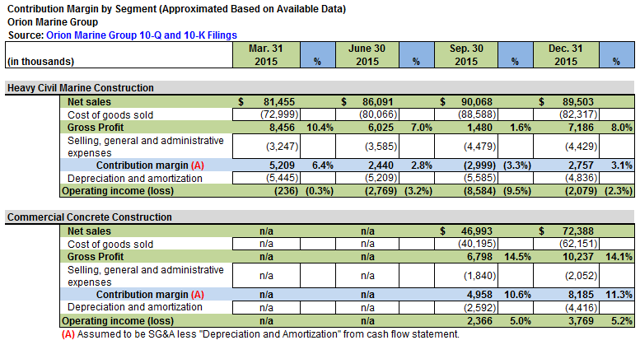 On the balance sheet the TAS segment requires fewer capital assets to generate profits. At the end of 3Q15 TAS assets totaled $156 million including $14.8 million in net property, plant and equipment (PP&E). In comparison, the Marine Construction segment assets totaled $348 million including $149 million in PP&E.
ORN borrowed $149 million on their credit facility in 3Q15 to purchase TAS as well as to extinguish existing debt.
Cash flow is only provided on a consolidated basis, but improvement from 2Q15 to 4Q15 is evident. The chart below illustrates the changes in cash flow by quarter.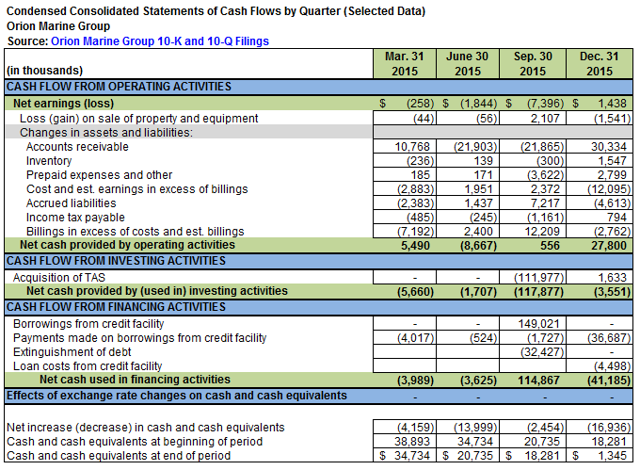 Management also focusing on operational improvement initiatives
The cash flow detail above evidences improvements in working capital (mainly from collections on accounts receivable) with the focus on extinguishing debt incurred as a result of the TAS acquisition.
In addition, ORN is focusing on several operational initiatives to return the company to double digit return on invested capital:
Deep analysis of existing capital expenditure plan
Maximizing return on owned equipment
Determining the correct balance of equipment to own versus rent
It is likely the majority of these initiatives will be focused on the Marine Construction segment as the TAS segment has fewer capital assets and is less capital intensive in generating revenues.
The significant profit margins and cash flow generation of the TAS segment will set the bar for operational goals for the Marine Construction segment.
Conclusion
Investors would be warranted to place ORN on their watch list as the recent acquisition of TAS will continue to improve the financials of ORN through 2016. In addition, improvements from ORN operational initiatives and continued positive cash flow generation from TAS will provide the capital necessary to accelerate debt extinguishment as well as support ORN's strategy for double digit returns on investment.
Depending on risk appetite, an investor could acquire a position now instead of waiting for the 1Q16 earnings release in late April.
Disclosure: I/we have no positions in any stocks mentioned, and no plans to initiate any positions within the next 72 hours.
I wrote this article myself, and it expresses my own opinions. I am not receiving compensation for it (other than from Seeking Alpha). I have no business relationship with any company whose stock is mentioned in this article.