On any given day there are well over 35,000 ships at sea and most are transporting cargo, in particular, delivering trade goods. Indeed, global growth over the past several decades, particularly in emerging market nations, along with population growth and increasing discretionary income has resulted in consistent increases in shipping traffic. Since 2005 the quantity of loaded freight in international maritime traffic increased by over 38.44%.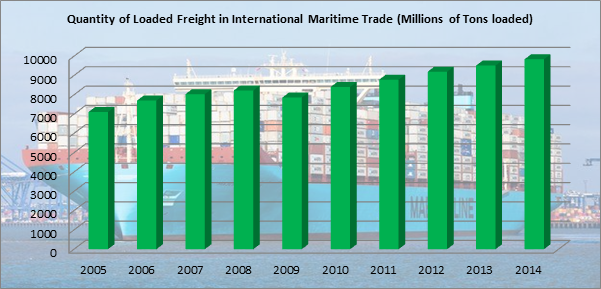 Data from Statistica
It isn't that just more stuff is being packed on the same number of ships, either. The increase in international seaborne trade carried by container ship over the same period of time has increased a whopping 68.317%. However, the most recent data includes statistics only up until 2014.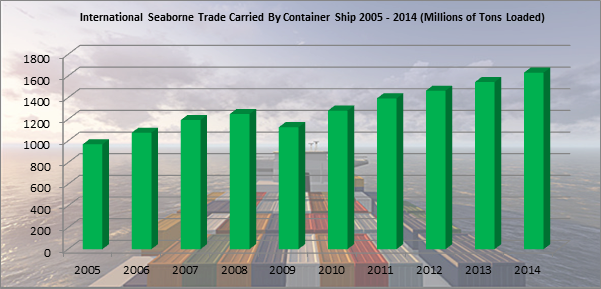 Data from Statistica
Since then there has been a dramatic decline in the demand for many industrial commodities including petroleum. One clue on the effect the global commodity recession has had on shipping more recently is clearly reflected in the chart below of the Guggenheim's Shipping ETF (NYSEARCA:SEA). The impact has been dramatic. The fund's closing high was achieved about five months after its June 2010 inception date at $22.95 per ETF share. The closing low occurred February 8, 2016 at $10.16 per share; a decline of nearly 56%.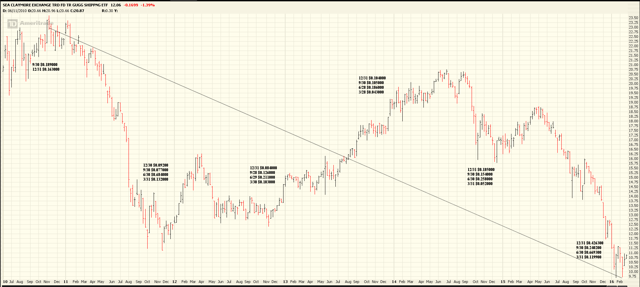 The fund tracks the Dow Jones Global Shipping Index which is designed to measure "... the stock performance of high dividend-paying companies in the global shipping industry..." The index yields 10.08% and marks at 3.16 times cash flow. The fund's 12 month dividend yield is 12.47% and trades at 0.7 times book value. SEA is currently one of the better yielding ETFs.
Returns

3 Months

Year to Date

1 Year

3 year

5 Year

10 Year

Since Inception

Guggenheim Shipping ETF Shares

-10.37%

-24.68%

-24.68%

-3.07%

-10.72%

********

-8.29%

6/11/2010

DJ Global Shipping Index

-25.41%

-14.07%

-39.66%

-10.17%

-11.69

-2.92

-2.53

12/30/2005
Data from Guggenheim
It's important to note that the fund is tracking the highest yielding shipping companies and not just simply the largest shipping companies. Indeed, the fund does have a good yield, but the question is whether these yields are sustainable. A brief overview of the current 25 holdings presents a few basic metrics.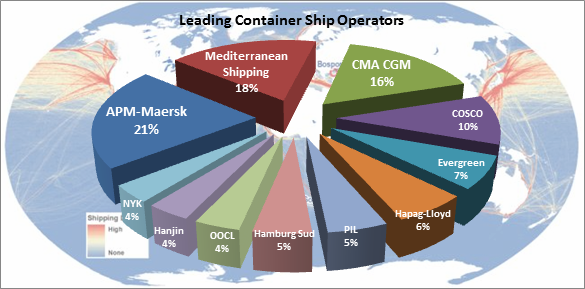 Data from UNCTAD
Maersk Group (Copenhagen: MAERSKB) is the name in shipping and a global industrial giant operating in 130 countries and with 89,000 employees. It's worth noting Maersk, as it could be a core holding on it's on. There are five core businesses comprising Maersk Group: Maersk Line, APM Terminals, Maersk Oil, Maersk Drilling and APM Shipping Services. Maersk holds a heavy weighting in both the fund and the index at about 22% of total. Lastly, there are two classes of Maersk shares: A and B. A shares have voting rights and B shares don't. The fund holds non-voting 'B' shares.
The fund also holds Cosco Pacific (OTC:CSPKY) another recognizable industry brand name. As demonstrated in the above pie chart, Maersk and Cosco comprise about 31% of the global container shipping industry.
Company

(Exchange: Ticker)

Fund

Weighting

Market Cap

(in Billions USD)

Yield

Dividend/EPS

Total

Debt/Equity

Maersk Group


21.51%

$26.737

3.30%

810%

NA

Nippon Yusen

(OTCPK: OTCPK:NYUKF)

8.59%

$3.370

4.05%

8.091%

128.51

Cosco Pacific Ltd

6.28%

$3.530

3.54%

21.52%

32.35

Kawasaki Kisen Kaisha

(OTCPK: OTC:KAKKF)

5.78%

$1.861

3.83%

171%

111.65

Matson Inc

(NYSE:MATX)

5.26%

$1.749

1.79%

7.69%

95.41

Nordic American Tankers Ltd

(NYSE: NAT)

4.52%

$1.31

11.75%

133.33%

37.47

Sembcorp Marine Ltd

(OTCPK: OTCPK:SMBMF)

4.03%

$2.681

3.44%

NMF

134.6
Data from Reuters, Yahoo! and Company Websites
The second group of names includes Gaslog Ltd (NYSE:GLOG), Teekay LNG Partners (NYSE:TGP) and Navios Maritime Holdings (NYSE: NM). These three company names are worth pointing out since they occur multiple times in the fund. GasLog Partners (NYSE: GLOP) is a growth oriented limited partnership, owning, operating and acquiring LNG carriers which includes GasLog Ltd. Hence, the 'partnership', has in essence, a holding company structure and objective, with two different listings. The structure of Teekay is similar. The company 'partnered' or holding Teekay LNG Partners, Teekay Offshore Partners (NYSE: TOO) and Teekay Tankers (NYSE: TNK) is Teekay Corporation (NYSE: TK). The fund holds the parent company and two of the three partner-subsidiary companies.
Company

(Exchange: Ticker)

Fund

Weighting

Market Cap

(in Billions USD)

Yield

Dividend/EPS

Total

Debt/Equity

Seaspan Corp

(NYSE: SSW)

3.53%

$1.830

8.05%

25.676%

190.70

Golar LNG Partners

(NASDAQ: GMLP)

3.52%

$0.921

15.46%

18.71%

249.43

Ship Finance International

(NYSE: SFL)

3.48%

$1.359

12.38%

23.77%

134.20

Gaslog Ltd

2.92%

$0.877

5.14%

350%

237.05

KNOT Offshore Partners

(NYSE:KNOP)

2.83%

$0.474

12.25%

43.70%

117.22

Navios Maritime Holdings

2.77%

$0.178

0.00%

0.00%

153.07

Teekay LNG Partners

2.55%

$1.059

4.20%

6.335%

122.44
Data from Reuters, Yahoo! and Company Websites
Lastly, Navios Maritime Holdings is a shipping carrier also providing risk management and logistics support. Navios Maritime Partners (NYSE: NMM) is just that, a limited partnership however, in this case the holding company is the 'sponsor' of the partnership with 18% ownership.
It is not unusual for ETFs to hold the parent holding company as well as subsidiaries if they are listed public companies. The important point to note in these situations is that there's a strong likelihood that one can have an effect on the others.
Company (Exchange:Ticker)

Fund

Weighting

Market Cap

(in Billions USD)

Yield

Dividend/EPS

Total

Debt/Equity

GasLog Partners

2.57%

$0.552

11.18%

24.00%

128.25

Tsakos Energy Navigation

(NYSE: TNP)

2.55%

$0.563

4.96%

7.77%

107.09

BW LPG Ltd

2.47%

$0.920

22.80%

29.156%

76.16

DHT Holdings Inc

(NYSE: DHT)

2.43%

$0.569

13.73%

22.34%

89.78

Teekay Offshore Partners

2.14%

$0.667

7.06%

NMF

284.76

Costamare Inc

(NYSE:CMRE)

2.11%

$0.703

12.34%

17.26%

161.57

Stolt-Nielsen Ltd

(OTCPK: OTCPK:SOIEF)

1.93%

$0.681

9.70%

21.497%

132.13
Data from Reuters, Yahoo! and Company Websites
Small specialized funds provide diligent small investors with an opportunity to construct a diversified portfolio specifically designed to maximize investment dollars. True, one or two large index funds might do it all requiring little effort on the part of the investor; sort of one-stop-shopping for investors. In the case of the Guggenheim Shipping ETF, the investor must weigh out the risk. Many of these companies have extraordinarily high total debt to equity which makes sense when one considers the cost of capital investment. Shipping may be acquired or built, hence requiring a lot of financing and lag time to delivery. Further, many shipping companies also acquire or upgrade large container port facilities.
Company (Exchange:Ticker)

Fund

Weighting

Market Cap

(in Billions USD)

Yield

Dividend/EPS

Total

Debt/Equity

Teekay Corp

1.78%

$0.702

2.28%

12.195%

837.76

Avance Gas Holdings Ltd

1.59%

$0.292

54.77%

87.76%

121.80

Capital Product Partners

(NASDAQ: CPLP)

1.50%

$0.395

32.12%

64.865%

60.55

Navios Maritime Partners

1.17%

$0.129

0.00%

0.00%

81.86
Data from Reuters, Yahoo! and Company Websites
Also, simply calculating a dividend to earning per share ratio gives a quick indication of just how much stress the dividend puts on earnings. This ratio is simple, quick, straightforward and more available than compared with the 'payout ratio' metric; often absent from publicly listed statistics. In the case of SEA, the average dividend to EPS ratio is nearly 84%; thus a lot of earnings are channeled towards dividend payments. Some companies are actually paying dividends in excess of EPS and in a few cases, paying dividends even when EPS is negative. Hence, those dividends must be considered at risk. On the other hand, the facts that the fund has consistently paid distributions can't be ignored.
Averages for available data and excluding NMF

Average Fund

Weighting

Average Market Cap

(in Billions USD)

Average Yield

Average Dividend/EPS

Average Total

Debt/Equity

4.00%

$2.16

10.40%

83.898%

159.41
Data from Reuters, Yahoo! and Company Websites
There's a slight inconsistency with the fund's geographic allocation when compared with the Dow Jones Global Shipping Index. The pie chart below graphically demonstrates the fund's geographic allocation. Why this is so isn't clear however the fund did change tracking indices in 2011 from the Delta Global Shipping Index to the Dow Jones shipping index. Further, many data sources still carry the Claymore/Delta Global Shipping ETF name although Guggenheim acquired Claymore in 2009. Lastly, SEA tracks the Dow Jones Global Shipping Index passively.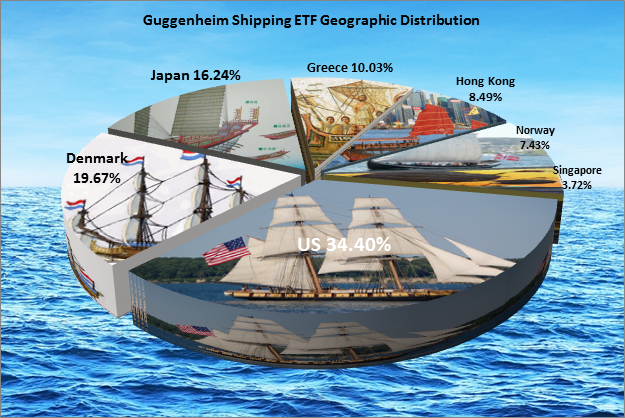 Data from Guggenheim
| | | | |
| --- | --- | --- | --- |
| Dow Jones Global Shipping Index Geographic Distribution | | | |
| Denmark | 22.96% | China | 9.74% |
| Norway | 14.41% | Singapore | 6.50% |
| Japan | 14.31% | Bermuda | 3.49% |
| Greece | 14.30% | United Kingdom | 2.96% |
| United States | 11.34% | | |
Data from Dow Jones
For those investors experienced in options trading, there is open option interest, hence the opportunity to short calls, (covered), buy puts in lieu of a direct entry, or trade options on the fund's holdings. Since the fund has so few holdings, the interested investor may research and select the best possible option outcomes on individual holdings as well as on the fund itself or combinations, thereof.
Aside from options every investor should realize that even in a global recession, trade will go on. True, demand will be reduced and competition among the carriers for that reduced demand for shipping will lead to cost reductions, possibly some M&A or even a reduction in the number of shipping carriers in the industry. However, this much must be considered: the fund is at all-time lows and still has a great yield.
If an investor has risk capital stowed away, a long term horizon in view and the patience to ride out the rough seas in the shipping industry, this fund might turn out to be a winner by the time you sail into your objective port.
Disclosure: I/we have no positions in any stocks mentioned, and no plans to initiate any positions within the next 72 hours.
I wrote this article myself, and it expresses my own opinions. I am not receiving compensation for it (other than from Seeking Alpha). I have no business relationship with any company whose stock is mentioned in this article.
Additional disclosure: CFDs, spread-betting and FX can result in losses exceeding your initial deposit. They are not suitable for everyone, so please ensure you understand the risks. Seek independent financial advice if necessary. Nothing in this article should be considered a personal recommendation. It does not account for your personal circumstances or appetite for risk.
Editor's Note: This article discusses one or more securities that do not trade on a major U.S. exchange. Please be aware of the risks associated with these stocks.