Given the weakness in uranium pricing in the past few months, it is not surprising to note that miner Cameco (NYSE:CCJ) currently languishes at the lower end of its 52-week band. However, despite low uranium prices due to oversupply in the industry that arose post the Fukushima disaster, Cameco has been able to make some positive moves.
For instance, in the fourth quarter, the company had performed decently by concentrating on the aspects of its business that are within its control. The company's revenue was up 10% from last year as it increased production, though lower uranium pricing took a toll on the bottom line as average realized prices were down 8% year-over-year.
So, it is important to first see whether or not a recovery in uranium prices is in the cards as this will be important to Cameco's bottom line performance in the long run.
Gauging the nuclear power industry recovery
At the moment, the recovery of the nuclear industry seems impending, though it is not yet in sight. There are a number of uncertainties and hurdles that could make a turnaround in uranium pricing difficult in the short run. This is because there are divisions between pro-nuclear and anti-nuclear governments across the globe.
However, the long-term positives in the nuclear industry cannot be denied. For instance, the pace at which a number of countries in Asia are moving ahead with their nuclear programmes after a short break post the Fukushima disaster is encouraging.
More specifically, China had brought 8 new reactors online last year. In addition, certain Chinese companies also signed agreements with Argentina, Romania, and the U.K. for the construction of new reactors. This clearly indicates that China is on track to increase its nuclear energy generating capacity going forward, which will make it a leading uranium consumer in the long run. In fact, China will be increasing the proportion of nuclear electricity from 2% at present to 30% in 2030.
Up next, Japan is slowly coming out of the Fukushima shock. The units 1 and 2 of the Kyushu Sendai plant in Japan were restarted in the second half of 2015, with more to come online going forward. On the other hand, the Shikoku Ikata 3 is anticipated to start up in early 2016. Moreover, three more units of this plant have succeeded in clearing the nuclear regulatory agencies' safety review, with another 20 reactors under the process of approval.
Similarly, nuclear demand in India is also increasing, and the good news is that Cameco has recently signed a deal to be the country's primary uranium provider. At present, there are six nuclear reactors that are being constructed in India, and there are another 38 reactors lined up for the future.
In all, India plans to increase its nuclear power capacity from 6,000 MWe at present to 45,000 MWe by 2035. To power up its nuclear program, the Department of Atomic Energy of India decided to purchase 7.1 million pounds of uranium from Cameco through 2020. It is because of these long-term deals that the prospects of the uranium market appear to be bright.
Meanwhile, in the west, the U.K. and the U.S. are focusing on the extension of the lives of their reactors to 80 years. As a result of this move, annual uranium demand across the globe is expected to grow from 155 million pounds at present to around 230 million pounds over the next 8 years.
Hiccups to the uranium recovery
Having said all that, a recovery in uranium might take longer than one would have expected. The delay is because most of the upcoming nuclear power plants are still under construction, so there is not much tangible demand in the end market. Moreover, even after the construction is complete, getting the final approval to bring the reactors online is another long-drawn process.
So, on one hand, not enough nuclear reactors are operating, and on the other hand the uranium market is being flooded by supply from secondary sources. Moreover, the phase-by-phase reactor shutdown in countries such as Germany will put more pressure on uranium pricing in the short run. Thus, a recovery in uranium pricing is not going to happen overnight, which is why Cameco investors need to stay patient and continue buying the stock on dips.
Why Cameco should be bought on dips
Cameco is well-placed to benefit from a recovery in uranium prices. This is because the company has managed to keep costs low through the downturn and is operationally profitable. Take a look at the following chart for a better understanding: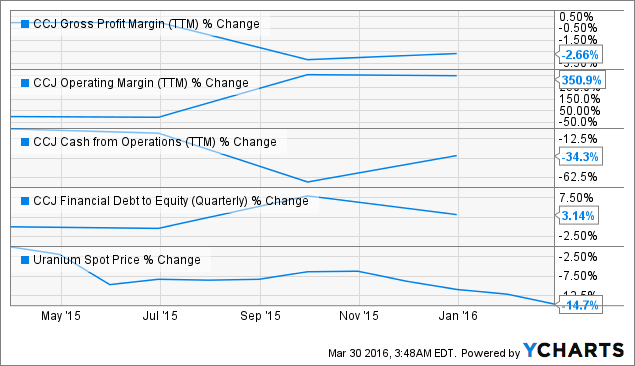 CCJ Gross Profit Margin (NYSE:TTM) data by YCharts
As shown above, uranium prices have dropped almost 15% in the past year. However, Cameco has kept its gross margin quite stable, while its operating margin has improved. Of course, the company's operating cash flow has taken a toll, but an improvement can be witnessed in this area as well. Finally, Cameco has managed to lower its debt-equity ratio, which is again quite impressive.
In all, Cameco has a very low debt-equity ratio of 0.27 and a robust current ratio of 3.25, which means that its balance sheet is in good shape. Thus, it is clear that Cameco has been able to navigate the weakness in the uranium market in smart way, which is why it is prepared for long-term windfall gains that will arrive when uranium prices pick up.
In fact, with 23 reactors anticipated to start in 2016, Cameco will start to see an increase in uranium demand. As a result, investors should continue accumulating Cameco shares as it can deliver upside in the long run.
Disclosure: I/we have no positions in any stocks mentioned, and no plans to initiate any positions within the next 72 hours.
I wrote this article myself, and it expresses my own opinions. I am not receiving compensation for it (other than from Seeking Alpha). I have no business relationship with any company whose stock is mentioned in this article.