The biotech sector is pretty much where we left it during our last Biotech Forum Daily Digest post before the market opened on Monday. The sector opened the week on a down note as Valeant Pharmaceuticals (VRX) declined another seven percent on Monday. Its just fired CEO was subpeonaed by a congressional committee looking into drug price gouging. Valeant was slightly up in trading Tuesday and the biotech sector staged a nice rally to claw back to the levels it began the week.

Acadia Pharmaceuticals (ACAD) was halted in trading all day Tuesday as a FDA advisory committee commonly known as Ad Comm debated whether to recommend the company's drug Nuplazid for approval to the FDA. Obviously this would be a significant event for the company and the stock.
After the bell, the results were announced. The panel voted 12-2 in favor of recommendation. Acadia is up some 25% in pre-market trading today. This recommendation does not guarantee approval but does make it much more likely the FDA will approve the drug on or before May 1st.
If approved by the FDA, Nuplazid would be the first drug indicated to treat psychosis associated with Parkinson's disease. According to the National Parkinson Foundation, about one million people in the United States and from four to six million people worldwide suffer from Parkinson's disease. An estimated 40 percent of these patients have Parkinson's disease psychosis. I have seen at least one analyst state this drug could be generating $1.4 billion in annual sales by 2020. Obviously Nuplazid could be a significant driver for Acadia which has less than a $3 billion market capitalization. The drug is also in late stage trials for a couple of other indications as well.

Acadia was a recent Biotech Forum selection and still is a high risk/high reward stock. Nuplazid is not approved yet and there were significant safety concerns around its latest trial results. However, the FDA concluded that for every two patients who experienced a major reduction in their psychotic symptoms, one patient would suffer a serious adverse event. Since there is no other current effective treatment for this condition, the panel ended up recommending it with only 2 dissensions on the 14 member panel.
A stock that will be going in the opposite direction in trading today than Acadia on regulatory news is Opko Health (NYSEMKT:OPK). The company announced it has received a complete response letter ('CRL') to the company's New Drug Application (NDA) for RAYALDEE ® (calcifediol) as a treatment for secondary hyperparathyroidism in patients with stage 3 or 4 chronic kidney disease and vitamin D insufficiency.
The stock looks like it will open down nearly 10% based on pre-market trading. I own a small chunk in this $6 billion biotech firm. Revenues are exploding at this company thanks to new commercial launches. The company also has a deep and evolving pipeline and should turn a profit by FY2017. Most importantly to me is that noted biotech investor and billionaire Phillip Frost has a significant stake in the firm and buys shares frequently and consistently in Opko.
The FDA granted Vical's (NASDAQ:VICL) compound VL-2397 Fast Track review today for the treatment of invasive aspergillosis, an infection caused by inhaling the ubiquitous Aspergillus fungus. This fungus is inconsequential in people with a normally functioning immune system, but can be dangerous in those with weakened immunity such as those undergoing hematopoietic stem cell transplantation, chemotherapy for leukemia or with AIDS.
This is not a name I follow but the FDA also designated VL-2397 a Qualified Infectious Disease Product in August of 2015 and an Orphan Drug in January of this year. The stock is a micro-cap with a market capitalization of under $40 million which is equivalent to the cash on its balance sheet.

Relypsa (RLYP) which was recently the subject of a spotlight feature here on the Digest, was up some seven percent in trading on Tuesday. Brean Capital initiated the shares as a Buy with a $26 price target. In addition, Barron's mentioned the company as one of eight small biotechs/biopharma stocks that could make likely buyout targets. Readers should recall that Relypsa's main potential competitor in the hyperkalemia market is ZS Pharma (NASDAQ:ZSPH). ZS Pharma was bought out with a large premium by AstraZeneca (NYSE:AZN) in early November of last year in a $2.7 billion purchase.
Not surprisingly, Acadia Pharmaceuticals is getting a lot of love from analysts this morning after the Ad Comm recommendation was announced after the bell on Tuesday. Needham reiterated its Buy rating with a $49 price target this morning. Piper Jaffray maintains its Buy rating but ups its price target to $44 from $39 before trading today. Kudos to JP Morgan, H.C. Wainwright, Leerink Swann and Merrill Lynch for reiterating their Buy ratings on Monday before the committee's decision was known. Their recently reissued price targets range from $40 to $50 on Acadia currently.
Teva Pharmaceuticals (NYSE:TEVA) continues to garner some positive comments from analysts this month. Teva is already the largest generic drug maker in the world and is in the process of purchasing Actavis the generic drug part of Allergan (NYSE:AGN) in a $40 billion deal.
Yesterday, Morgan Stanley reiterated its Outperform rating on TEVA and has a price target of $71 on the stock currently. Leerink Swann reissued its Buy rating earlier this week which came on the heels of BTIG's assigning a Buy on Teva on March 21st with a $77 a share price target.
I have recently taken a stake in this large drug maker as I find it significantly undervalued at under $55 a share. The stock is off some 30% from highs this summer and has been unfairly tainted in the pariah that Valeant has become for the drug industry. The stock is too cheap at under 10 times earnings with a 2.5% dividend yield to boot.

Our spotlight feature today will be on a small biotech concern called Argos Therapeutics (OTC:ARGS). Shareholders have been taken for a roller coaster ride in this stock over the past year. The stock reached over $9 share in the second quarter of 2015 and sank with the overall bear market in biotech that commenced in late July. The stock ended the year trading at approximately $2. This year has been a completely different story as the shares have delivered some of the best performance of any small cap I am aware and currently trade for just under $7.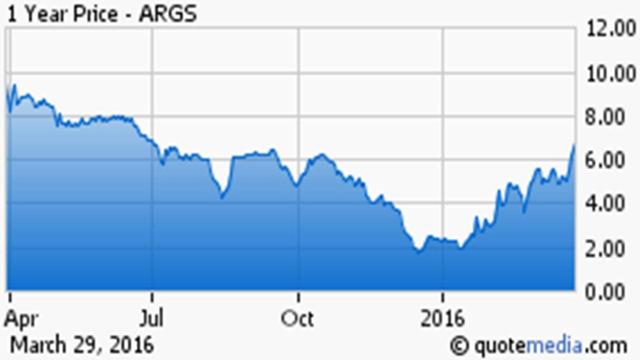 I have been along for most of that ride, neither adding to my core stake nor selling any shares in that holding. Argos remains an attractive but high reward/high risk play. The company should also be in the news today as it just reported quarterly results. The headline quarterly numbers are pretty meaningless given Argos is a small developmental concern with no recurring revenues as of yet. The tone of the conference call will probably be much more important to the near-term direction of the stock and whether the recent rally can be maintained.
This small cap concern with a market capitalization of just under $150 million is a biopharmaceutical company focused on the development and commercialization of fully personalized immunotherapies for the treatment of cancer and infectious diseases. The Company has developed a pipeline of products based on its proprietary Arcelis technology platform. This technology platform is based on the work of 2011 Nobel prize winner Ralph Steinman.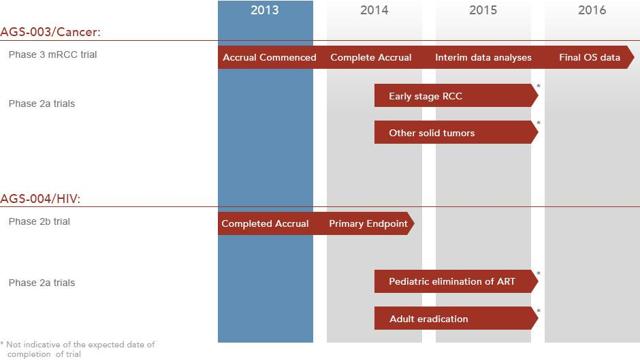 The most advanced product in development by Argos is called AGS-003, and it is designed for the treatment of metastatic renal cell carcinoma. AGS-003 is a personalized treatment developed from a sample of each patient's blood. Specialized white blood cells, called monocytes, are separated and developed into mature dendritic cells. This compound currently is in a critical Phase III trial for the treatment of metastatic renal cell carcinoma.
Ralph Steinman first discovered the cells, winning a Nobel Prize for his work. Their role is to recognize and present antigens, thereby inducing a primary immune system response. The dendritic cells developed with Argos' technology are then programmed with specific signals (antigens) derived from a small tumor sample taken via surgery. These are then injected under the skin, hopefully initiating an immune system response that destroys cancer cells.
The company's other primary pipeline product, AGS-004 is currently in a randomized, double-blind, placebo-controlled Phase 2b trial targeting HIV. This trial is designed to measure safety and efficacy, in terms of viral load control, of the therapy. Argos recently completed treating HIV patients in a multi-center Phase 2a trial. Interim results from this Phase 2a trial demonstrated that the candidate AGS-004 achieved a significant reduction in viral load and a delay in viral rebound kinetics during a 12-week antiretroviral treatment ('ART') interruption when compared to pre-ART viral loads.
Argos obviously has some high profile trial milestones coming up in 2016 that either keep its recent rally going or end it. Analyst commentary has been positive in March. FBR Capital reiterated their Outperform rating last week and earlier in the month Piper Jaffray reissued its Buy rating and $11 price target on Argos.
The company recently raised $60 million in a private placement issuing stock and warrants. This removes any funding needs through mid-year 2017. The fact the stock has rallied despite this dilution points to the optimism the market has currently on upcoming trial milestones and how concerned investors have generally been on any small biotech concern that needs to raise funding, a worry the private placement alleviated. I continue to be cautiously optimistic on the company's pipeline so will continue to hold on to my core stake even with the huge rally in the stock in 2016.

Thank You & Happy Hunting
Bret Jensen
Founder, Biotech Forum
Disclosure: I am/we are long ACAD, ARGS,OPK , RLYP.
I wrote this article myself, and it expresses my own opinions. I am not receiving compensation for it (other than from Seeking Alpha). I have no business relationship with any company whose stock is mentioned in this article.
Editor's Note: This article covers one or more stocks trading at less than $1 per share and/or with less than a $100 million market cap. Please be aware of the risks associated with these stocks.