Image source: Depomed
Depomed (NASDAQ:DEPO) is down 60% from its July 2015 highs despite doing really well. If we exclude the Horizon-induced rally to the mid 30s in July, the stock is still down around 50% from April 2015 highs. The reason for this drop is mainly external in my opinion - with Valeant (NYSE:VRX) being the main reason. Political rhetoric about price gouging has really hurt the sector last year and Valeant's implosion in the last few weeks added fuel to the fire. In this article, I will discuss the latest set of fundamental developments related to the company and will discuss the company's debt load, cash flow generation and upside potential. I believe that the stock is significantly undervalued at current levels and think that the stock will perform very well once the sector storm passes.
External events and the (largely non-existent) fundamental impact on Depomed
There was no shortage of bad news for the pharma sector since September 2015. The political rhetoric related to price gouging in September 2015 marked the start of a significant decline for the sector followed by federal subpoena's and investigations around pricing strategies of some companies (mostly related to generic products) and questions about Valeant's use of specialty pharmacies.
Depomed's share price went down together with other pharma stocks - and the real impact on the company's growth and financials is non-existent - at least as of this writing. Depomed is not in the price-gouging crowd. The company did raise Nucynta's price after it acquired the product last year, but the increase brought its price in line with the top competitor - OxyContin.
The other potential negative impact was the expected pushback from payers - the threat of Depomed's product being excluded from PBM formularies. This hasn't happened either and Nucynta entered 2016 with stronger coverage than before:
Cigna - tier 2 position since January 2016 for both Nucynta ER and Nucynta IR.
Blue Cross Blue Shield Tennessee - tier 2 since January 2016.
Federal Employee Benefit Program - moved in front of OxyContin in February 2016.
United Health Care Commercial - continued preferred access in 2016.
Nucynta has roughly the same commercial coverage as the leading brand OxyContin - 76% of commercial patients have unrestricted access, while it is in a stronger position than Opana ER, for which 68% of patients have unrestricted access.
Another perceived risk as of March 2016 is the excessive leverage, prompted by Valeant's troubles and the possibility of a technical default for the troubled pharma company. This fear is once again unrealistic when it comes to Depomed, which I will discuss later in this article.
However, here are the negative effects that have materialized since September 2015:
The lower share price weakens the company's ability to either raise capital or to use equity as currency for acquisitions.
Raising additional capital through the debt markets has become harder and/or more expensive. The company's plans for debt refinancing might not be realized at better terms in 2017.
Nucynta's relaunch is going really well
Depomed has executed the Nucynta relaunch very well. Nucynta ER's growth has accelerated since June 2015 and the Y/Y growth rate was 22.1% in February 2016 - a new high for Y/Y growth rates.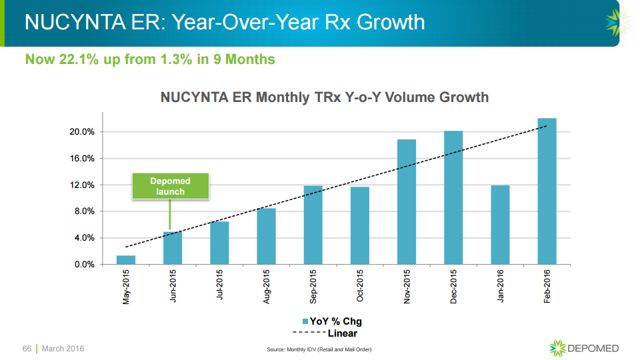 Source: Depomed investor presentation
Nucynta IR's Y/Y decline has finally reversed in early 2016. Prior to being bought by Depomed, Nucynta IR's prescriptions were down more than 10% Y/Y and Depomed has arrested the decline and we might even see some growth this year. However, the immediate release market is highly competitive and I expect most of the growth to come from Nucynta ER.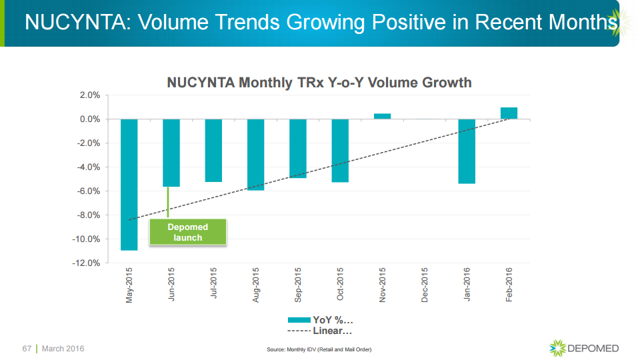 Source: Depomed investor presentation
I listened to management's latest presentation and I was impressed with how the company addressed the key issues after acquiring and launching Nucynta:
Inconsistent and insufficient sales force execution by the former owner - only 80 reps were covering the brand through a contracted sales force organization and there was insufficient support around it. Depomed more than tripled the number of sales reps to 277 in June 2015 and added 24 more reps in February 2016. The number of sales calls are in line with those of its top competitors and the company has participated in all the major pain conferences with 900 speaker programs in the last six months. In early January, the company also held a national sales team meeting, which has positively affected the morale of the sales force and the company has new sales initiatives, which should help with the growth in 2016 and beyond.
Perception of poor efficacy compared to competitive products. This was the result of improper promotion and related to titration issues. Better communication, product repositioning and education about proper titration have significantly improved physician perception of the product and have positively affected prescription growth.
Perception about poor access and/or affordability. Depomed has dealt with these issues too and has retained a high level of access for Nucynta, as I discussed earlier.
I extensively discussed the company's strategy around Nucynta in my initiation article and I will just repeat the most important drivers (updated to address the recent events):
A 44% price increase, which is not fully realized due to existing contracts at the time of the increase. The company said the realization of this increase should happen throughout 2016.
Increased promotion - 301 sales representatives are promoting Nucynta now as opposed to just around 80 before the relaunch in June 2015.
Revamped positioning - Nucynta is the only FDA-approved product that is targeting both nociceptive and neuropathic pain. The company is focusing on chronic back pain and moderate to severe painful diabetic neuropathy or DPN, which have been neglected by the prior owner.
Pricing and access - improved commercial coverage should lead to stronger growth.
Proper dosing - the company already made some progress here, but the average dose is still low at 258 mg/day compared to 400 mg/day in clinical trials. Proper titration should improve both the patient and physician experience and drive higher prescription growth on higher average pill consumption per day.
Depomed believes that Nucynta could reach $1 billion in annual sales before patent expiration. And here lies the risk. The company has bought Nucynta knowing that its patents are being challenged. The trials are ongoing and the company is confident in the validity of its patents. The most important patent is the composition of matter patent that expires in 2022 and management stated that this is the "gold standard" in the industry - approximately 90% of composition of matter patents were successfully defended over the last 10 years and there were some material deficiencies among the 10% that lost.
The company is confident that Nucynta will retain exclusivity for a long time. The other two patents expire in 2025 and in 2028. Judging from Horizon Pharma's (NASDAQ:HZNP) previous interest and the attempt to buy Nucynta directly and then through the Depomed acquisition, it seems that Nucynta's IP was strong, since I am sure that both Horizon and Depomed had done extensive diligence before making a bid.
The resolution of the patent lawsuit should happen during Q2 and I think that the worst-case scenario is exclusivity through 2022 and the realistic scenario could be a settlement with a generic entry in 2025. A positive resolution should be the main near-term catalyst for Depomed's share price in the following months.
The rest of the portfolio is also performing well
The other three brands are also performing well:
Gralise's revenues are up 34% Y/Y and have reached an annualized run rate of $86 million in Q4 2015. Depomed intends to grow prescriptions by increasing utilization and by capturing switches from generic gabapentin.
Cambia's revenues are up 26% Y/Y with an annualized Q4 revenue run rate of $32 million. Cambia is the only single-agent for acute migraine and the company intends to push sales based on differentiation: rapid onset of action and relief.
Lazanda's revenues are up 154% Y/Y and have reached an annualized run rate of $21 million as of Q4 2015. It is the only nasally-delivered fentanyl product - which is a preferred treatment for patients with oral complications.
Cebranopadol - a promising asset
The company revealed more information about Cebranopadol last week. The product was acquired from Grunenthal in late 2015. Cebranopadol represents a new class of analgesics with novel pharmacology. According to Depomed's investor presentation, Cebranopadol has opioid-like efficacy in musculoskeletal pain and also addresses neuropathic pain. It has a better safety profile than typical opioids resulting in reduced abuse potential and a lower risk of respiratory depression. Cebranopadol successfully completed five Phase 2 trials and a Phase 3 trial should begin sometime in 2017.
The main issue with the candidate is the high dropout rate - between 28% and 47% for higher doses. The company found out that the highest number of dropouts occurred during the titration phase and that an optimized regimen of titration should lead to more than a 40% reduction in dropouts in the Phase 3 trial (this is a simulation, though, and the real results may differ).
Cebranopadol is certainly a promising asset, which could drive significant top and bottom line growth for Depomed in 2020 and beyond. Given Depomed's current valuation, I believe that no value has been assigned to this candidate. Analysts are projecting peak sales of around $500 million, but Cebranopadol's unique mechanism of action could potentially drive much higher annual sales in 7 to 10 years. I consider Cebranopadol as a free call option for long-term investors at this point.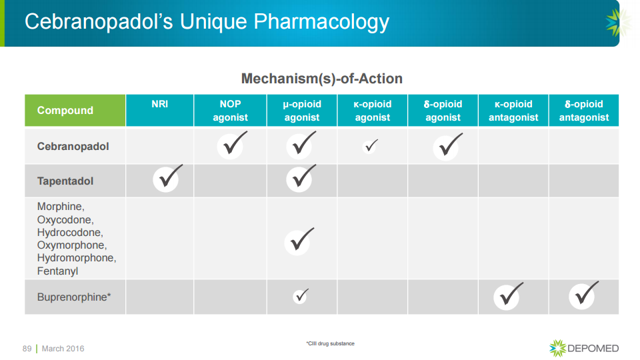 Source: Depomed investor presentation
Financial overview
I mentioned earlier in the article Valeant's recent problems with the filing of its 10-K and the prospects of a technical default. Other stocks in the sector were hit as well, especially those that have higher leverage. Depomed does have an elevated net debt/EBITDA ratio, but not so much on a forward-looking basis. The 2015 numbers do not include the full-year of Nucynta sales and the situation looks much better on a forward-looking basis. I shared this table in my recent article on Endo (NASDAQ:ENDP) and I think it can serve a purpose here as well.

Source: Yahoo! Finance, Endo, Mallinckrodt (NYSE:MNK), Horizon (2015 debt/EBITDA ratios adjusted for Crealta acquisition), and Depomed financial reports
Depomed has the highest TTM net debt/EBITDA ratio, which fails to include Nucynta's full contribution to 2015 results. The 2016 estimates give us a much better picture of the company's ability to deleverage rapidly. The net debt/EBITDA ratio by the end of 2016 should be close to 2, assuming no additional acquisitions. Depomed has generated an average of $55 million in free cash flow per quarter over the last three quarters and the situation should improve given the solid prescription growth in early 2016.
Depomed's gross debt at the end of 2015 was around $815 million and consists of $575 million in secured notes and $240 million in convertible notes. The company plans to prepay $100 million of its secured debt in Q2 and to refinance the rest with potentially better terms in 2017. The secured notes mature in 2022 and the convertible notes are due in 2021.
Depomed is in excellent financial shape. The net debt/EBITDA ratio should come down substantially by the end of 2016. The company should generate significant free cash flow in the following quarters and is likely to prepay $100 million of its secured notes in Q2, which will reduce its interest expense. If Depomed is able to refinance the secured notes at more favorable terms in 2017, its financial health should further improve.
The company might even pull the trigger on another acquisition this year, but I think that management will be cautious going forward, especially if the markets continue to behave poorly. Given the year-end EBITDA guidance, substantial free cash flow and a lower leverage ratio, the company could spend $200 million to $300 million on acquisitions this year, which would increase its annual revenue run rate by $50 million to $100 million.
Valuation and upside potential
Depomed's current market cap is around $800 million and its enterprise value is $1.4 billion. The company's 2016 EBITDA should be around $200 million and is expected to grow significantly in the following years. I believe that an EV/EBITDA multiple in the 10 to 11 range is appropriate, which translates into a price target between $20 and $29. The middle of the range is very close to the analyst median target of $22.50. This is my year-end price target range for Depomed as a standalone company.
2016
Revenue
485.0
525.0
EBITDA
174.6
204.8
Multiple
10
11
EV
1,746.0
2,252.3
Net Debt
500.0
450.0
Equity
1,246.0
1,802.3
Shares outstanding
62.0
62.0
Price target
20.1
29.1
Source: Depomed 2016 guidance, author's calculations
I still believe that Depomed is an attractive takeover target. Horizon Pharma was willing to pay $33 per share for Depomed (almost $3 billion if debt is included), although the acquisition would be paid in Horizon shares, not cash. Given the negative market sentiment, it seem unrealistic to expect a high bid for the company. However, the latest deal in the pharma space - Mylan's acquisition of Swedish Meda is a good example that a good premium might still be on the table for Depomed shareholders.
Mylan paid 12.9x EBITDA for Meda (a 92% premium to Meda's closing price), but the number is actually 8.9x if synergies are included. Depomed management noted a few weeks ago that they were just anti-Horizon and not anti-takeover, so it seems that they might be willing to consider a cash offer. Applying the same EV/EBITDA multiple of 12.9 translates into a price range of $28 to $35, which is within Horizon's offer range from last year. I also want to point out that Meda is not likely to deliver the growth Depomed is expected to deliver in the following years, at least judging from Mylan's post-deal comments about Meda's impact on its growth over the next two to three years.
I believe that Depomed is substantially undervalued at current levels. Its current market cap is less than what the company paid for Nucynta 12 months ago. And both Nucynta and the rest of the portfolio are more valuable now than they were a year ago. The other products are worth more due to solid prescription growth, while the positive changes around Nucynta (increased access, higher price, strong prescription growth and revamped positioning) have made it much more valuable. Nucynta was the main reason for Horizon's offer last year (Horizon tried to buy Nucynta too, but Depomed won the auction) and I believe that it is now worth at least $1.5 billion and more likely closer to $2 billion. The favorable resolution of the patent suit should increase Nucynta's value in the second quarter.
Both valuation scenarios exclude the value of Cebranopadol, which could generate peak sales of $500 million by 2025. Successful Phase 3 results could conservatively add $5 to $10 per share.
Conclusion
Depomed has shown its strong execution capabilities over the last few years. The company has done a great job with Nucynta's relaunch and the efforts should pay off in the long run. I believe that Depomed is substantially undervalued at current levels and that the potential upside is at least 50% over the next 12 to 18 months, while the more bullish scenario might result in triple-digit gains.
The risk/reward ratio is significantly skewed to the long side and additional downside should be limited since the company is trading at just 6x its 2016 EBITDA and due to the fact that the adjusted annualized free cash flow (based on Q4 2015) is $240 million, which results in an EV/FCF ratio of just 6. The substantial free cash flow should help the company to de-lever quickly over the next few quarters and either use the extra cash to prepay its secured debt or to use it for accretive acquisitions that should increase the long-term value of the company. Additionally, the company has Cebranopadol, which could be a Nucynta-like asset for the company in 2020s and which represents a free call option for long-term investors.
Disclosure: I am/we are long HZNP, DEPO.
I wrote this article myself, and it expresses my own opinions. I am not receiving compensation for it (other than from Seeking Alpha). I have no business relationship with any company whose stock is mentioned in this article.
Additional disclosure: This article reflects the author's personal opinion and should not be regarded as a buy or sell recommendation or investment advice in any way.