Welcome back to coverage on the iPath Dow Jones-UBS Cotton Total Return Sub-Index ETN (BAL). This ETN has done an excellent job at tracking its index. For more information on the cotton index BAL follows and how this ETN tracks it, please see: A Cautious Outlook For Cotton.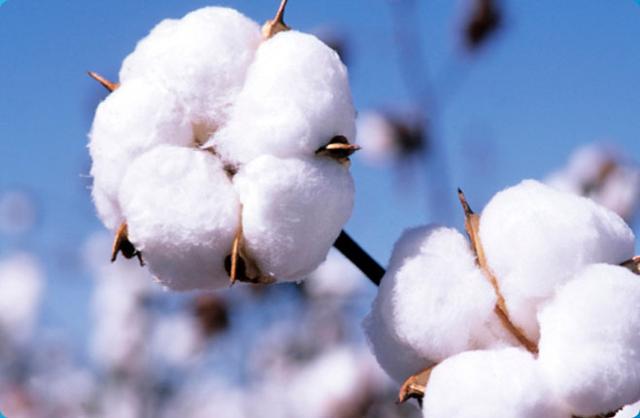 Current Spot Prices
During the 2016 Outlook for Cotton, with spot prices around 64 cents, I recommended that cotton was fairly valued and the current spot prices didn't represent enough of a value to initiate any new positions.
This proved to be an accurate assessment. See below for the recent and distant spot price history for cotton: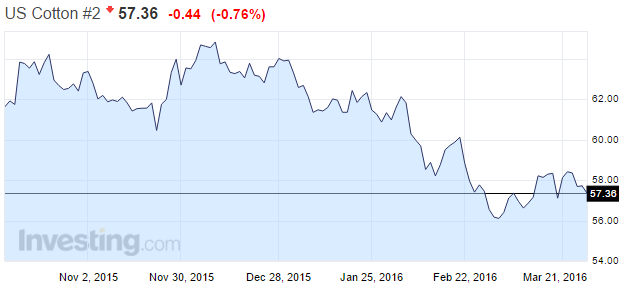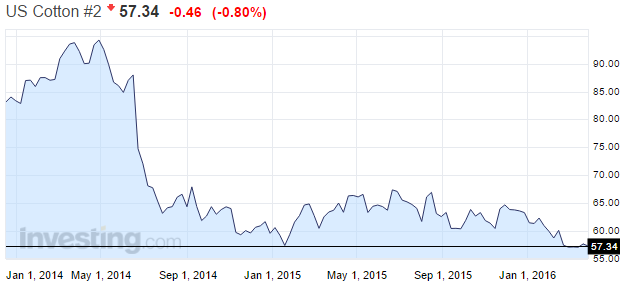 To find the last time cotton spot prices traded below its current range, you would have to go back to 2009.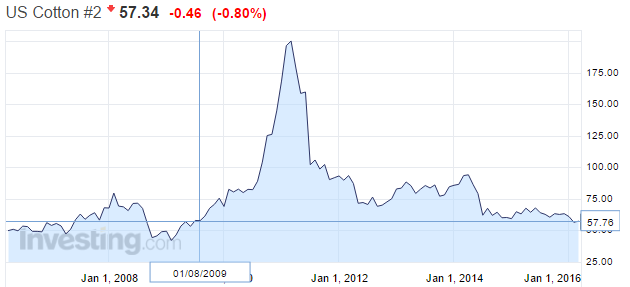 Planting Season
Summer is typically the most volatile time for cotton prices because the majority of planting and harvesting will take place between March and the end of the year (December).
The current projections for planting, offered by the United States Department of Agriculture (USDA), are rather disappointing and show a worldwide rise in production of 4%. In the same report the USDA states that consumption is expected to grow by only 0.8%.
Analysis
2015 saw a wide range of issues including pest and weather problems (mainly in India and Pakistan) that decreased the yield per acre of cotton to 723 kilograms per hectare. In the United States some cotton acreage went unplanted due to wet conditions. Last year we discussed the Texas flooding impact on cotton prices and that is the region the USDA is referring to. The average worldwide yield per hectare over the past five planting seasons is 771 kilograms.
During 2015, for the first time in five years, cotton stocks ended lower than where they began. This gave me hope that the trend would continue and eventually support rising spot prices. Given the 2016 worldwide planting projections and consumption numbers, ending stocks after the 2016/17 planting season are expected to stand at 99 million bales. As of March 2016, stocks stand at 103 million bales. This continues the positive trend of declining stocks.
A Strong Dollar
A strong US Dollar has put pressure on commodities across the board. I ran a correlation calculation through buyupside.com and attained the following results when comparing BAL to the PowerShares DB US Dollar Bullish ETF (NYSEARCA:UUP).

A coefficient of -0.75 indicates that there is strong inverse pressure on the spot price of cotton when the dollar moves up and down.
We previously discussed the same results in relation to oil. Oil is a direct competitor to cotton through polyester fiber products. Here is the same calculation comparing BAL to the United States Oil Fund ETF (NYSEARCA:USO):

Oil has a slightly higher positive coefficient to cotton.
How can these two metrics help your cotton investment?
Oil prices have rebounded from their multi year lows. Low oil prices should be a positive for cotton going forward, if they begin to rise. Just like cotton oil has been dealing with the issue of oversupply. If oil production is cut back due to capex reductions, than it should positively support cotton prices in the coming years.
The U.S. dollar is strong. The Federal Reserve is on track to raise rates at least one more time in 2016. If the U.S. economy stays positive, expect rate increases to further support the U.S. dollar. This would be a negative for cotton and most other commodities.
China
It wouldn't be a true article on cotton without the mention of China. China controls most of the worlds current cotton supply and is the main reason for the oversupply. The good news is China appears to be lessening its support for domestic cotton which should help lower current stocks and possibly increase imports. Even though overall stocks are expected to decline by 5 million bales, stocks outside of China are expected to rise marginally. All of the reduction in current stocks is coming from China. This is a positive for the spot price of cotton.
Conclusion
The 2016/2017 planting year for cotton ramps up production from last year. However, given the low current spot prices actual production and planting may be dampened. China continues to reduce their record stocks, thus providing longer-term support for spot prices at the expense of short-term pressures.
In the three years I have been covering cotton, current spot prices and market conditions are the most attractive entry point I have seen yet. I expect cotton to maintain its current range of 56-64 cents given the current forecasted production and consumption numbers. If the yield per acre rises substantially we could see a retesting of the lows set in 2009.
I see production increasing slightly over last year and stocks ending with another moderate decline. These positive points on the supply side support the current spot price range. If spot prices were to rise to the top side of the range, it represents a potential profit of around 10%.
For the latest information on cotton, visit the USDA website, or follow me here in Seeking Alpha for regular updates.
Thank you very much for reading.
Disclosure: I/we have no positions in any stocks mentioned, and no plans to initiate any positions within the next 72 hours.
I wrote this article myself, and it expresses my own opinions. I am not receiving compensation for it (other than from Seeking Alpha). I have no business relationship with any company whose stock is mentioned in this article.