In 2015, Bank of America (NYSE:BAC) earned $16 billion while having a market cap around $150 billion. Currently the bank has a market cap of $140 billion which leads to a P/E of 8.75 based on 2015 earnings. This valuation clearly demonstrates how reasonably priced Bank of America is but more important is why?
With interests starting to rise after almost a decade, it should be bullish for banks and other businesses that make money of the capital markets. Particularly for those who receive income off interest. This includes banks, insurers, and company's with a massive cash hoard. After all, a raise in rates means higher interest income for those companies. All this translates to not only Bank of America being reasonably valued but also the expectation of having higher revenues down the road.
Why is the market not responding to this and valuing Bank of America higher?
First of all, Bank of America suffered heavily in the subprime crisis. As the graph below shows, the stock price declined from over $50 to less than $10 creating significant losses to shareholders which as of today they have not recovered.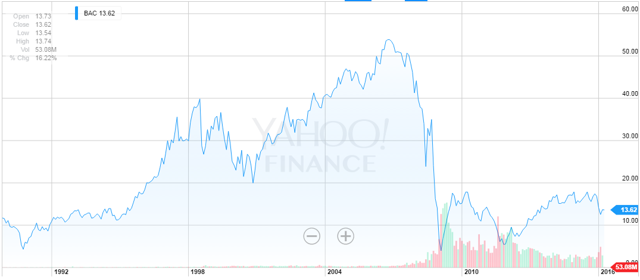 Also, bank's being Bank of America one them have exposure to high risk loans. With the current reduction in oil price, many companies in the energy sector have taken a big hit financially along with the banks that issued them credit. What is Bank of America's exposure to this industry?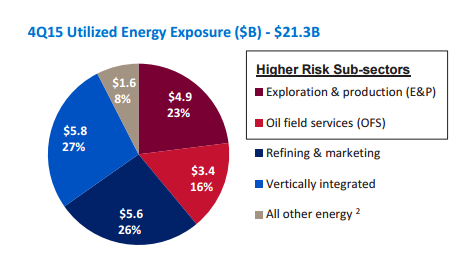 As of 12/31/2015, energy exposure stood at $21.3 billion. Quite a significant amount of money. However, obviously not all of these loans will default. Also, oil has slightly rebounded and it's currently priced at ~$40 per barrel whereas at the end of 2015 it was priced at less than $30 per barrel, an increase of over 33%. Finally, the energy portfolio comprises 2% of Bank of America's loans and leases. If we hypothetically think that 1/3 of energy loans will default and loss given default is 50%, Bank of America's energy exposure will deliver a loss of ~$3.6 billion. For a bank with a tangible common equity of $162 billion, Bank of America can easily withstand that kind of headwind. In fact, the bank's difference between its tangible book value and its market capitalization is ~$22 billion. We can traduce that discrepancy to a loss the market expects and/or a reduction in return of equity of ~15% of what investors feel Bank of America's assets will generate. Will either of those happen? Let's take a look.
Bank of America has done what I call magic. From the graph obtained in Bank of America's 4th quarter presentation, everything has turned favorable for the corporation from 2012 to 2015. The bank's net income, liquidity, tangible common equity, and deposits have increased while its charge-offs and non-interest expense have decreased. Though not the best scenario, the bank's loans & leases have at least stayed flat. All these results mean the bank is safer, more efficient, and profitable than it previously was.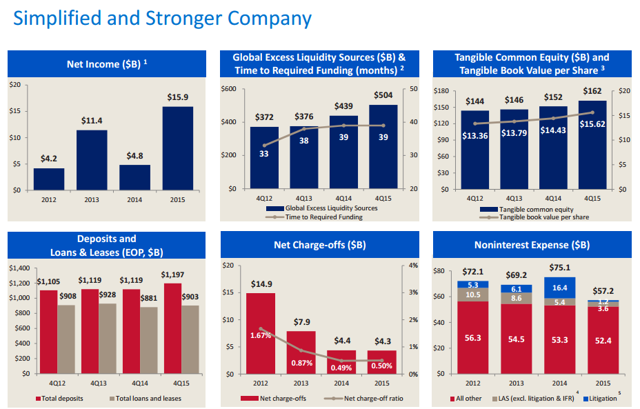 As for an adequate return on equity, with interest rates beginning to rise, income generated from loans and leases should begin to rise.
Bank of America has a diverse product offering which includes:
Bank accounts (checking, savings, CDs)
Loans (home, auto, and business)
Brokerage (discount and full)
In addition to these products Bank of America also serves other areas within the financial services industry.
As for cash flow, Bank of America made $27 billion in cash flow from operations last year. Clearly, a significant amount in relation to the bank's capital.
If you believe Bank of America's loan losses will increase significantly or its return on capital will not be sufficient, investing in Bank of America is not for you. Otherwise, if you believe Bank of America's profitability and risk management will continue the trend as I believe, investing in Bank of America is for you!
Source: All information was obtained from Bank of America's Q4'15 investor presentation and 2015 10-K. The stock graph was obtained from Yahoo Finance and the pie chart and company results were obtained from Bank of America's 4Q15 Investor Presentation.
Additional Disclosure: This post is solely my opinion and data and information contained is not intended to be investment or tax advice. A reference to a particular investment or any observation provided in is not a recommendation to buy, sell, or hold or to make any other investment decision. If you seek advice or counseling regarding your finances or investments, please consult a professional. Investing is risky and adequate precaution should always be taken. We don't take any responsibility for your investment or other action nor we have any liability for the accuracy of the information provided. We make no representation about the suitability of the information contained herein. Past performance is not indicative of future results.
Disclosure: I/we have no positions in any stocks mentioned, but may initiate a long position in BAC over the next 72 hours.
I wrote this article myself, and it expresses my own opinions. I am not receiving compensation for it (other than from Seeking Alpha). I have no business relationship with any company whose stock is mentioned in this article.