Seadrill (NYSE:SDRL) had popped impressively earlier in the month due to two reasons - a short squeeze and due to speculation that one of Seadrill's investors raised money for a bailout. However, over the past couple of weeks, Seadrill shares have come crashing down as it has emerged that the company is taking on low-margin contracts that will lead to more cash burn going forward. This is not surprising as it seems that Seadrill is probably clawing at whatever contracts are available in the market.
In my opinion, this is not a smart move. Let's see why.
Seadrill's cash will start burning
Seadrill's cost reductions have had no positive impact on its cash flow. Last year, the company managed to achieve cost reductions of $832 million, which was greater than its expectations. However, despite these cost cuts, Seadrill continued to witness a decline in its margins. This is shown in the chart given below: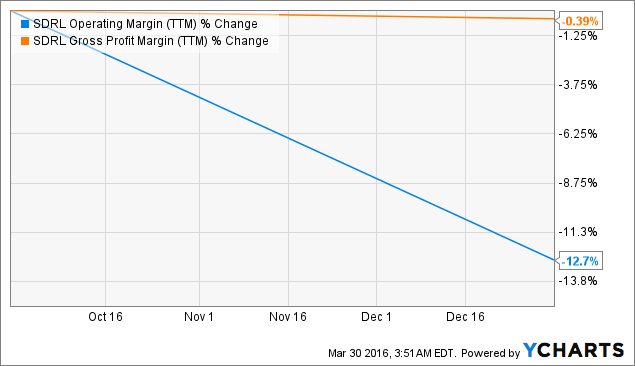 SDRL Operating Margin (NYSE:TTM) data by YCharts
Also, Seadrill's operating cash flow growth, which was aided by its huge cost reductions, has started slowing down of late. This is seen in the chart given below: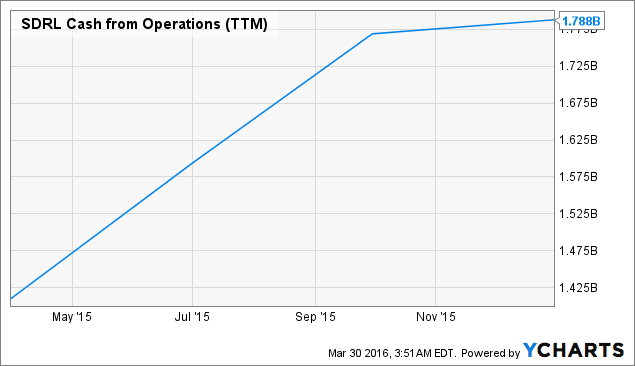 SDRL Cash from Operations (TTM) data by YCharts
Now, this year, Seadrill is expected to achieve lesser cost reductions of $260 million, which indicates that the bump it saw in operating cash flow last year will not be witnessed in 2016. Moreover, the fact that Seadrill has started accepting business at lower margins will lead to more cash flow erosion going forward and create more pressure on margins.
More pressure ahead
In the past couple of months, Seadrill has taken on business with drastically lower dayrates. For instance, last month, Seadrill renewed a contract with Chevron (NYSE:CVX) for a dayrate of less than $127,000, which led to a drop of $35 million in the backlog. Additionally, its contract negotiations with Exxon Mobil (NYSE:XOM) led to a decline of $95 million in the backlog for the West Polaris as dayrates were down by 25%.
Now, last week, Seadrill penned another contract extension with Petrobras (NYSE:PBR) for the West Tellus drillship. Under this new contract, Seadrill will receive a dayrate of just $229,000 as compared to the prior backlog of $467,000. Due to this lower dayrate, Seadrill's backlog has taken a hit of $132 million, which is bad news for investors since it will hurt both the top line and margins.
What's more, it is likely that Seadrill could receive another rate cut from Petrobras for the West Carina drillship, which currently carries a dayrate of $457,000. Therefore, Seadrill will see weakness in both its top and bottom lines going forward due to lower dayrates that are hurting both its backlog and margins.
The weakness will continue
In my opinion, this trend of weak dayrates is going to continue going forward as exploration and production companies are focused on reducing their capital investments, which will lead to a decline in offshore drilling as a result. For instance, offshore oil production is on track to decline to the tune of 10% this year to 13.5 million barrels per day as the weakness in oil pricing has forced companies to refrain from improving the infrastructure.
In fact, oil companies have already stopped infill drilling to a large extent as they are not intent on reducing their base decline rates. The following chart clearly shows to what extent infill drilling had declined last year when crude oil prices were at higher levels than what we have seen this year:

Source: Reuters
The decline in offshore drilling will be sharper this year as investments worth $320 billion are expected to be taken off the table in the oil and gas industry this year, which is greater than the investment cut of $250 billion seen last year. Hence, in order to gain whatever contracts available on the market, offshore drillers such as Seadrill will be forced to bid lower so that they can keep their revenue streams alive.
In fact, as Seadrill management points out:
"Contractors continue to bid below breakeven pricing for new the work prioritizing fleet utilization over returns. This has done little to encourage oil companies to contract for new work. And the majority of fixtures continue to be extensions of current contracts often in connection with blends and extent type deals."
Thus, by bidding for projects below break-even rates, Seadrill will continue to face financial weakness. Moreover, as the situation in the end market is not expected to improve anytime soon, a turnaround cannot be expected. Also, Seadrill has a huge debt burden of $11.4 billion with a debt-equity ratio of 1.14, while its annual interest costs last year were $415 million. As such, the company will start burning through cash this year as there are not much cost reductions in the cards.
Conclusion
Seadrill was able to keep its cash flow intact last year by engaging in aggressive cost reductions, but the company does not have much runway to reduce costs this year. On top of that, by accepting contracts below break-even points, Seadrill will see its cash flow profile getting weaker, which will lead to further decline in its cash flow. So, in my opinion, Seadrill shares will see more weakness going forward, which is why they should be avoided from an investment perspective.
Disclosure: I/we have no positions in any stocks mentioned, and no plans to initiate any positions within the next 72 hours.
I wrote this article myself, and it expresses my own opinions. I am not receiving compensation for it (other than from Seeking Alpha). I have no business relationship with any company whose stock is mentioned in this article.