While doing my MBA degree at Aix Marseille University, I had the opportunity to do a consulting project with a French start-up in the ultracapacitor market. In the process of assisting the start-up, I became acquainted with Maxwell Technologies (NASDAQ:MXWL), the established leader for this type of energy storage technology, and have been following it more or less closely ever since. What especially intrigued me at the time was its massive drop in market-cap, with its stock price having dropped at that time by some 66%, from a high around $18 to around $6. In my MBA-student mindset, I grasped that this meant the market had lost faith in the value of Maxwell's future cash flows, and I have been itching to put together a discounted cash flow (NYSE:DCF) model for Maxwell's equity value ever since. I finally got around to it this week, and it strikes me that its equity is priced to the conservative side. Before getting to that, however, it will be important to have a little additional grounding.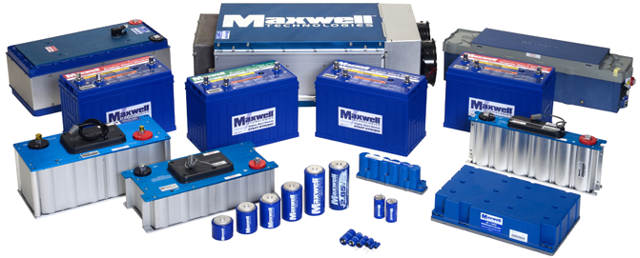 (Source: Maxwell.com)
Broadly, ultracapacitors are a kind of energy storage solution that both discharge and recharge energy much more quickly than traditional batteries. They are not ideal for using as a continuous source of energy, but rather to supplement batteries for peak energy demand moment, such as accelerating large vehicles (like electric buses), or as back-ups in the power grid system. Maxwell's addressable market for ultra-caps includes electric buses (largely in China), semi-truck manufacturers like Peterbilt and Kenworth, automobiles, and renewable energy installations such as wind farms.
I would like to note a couple of other things about Maxwell before getting into the numbers and assumptions just to keep in mind for considering a more bullish case than the current share price implies.
According to the Q4 earnings call, the company expects to sell off its microelectronics business soon, adding cash to the balance sheet. This accounted for 6% of revenues in 2015, according to the annual report (page 37). The company already has $24M in cash, no debt and an untapped credit line of an additional $25M.
Maxwell and Viex Capital Advisors (led by Eric Singer) have come to an agreement on board representation. While far from a sure thing, I generally take it as a positive sign for shareholders when activists and management can come to terms. Given this arrangement, I believe it is unlikely that Maxwell will do a dilutive share offering anytime again soon, as a fellow SA contributor points out it did in June 2015.
As of this writing, Maxwell is trading around $5.50, which remarkably is right where my first DCF model came out.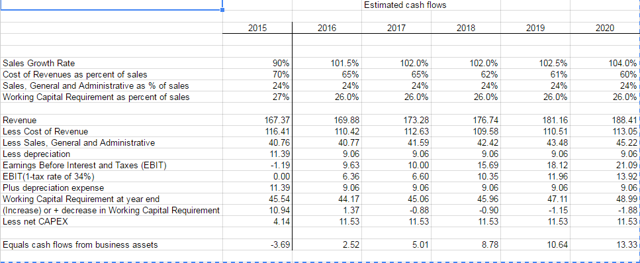 As seen in the spreadsheet, I took rather conservative revenue growth forecasts of 1.5% - 2.5% over the next four years, with a 4% growth in 2020. Of course, revenue at Maxwell can (and previously has) declined year over year, but the point here is that I'm not projecting breakneck growth. The other key assumptions here are:
Because Maxwell is presently debt free, I discounted at the cost of equity instead of a weighted average. With a beta of 0.71, risk-free rate of 0.7%, and a risk premium of 12%, I calculated the cost of equity at 8.72%.
For a terminal value, I assumed a 1.5% growth rate.
I assumed improving ratios for cost of revenues, working capital needs and SG&A, with a fixed dollar amount for capex and depreciation, all based on five-year historical averages.
I assumed the worst-case scenario on taxes, paying out 34%.
These assumptions lead me to a combined $151.27M present value on the cash flows and terminal value. When added to the cash on hand ($24.38M) and less debt ($0.09M), the total came to a DCF value of equity at $175.56M. At 31.85M shares, this computes to a share value of $5.51.
Under these assumptions, it appears the shares are fairly priced - the obvious question is on the quality of the assumptions.
In terms of revenues, giving up the 6% of revenues ($10M in 2015) from the sale of the microelectronics business could make even 1.5% growth hard to achieve in 2016, and sale price that justifies a present value on shares at $5.50 is around $24M, adjusting sales down for the whole year to 94% of 2015's revenue and leaving the other assumptions unchanged. In other words, Maxwell would need a buyer willing to pay about 2.5x revenues, and the result would more or less double Maxwell's current cash position. I find this prospect unlikely, getting 1.5x revenue might prove hard enough. Otherwise, the management offered relatively soft guidance through the first half of 2016, with changes in subsidies available in China for electric buses putting pressure on revenue, along with an overall slowdown in China. However, come 2017, some of the other applicable markets (semi-trucks, rail and wind) are expected to see significant growth. Therefore, factoring in declining revenue again in 2016 but starting revenue growth in 2017 and beyond seems perfectly doable. Furthermore, with a restructuring process initiated in 2015 to contain costs (pressed for by Mr. Singer's Viex Capital), keeping operating expenses down is a strong priority, so I see no reason to forecast large up-ticks in expenses.
In a scenario in which the microelectronics unit is sold for around 1x its revenues, and cash comes up to $35M, the shares are still valued between $5.20 and $5.40, even keeping low revenue growth targets in place. With stronger revenue projections starting in 2017 through 2020, say between 4% - 5% (and which of course are recovering from a low base point set in 2016), the fair value comes up close to $6.
Conclusion
Based on my exploration of Maxwell Technologies, it is fairly priced by the market, with perhaps a dose of conservative expectations. The modestly bearish case cannot easily be dismissed, especially as Maxwell relies heavily on China for revenues at the moment. No one is expecting a record setting year for Maxwell in 2016.
On the other hand, Maxwell is clearly working to diversify its customer base and bring larger revenue streams online in the next two to three years. The company has the cash it needs to operate successfully until that time, a $6.00 share price is a modest goal, and it would not take a lot to push it higher. Unless it drops under $5.25 or so, I do not plan to be an immediate buyer in the near term. In five or six months, based on what I have seen from management so far, I would be willing to either consider picking it up in the second half of 2016 (if it is still trading in this range), or buy some $5 calls dated into 2017.
Supporting Documents
Disclosure: I/we have no positions in any stocks mentioned, but may initiate a long position in MXWL over the next 72 hours.
I wrote this article myself, and it expresses my own opinions. I am not receiving compensation for it (other than from Seeking Alpha). I have no business relationship with any company whose stock is mentioned in this article.