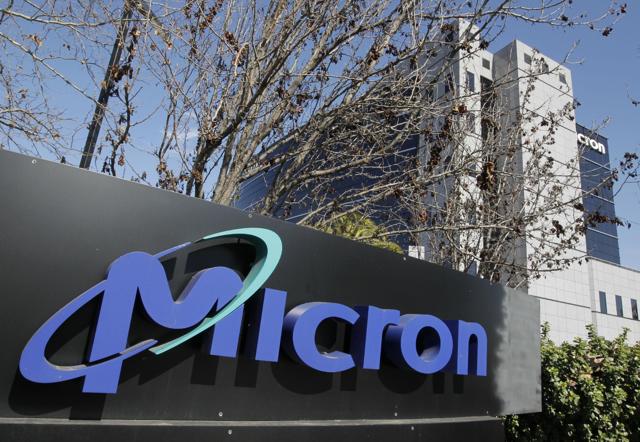 Micron (NASDAQ:MU) is set to report quarterly earnings Wednesday. Analysts expect revenue of $3.05 billion and eps of -$0.08. The revenue estimate is off 9% sequentially and would follow a 7% decline last quarter. Here are a few items investors should focus on this quarter:
Declining Margins
DRAM represents about 58% of Micron's revenue; declining prices and Samsung's (OTC:SSNLF) continued encroachment into the space won't help matters. Prices have declined faster than bit costs which has punished the company's gross margins. Margins fell to 21% last quarter -- much lower than the 41% reported at the peak in FQ1 2015. On a dollar basis gross margin was down 48% Y/Y.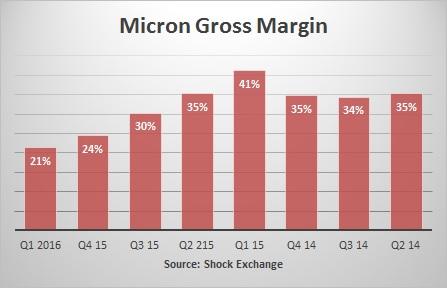 DRAM gross margins were flat in the upper 20%; margins for Non-Volatile Trade were flat in the low 20%. While margins declined, SG&A and R&D costs as a percentage of sales were consistently in the 14% - 15% range; these costs have not declined in lockstep with falling margins. This is the biggest reason why the stock is off 55% over the past year.
Global Headwinds
Lost on bulls is that most of Micron's growth story came with the Fed's quantitative easing at the company's back. That helped spur sales of personal computers and smartphones that drove demand for memory chips. Management's growth estimates are all based on one big assumption -- the global economy will be amenable. The Fed has taken away the punch bowl and it has hurt sales of durable goods. Q4 PC shipments were down 8.3% Y/Y and it won't get any better going forward.
While Fed stimulus has helped the investor class, it hasn't done much for consumers. Most of the jobs created by the Obama administration have been low-paying, part-time jobs. High-paying manufacturing jobs have been in decline. Millions are living from paycheck to paycheck and it will likely tamp down PC sales going forward.
China, the world's second-largest economy, has lowered its long-term economic growth expectations to 6.50%. Some say even that is unrealistic. That's problematic for Micron which has shifted DRAM supply from PCs to the mobile space; its fortunes are intertwined with China and its large smartphone market. China's smartphone market fell in 2015 and is expected to experience growth in the low single-digits this year. The market has become saturated which means [i] lower smartphone sales and/or [ii] a potential for manufacturers to demand lower prices for memory chips Micron supplies. Global headwinds spell trouble for Micron.
Disclosure: I/we have no positions in any stocks mentioned, and no plans to initiate any positions within the next 72 hours.
I wrote this article myself, and it expresses my own opinions. I am not receiving compensation for it (other than from Seeking Alpha). I have no business relationship with any company whose stock is mentioned in this article.