Small E&P oil companies are on the ropes. With many bankrupt last year and more expected to follow, it seems prudent to avoid this sector altogether until the smoke clears.
But sometimes among the chaos and carnage great investment opportunities appear. Today I would like to highlight why I believe that a simple long trade on BreitBurn Energy's (NASDAQ:BBEP) bonds has a good risk/reward payoff and it could also be partnered with a short position on the common units, which I believe to have little value as the distribution is nowhere to be found.
Company Overview
BreitBurn Energy Partners is a upstream MLP operating in the Oil & Gas space. This company has been associated with the likes of Linn Energy (NASDAQ:LINE), Chesapeake (NYSE:CHK), and other companies in a similar line of business and similar financial circumstances who have already gone bankrupt or are expected to be next on the chopping block.
Balance Sheet
As of their last annual report, BreitBurn had total assets of $4.87 billion. Among their current assets are a small amount of cash, $10.4 million. The most valuable current asset is their hedges and other derivatives, valued at $439 million.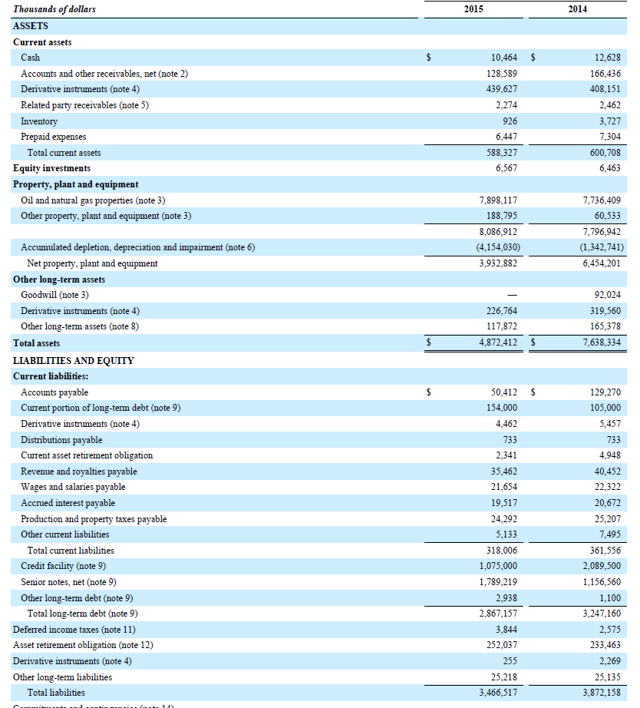 An important note is that the company just recently took another $2 billion+ impairment charge against the value of their properties.
2014 assets were $7.6 billion compared to this years $4.87b. These write downs have been due to future revenues being less than estimated and other factors related to the drop in oil and natural gas prices. The interesting thing is that if prices recover these assets might soon be undervalued to what they are really worth whereas before the write downs they were most likely overvalued.
Moving on to liabilities, the most important one is long term debt. The company has $2.867 billion in long term debt. The interesting thing, though, is if you look at total liabilities they are $3.466 billion. The company's balance sheet shows a positive equity value for the partnership at just under $1.4 billion.
These numbers do not seem like a company on the verge of bankruptcy to me.
While I acknowledge there are lots of ways to be forced into such a state, from a pure balance sheet perspective BreitBurn looks to be in a decent position, especially when compared to many other oil & gas companies which have huge retained deficits and deeply negative equity.
This disparity between balance sheet and bond prices is one of the key motivators behind this trade. I see no reason companies with much worse balance sheets should have their bonds trading 3x higher then BreitBurn's.
Key dates and Catalysts
This trade is based off a few upcoming catalysts that could result in a major loss or a major gain.
The first of these is that the company's creditors handling their revolving borrowing facility are set to redetermine that in April of 2016. Currently the company has $1.2 billion outstanding, which is down from the $1.8 billion that was previously outstanding.
According to the company, if this credit arrangement is redetermined to be lower then the amount they have outstanding, that is, below $1.2 billion, the difference must be paid down over the course of 3 months in equal payments.
The company has publicly stated it does not believe this will happen, but it is up to investors to decide whether they believe that or not.
A key lesson I took from the Kinder Morgan debacle in 2015 is that even the most prestigious executive with a sterling reputation can be totally and wildly wrong despite their best assurances.
My person opinion is that I see no reason for the bank to do this, especially since they could easily calculate the company's cash flow and either redetermine to the $1.2 billion level or a slightly lower level that they know the company can mathematically pay back within the required time frame.
Any other course of action means the bank has a plan and is prepared to fight it out in court and potentially try to take control of the partnership through bankruptcy proceedings.
Considering the entire oil & gas complex, I see no reason why these creditors should instigate a default where one is not need yet.
I believe that the results of this redetermination could send the bonds to near 0 if a default occurs or cause them to quickly double or triple if the company receives favorable terms and remains within all their covenant requirements.
As we will see below in the valuation section, BreitBurn's bonds are priced as if the company is doomed to fail so if that does not happen that is where the money can be made.
Strategic Options & Hedges
One of the first things people suggest a company should do after they get in trouble is to buy back their debt.
They are getting tremendous value, pennies on the dollar they say.
To my surprise, not many look for a reason why that does not happen as often as they think it should.
Some of the reasons may be that the company simply cannot, sometimes due to a restriction from other creditors.
Another reason might be that they have tried but only a certain amount of their bonds are available for sale. Companies can try to contact creditors who own a large portion and work something out, but there is not much stopping me from buying as many of their bonds as I can then going on vacation to the Antarctica, unwillingly to sell them back.
BreitBurn's options are limited. An equity offering will bring little value and might struggle to find buyers because of the lack of a distribution.
They could offer more preferred shares, since they are still paying those a distribution, but that would be another cash flow drain and it would be bad form to issue preferred shares and then stop paying on them almost immediately.
Their best hope is to cut costs, try to sell non-core assets, and hope to make their case to the bank/creditors to give them more time to improve operations and for commodity prices to recover, thus allowing them to stay within their convenants such as the EBITDA to interest requirement.
Hedges
The company also has a very strong hedge portfolio. Many are worried what happens when those hedges come off and that is a fair concern.
What we can gather though is these hedges buy the company much needed time, and sometimes when everyone around you is falling down if you can manage to be last one standing you might just rise to the top. I have included their hedges below for you to examine further.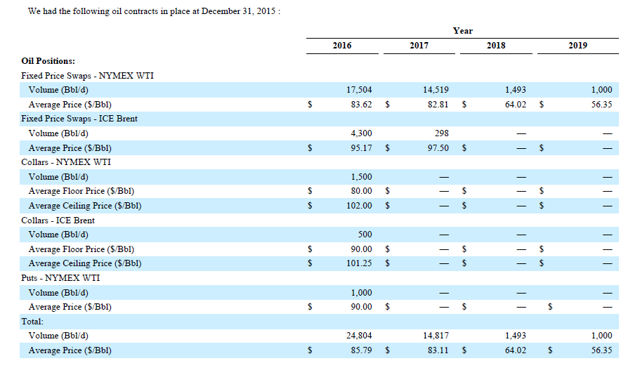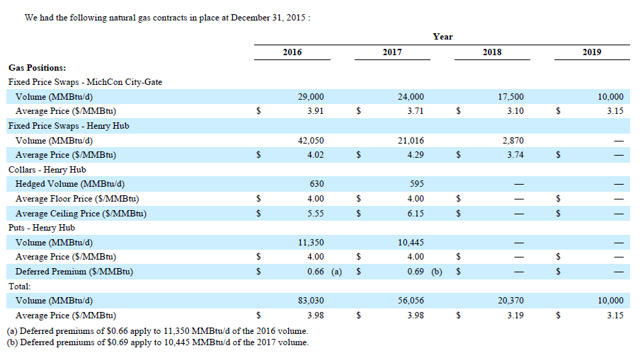 Valuation

The BreitBurn bonds that I have access to through my broker are currently trading around $10-11. For new bond investors, par is 100 and then based on the rating, coupon, prevailing rates, and other factors the price will move above or below that.
Essentially what these prices tell us is that the market believes BreitBurn is headed for bankruptcy without question. Even Chesapeake, after dispelling similar fears for the time being earlier this year, saw its bonds rally from the teens to above 30+.
I see this as an opportunity. If something is priced based on x expectation, but then y happens, the result is a large move in price.
We see this with growth stocks all the time. Revenue growth comes in still amazing at 44% but below the 50% the market expected and said growth stock drops 20%+.
What about the common stock?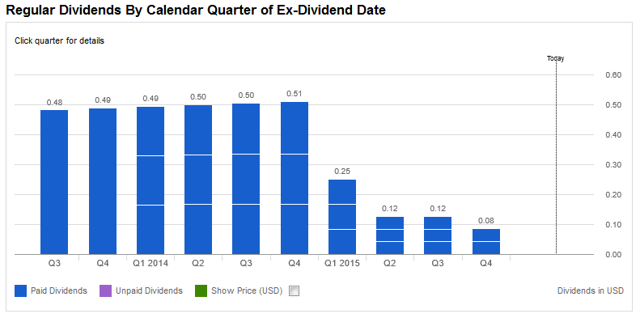 BreitBurn common stock trades at $.63 as of publication. The distribution/dividend has been suspended after being lowered several times.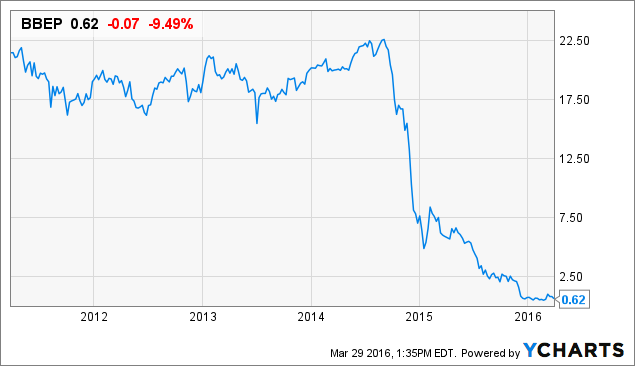 The preferred shares are still receiving their distributions, but if those are ever stopped they are cumulative which means they have to later be paid anyway. That is just another roadblock in the way of restoring distributions to the common.
Due to the nature of the business, its structure, and the fact that most MLPs are desirable because of their distribution, I see little to no value in the common stock here. A renewed distribution in a few years if the company and industry turn around might boost its value, but that is a ways off it seems.
The company has real value in its properties but I think the safest and smartest way to approach that is through the bonds. Worse case scenario you will gain new equity in a reformed and healthier partnership.
Other concerns
In my research I tried to look at the past recent bankruptcies of similar companies but I struggled to find many that were set up as MLPs. The differences, if there are any, of dealing with a bankrupt MLP versus a more traditional corporation are lost of me as I am a not an attorney.
From what I could find there are additional considerations having to do with the General Partner, the sponsor, etc. I could however, find no reason that the MLP couldn't form a deal with creditors to forgive the loans in exchange for equity.
A major problem with that though is that unit holders might have a large income bill with no distribution to cover it. What is still unclear is whether that affects current unit holders before the debt/equity swap, or if it would fall on the shoulders of the new equity holders that used to be creditors.
I welcome any insights you have on this matter in the comments.
Conclusion
Based on the balance sheet data, upcoming catalysts that could dispel bankruptcy fears, and common stock that appears worthless without its distribution leads me to suggest a pair trade of going long BreitBurn's bonds and shorting the common stock.
The only impediment to this trade is that shorting the common stock might be difficult due to high short interest and lack of shares to borrow. Another possibility might be to just go long the bonds naked or even short an oil ETF with more liquidity although this changes the dynamics of the trade drastically.
Disclaimer: Please be aware this article discusses a stock trading under $1 and high yield "junk" bonds. These type of investments carry additional risk that may not be suitable for all investors.
Disclosure: I am/we are long BBEP BBEP BONDS, SHORT THE COMMON.
I wrote this article myself, and it expresses my own opinions. I am not receiving compensation for it (other than from Seeking Alpha). I have no business relationship with any company whose stock is mentioned in this article.
Editor's Note: This article covers one or more stocks trading at less than $1 per share and/or with less than a $100 million market cap. Please be aware of the risks associated with these stocks.