The Street Misinterprets the iPhone SE
After the recent release of the iPhone SE, a number of authors commented on its nominal add to value to Apple (NASDAQ:AAPL) as a company. I believe these authors fundamentally misunderstand the phone's place in the Apple product lineup.
Critique has included the low number of pre-orders on the device as well as the lack of appeal to the Apple core customer. The authors are absolutely correct in those assessments. The phone likely won't appeal to the die-hards, and the lack of pre-orders is probably a function of this lack of appeal to the population that pre-orders. I wouldn't expect to see people camping out for this phone.
The Target Customer
Tim Cook is well aware of the fact that the core customer isn't looking for a smaller phone - he introduced a larger phone just last year. Rather, the iPhone SE replaces the iPhone 4S and 5C, not the 6 or the 6S. Apple's challenge in India has been the price point of its flagship phones. Until just a few weeks ago, Apple continued to sell the 4S in India for $175 as the average consumer cannot afford the higher-end model. With 2013 GDP per capita approaching $1,500, it's no wonder that the $649 base model iPhone 6 is not a best seller. However, Mr. Cook knows what the chart below looks like, and he knows that it's worth hooking the country on the iOS platform since one day in the near future Indians will be able to afford the higher-end products.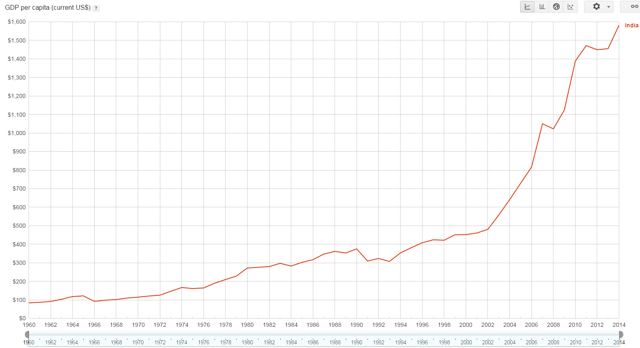 A Sticky Platform
Hooking customers on iPhones is a great plan. Apple retains over 83% of its customers on the iPhone platform and that means recurring revenue. Include the cross-sell on the iPad, the Apple Watch, Mac, and the rest of the Apple universe and it's quite clear that the company is positioning for the next decade of growth by establishing a foothold in the Far East.
Gauging interest generated by the phone, Google search results show impressive interest in the Far East, and especially in lower-income areas.

The Bottom Line
Don't expect the iPhone SE to make a major contribution at the top or bottom line this year. That was never part of the plan. However, over the next decade as the target customer of the phone enters the middle class, they will be the source of growth for Apple. AAPL's decision to stop selling older models and to replace them with the SE was in order to make an excellent first impression.
Disclosure: I am/we are long AAPL.
I wrote this article myself, and it expresses my own opinions. I am not receiving compensation for it (other than from Seeking Alpha). I have no business relationship with any company whose stock is mentioned in this article.