Fed Chair Yellen's dovish speech supported strong front-end-led market gains on Tuesday, and helped resume the curve flattening trend over the prior weeks. According to Yellen, near term risks to U.S. growth remain elevated, GDP growth and path for neutral rates remain uncertain in the medium term which puts them on a cautious path to adjusting policy while avoiding asymmetric risks of hiking too early or too late. Risks do look elevated compared to where the FED saw things last December. According to the FED, investors responded to the weakness in risk markets and oil by marking down their expectations for the future path of Fed funds rate but baseline outlook for real activity and inflation remains unchanged. It seems the FED sees the declining yields and re pricing of the FED outlook as an important indicator for forecasting or understanding expectations on economic activity.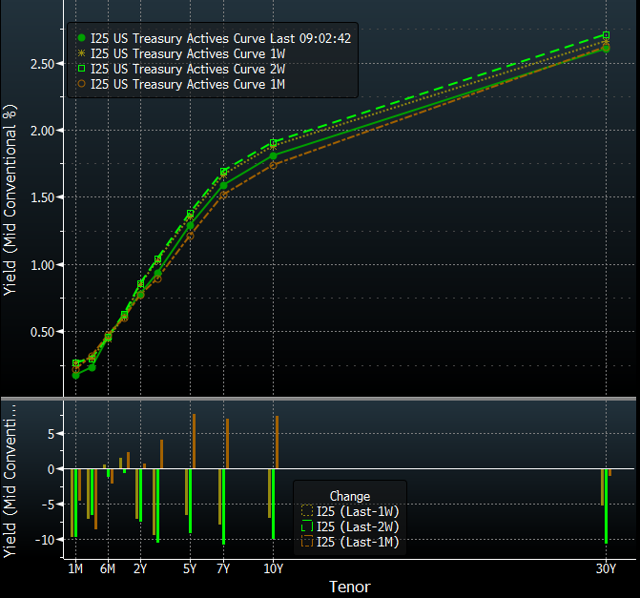 The FED actually triggered this approach as they took the path of data dependency. Incoming data surprises typically induce changes in market expectations about the likely path of policy rates. This has allowed the FED to somewhat automate the reaction function with the help of market expectations. While the FED has been letting the market guide the future path of rates, lower yields have provided an important cushion for stock prices, oil and emerging markets. Since the last rate hike in December global growth outlook has actually worsened. China remains a source of uncertainly and confusion, corporate profits have fallen and oil prices have not really recovered much given the price in the last quarter of 2015. It seems FED recognized the signals coming from the market and global growth to take a needed pause.
While the FED thinks inflation expectations remain consistent with the FED's 2% PCE target, there is a risk that this could prove to be wrong if global inflation keeps falling. This clearly dovish approach should keep risky assets supported as it suggests a more accommodative policy than the market has been pricing going forward. After starting to trickle in February, flows into emerging market stocks and bonds surged in March, reaching their highest monthly level in about two years. Total emerging market inflows have hit around 38 Bio USD in March according to IIF. Given the recent low volatility vs. return in emerging market assets, this rally is likely to continue into the summer. The products to take advantage of the emerging markets rally could be local currency ETF's which will allow for both the currency appreciation and asset prices to work for you. Some of the most liquid ones are iShares MSCI Emerging Markets ETF (NYSEARCA:EEM), WisdomTree Emerging Markets Equity Income (NYSEARCA:DEM) and The Emerging Markets Bull 3x Shares (NYSEARCA:EDC) however the last product requires extra due diligence as it is leveraged 3x.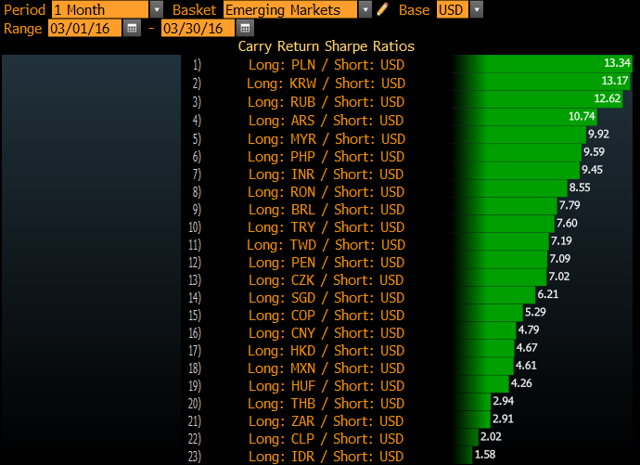 Disclosure: I/we have no positions in any stocks mentioned, and no plans to initiate any positions within the next 72 hours.
I wrote this article myself, and it expresses my own opinions. I am not receiving compensation for it (other than from Seeking Alpha). I have no business relationship with any company whose stock is mentioned in this article.