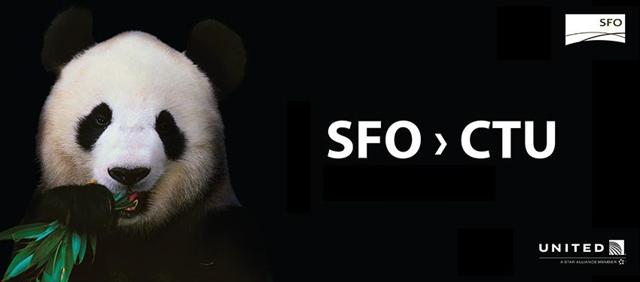 Img 1: Advertisement for United Airlines San Francisco - Chengdu Route
The airline industry and United Airlines (NYSE:UAL) in particular are one of the few entities seeing very positive news from China these days. Despite the stock market woes that had in the past negatively affected United Airlines China bookings, it appears that international travel spend has taken off in China big time and United is best positioned to take advantage of this impressive growth.
Chinese Expansion
Last year Chinese international tourism spend soared 53% despite the country reporting its slowest economic growth in 25 years and experiencing stock market woes. While American Airlines (NASDAQ:AAL) and Delta (NYSE:DAL) work to connect many of their U.S. hubs to major Chinese cities such as Beijing, Shanghai and Hong Kong, United has long passed this point and this year alone is launching service to two new secondary Chinese cities, Hangzhou and Xian. This will be in addition to the previously launched Chinese secondary city of Chengdu, launched in 2014.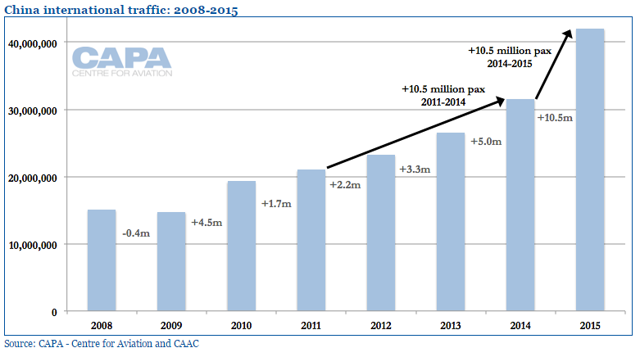 Img 2: Growth in international Chinese air traffic
For many the view on China is one filled with media hype one day and gloom and doom the next, however one should take a middle of the road view of the current state of Chinese affairs. Despite the country's issues, the number of outbound Chinese tourists is seeing substantial growth and it is not unreasonable to see how it could approach the 100 million mark in the coming years when it has seen a 4 fold increase in under 10 years. The United States has a lot to gain as the Chinese rank the United States their second most desired tourism destination after France. The U.S. commerce department predicts that a new visa policy put in place by the Obama administration giving Chinese citizens 5 or 10 year U.S. visas will bring 7.5 million annual Chinese tourists to the United States by 2021, ~3x the current levels. The Chinese are eager to explore the world and it is reported that the Chinese middle and upper class spend an average of 19% of their salaries on overseas travel, drastically more than any other country. Despite the impressive figures, travel and tourism is only 7.8% of the country's GDP compared to an average of 9.8% worldwide, a number that also reinforces the infancy the sector is still in. While politicians complain about the large trade deficits with China, when it comes to tourism China has a substantial deficit as visitors to China spend around $61 billion while Chinese spent $215 billion abroad in 2015.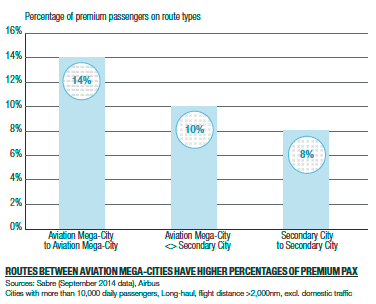 Img 3: Premium traffic by route type
Routes to these secondary cities that United has launched have around one third less premium traffic compared to flying to tier one cities, however it is where much of the future growth is expected to come from. Getting an early foothold as United has done in these markets should be an extremely valuable long term investment that will pay dividends for years to come. In addition United is getting subsidies from these cities to fly there, a first mover advantage since as these cities become more popular they may feel it is no longer necessary to subsidize new routes, leaving the full burden to the airlines. United currently serves three secondary cities and the company has publicly mentioned several more as future candidates, leaving lots of future growth for United in this sector.
While Open Skies between the United States and China may at some point in the future become a reality, for the foreseeable future it is not. An Open Skies agreement would permit any U.S. or Chinese airline to launch any route they want between the two countries as opposed to the current situation in which they must first apply and receive approval. Under the current agreement each side is also limited to a certain number of flights to tier 1 cities, tier 2 cities and so on. As of today the last single tier 1 route allowance is being fought over between American Airlines and Delta and there will be no further routes allowed from U.S. airlines to tier 1 Chinese cities until the two governments negotiate additional route allowances.
Competition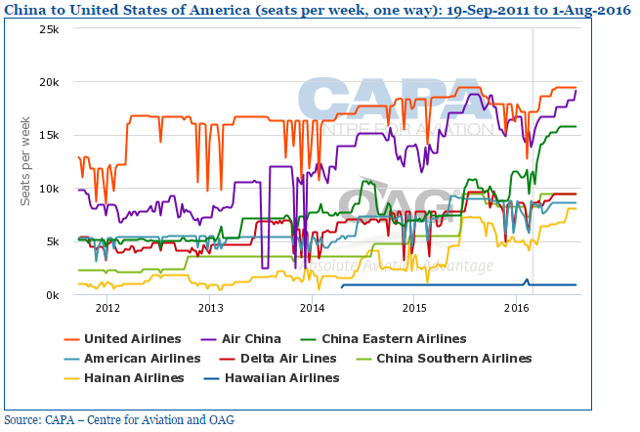 Img 4: Weekly seats on sale between China and USA
Delta Air Lines has stated it has no desire to serve secondary Chinese cities, preferring instead to do it through connections at hubs like Beijing and Shanghai. This may be due to Delta's much stricter focus on profit margins compared to United and the lack of premium higher margin traffic these secondary cities offer. As these hubs become more congested however, Delta could be put at a disadvantage to the competition who is willing to venture outside these tier 1 markets. In addition for the time being that means that Delta cannot add any additional Chinese routes since the last route authority is being given out. Only time will tell if Delta's strategy of an equity investment in a Chinese airline and focusing instead on tier 1 cities will work out for them or if they will need to change course.
American Airlines has appeared more open to the idea of serving tier 2 cities but will first need to find a suitable local partner and also ensure it has sufficient service from its hubs to large cities like Beijing and Shanghai. Despite this, officials from Chongqing have already visited American Airlines headquarters looking for the airline to begin service to their city with possible subsidies. For the foreseeable future however the airline is likely to focus on connecting tier 1 international cities to its network.
Joint Venture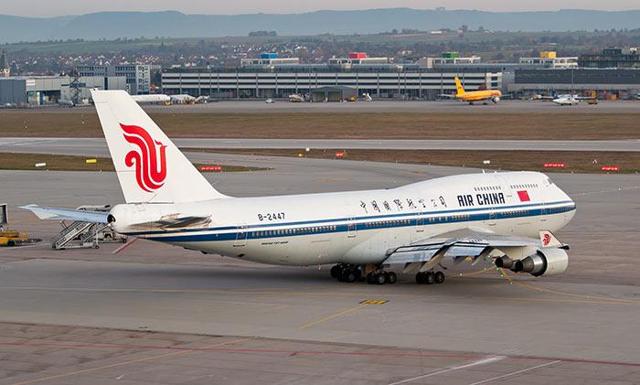 Img 5: An Air China Aircraft
A joint venture would be the next major step for United in the Chinese market outside of service to additional secondary cities. A joint venture with Air China, United's Chinese partner would make the combination a dominant force across the Pacific. Such an arrangement would have the two airlines coordinating schedules, while sharing operating costs and revenues, essentially operating as one and splitting the profit. Many analysts have speculated such an arrangement will come to fruition at some point in the future as similar arrangements already exist on U.S. airlines to Australia, and across the Atlantic. In the meantime, just this past week the two airlines said they intended to deepen their cooperation on marketing, frequent flier benefits and connecting flights.
Asia Expansion
Out of all the U.S. airlines still in existence, United was the first to launch service to China back in the 1980's. American Airlines did not launch service until 2006 and Delta was even later in 2008. This first mover advantage has clearly paid off when looking at Image 4 above that shows United with over 2x the number of weekly seats to China as either American or Delta and more than the two competitors combined. The strong brand recognition and years of accumulating frequent fliers is a substantial advantage and one does not need to look too far to see seeds sown in additional new markets.
United recently announced service from San Francisco to Singapore, the first direct service between the two countries in many years. United is also the only U.S. airline to serve Vietnam, a country that is seeing 20% year over year tourism growth and a country that should see a surge in travel if the Trans Pacific Partnership goes through. United is the only U.S. airline to serve India and in the past it had talked about using 787 aircraft from the U.S. east coast to launch service to secondary Indian destinations as it has done to China from the west coast.
If United is anything to go by, history has shown that getting into these emerging markets early on can lead to a substantial long term advantage, so I am bullish on the fact that United is serving many important emerging market destinations that its U.S. competitors are ignoring.
Conclusion
United may see a hit to its short term margin from serving secondary Chinese cities, or emerging market countries such as India and Vietnam as many of these carry less high margin premium traffic and feature more government subsidized competition. Despite this, I believe it is the right thing to do long term and as with China it clearly seems it can pay off. Despite my initial concern with a China slowdown and how it would affect United, travel demand is clearly soaring and United is by far the best U.S. airline to capture this new growth. New management in United is a very strong positive too as I have outlined in my previous articles and overall make United a good long term buy.
Disclosure: I/we have no positions in any stocks mentioned, but may initiate a long position in UAL over the next 72 hours.
I wrote this article myself, and it expresses my own opinions. I am not receiving compensation for it (other than from Seeking Alpha). I have no business relationship with any company whose stock is mentioned in this article.