Weekly Oil Inventory Report - "Can you smell the bottom?"
As usual, this week we will go over what was released today in the weekly DOE oil inventory report for week ending March 25 th, 2016.
WTI (USO, OIL) and Brent seems to have stabilized and staying range bound between $38-$40. Despite what a lot of media pundits are saying this is a short covering rally, I believe the fundamentals are shifting in the right direction. The trajectory remains that the oil markets will be balanced by the 2 nd half of this year and prices should finish the year higher (closer to $50 WTI).
OPEC and Non-OPEC meeting is scheduled on April 17 th, and a likely production freeze agreement is expected. As we said in our previous report, people who are looking at the freeze deal as some kind of balancing mechanism for the present moment are looking at it the wrong way. The implications of a deal are significantly more meaningful for future collaborations.
All in all, the supply/demand balance is moving in the right direction, and fundamentals are improving.
Highlight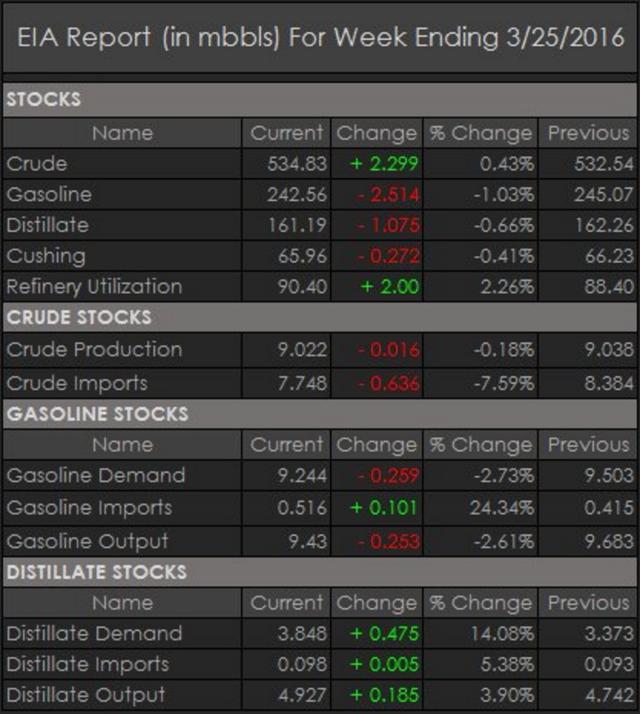 Crude inventory build was 2.299 million barrels higher than last week's figures. What's notable in this report is the continued strength of gasoline demand and refinery utilization. Refineries are still going all out, and will likely hit a new high this summer. Domestic production continues to head lower with U.S. crude production at 9.022 million b/d. Imports fell back to the norm coming in at 7.748 million b/d. This number however is still higher than last year's figures.
Gasoline Demand Remains Strong

Despite above trend gasoline supplied, U.S. commercial gasoline still drew 2.514 million.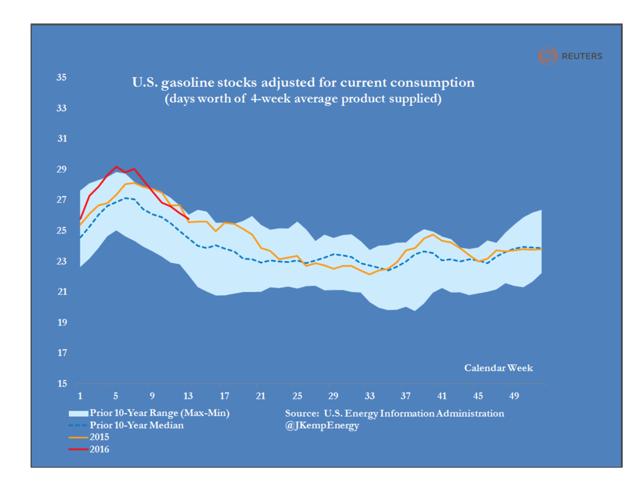 Despite some naysayers pointing out that gasoline stock is still above trend, if you adjusted for current consumption levels, gasoline inventory remains on track within 5 year averages.
Imports Remain Elevated
Refineries are just finishing turnaround season, and if imports were close to low 7 million versus 7.748 million, we would've seen a draw in crude stock of 2.671 million versus a gain. Imports remain elevated relative to historical trends.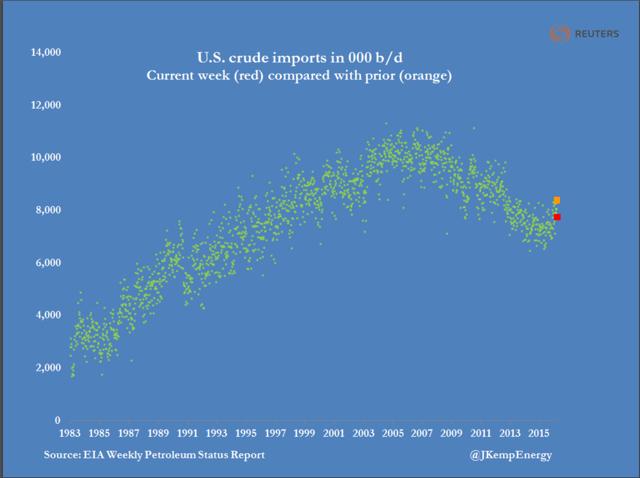 Why are imports higher than average?
Foreign heavy crude supplies remain cheaper than domestic supplies due to both massive discounts by the sellers and an overabundance of supply. Current supply/demand remains oversupplied, and given that U.S. has by far the largest storage facilities, crude would be flowing to the U.S. versus anywhere else.
Contango in the curve (higher future oil prices than current) is still incentivizing traders to buy oil, store it, and sell it in the future for higher prices. Once the curve flattens out, we believe that the pace of inventory draw would be accelerated and imports should drop back to the norm.
Refiners Going ALL-OUT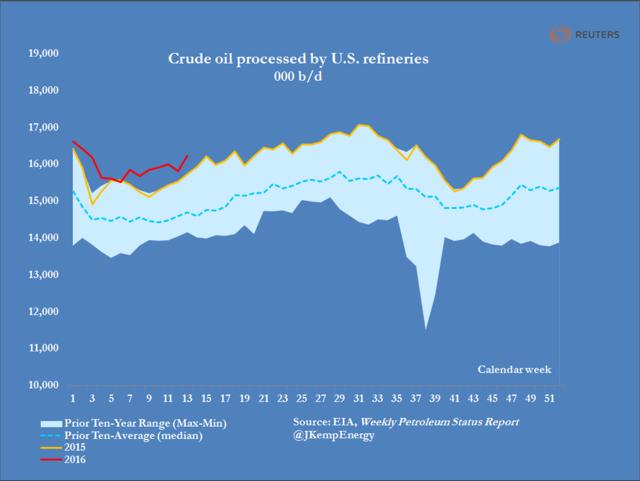 Refiners are going all out. Refinery utilizations are above trend and will likely be on pace to hit new highs. If this continues with additional deteriorations in supply, inventory will begin to draw in meaningful amounts in the second half of 2016.
Concluding Thoughts
Fundamentals are pointing in the right direction. Current crude inventory build is still due to higher than normal import levels. Once the supply/demand situation is balanced, import levels will begin to drop leading to a more balanced oil market. All of these fundamental indicators are pointing to a bottom in the price of oil. Naysayers will continue to point you to "record positioning" as a reason for why we are close to $40, but remember this, it was "record positioning" that got us below $30.
For investors that want deeper insights into my research, please consider subscribing to HFI's premium service. I look forward to you joining a group of like-minded investors.
Till next time,
HFI out.
Disclosure: I/we have no positions in any stocks mentioned, and no plans to initiate any positions within the next 72 hours.
I wrote this article myself, and it expresses my own opinions. I am not receiving compensation for it (other than from Seeking Alpha). I have no business relationship with any company whose stock is mentioned in this article.