Introduction
In our previous article titled, "Bear Market Investing: Seek Relative Value As First Line of Defense", we observed that cheaper stocks (value) have fallen just as much as expensive stocks (growth) in a severe market drawdown scenario, as investors tend to sell first and ask questions later, without paying much attention to stock valuations. This naturally leads to the next question, what about stocks in different sectors?
In short, we believe sector effects are significant, as it is no secret that some sectors have historically proved more defensive than others. To put it in another way, "owning the best house in a bad neighborhood" will likely not be a wise strategy if house prices in that neighborhood falls the fastest. In this article, we will back up these claims using data from the past 15 years.
Data
To assess the performance of US equity sectors, we will use the following ten sector indices compiled by Dow Jones. The corresponding iShares ETFs are in brackets:
Our returns are based on monthly data, total returns, over the past 180 months through February 29, 2016.
Historical Return & Risk Analysis
Below is a plot of all ten sector indices against the S&P 500, our broad market benchmark.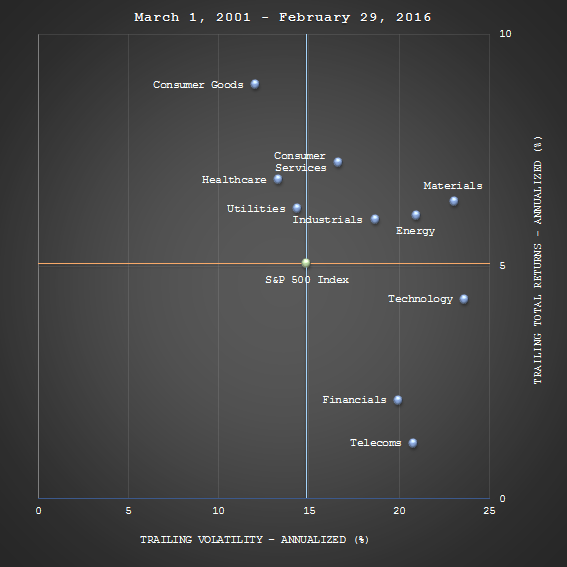 | | | | | | |
| --- | --- | --- | --- | --- | --- |
| Sector | Ann. Return | Ann. StDev | Sharpe | Beta | Worst Month Rtn |
| Basic Materials | 6.4 | 23.0 | 0.32 | 1.31 | -25.9 (Oct 08) |
| Consumer Goods | 8.9 | 12.0 | 0.64 | 0.68 | -14.9 (Oct 08) |
| Consumer Services | 7.2 | 16.6 | 0.41 | 1.03 | -16.8 (Oct 08) |
| Energy | 6.1 | 20.9 | 0.32 | 0.94 | -18.9 (Oct 08) |
| Financials | 2.1 | 19.9 | 0.13 | 1.18 | -23.9 (Jan 09) |
| Healthcare | 6.9 | 13.3 | 0.45 | 0.71 | -12.6 (Oct 08) |
| Industrials | 6.0 | 18.7 | 0.33 | 1.18 | -20.7 (Oct 08) |
| Technology | 4.3 | 23.6 | 0.23 | 1.37 | -21.7 (Sep 01) |
| Telecoms | 1.2 | 20.8 | 0.09 | 0.09 | -20.9 (Oct 08) |
| Utilities | 6.2 | 14.4 | 0.39 | 0.54 | -12.7 (Jul 02) |
Observations:
Absolute volatility (standard deviation): From the above, it is clear that Technology, Basic Materials, Energy, Financials and Telecoms are the more volatile sectors by standard deviation. Conversely, Consumer Goods, Healthcare, Utilities, Consumer Services and Industrials are more defensive. During a bear market, least volatile sectors will likely fall less than the broad market benchmark.
Sensitivity to equity market movements (beta): Beta to the S&P 500 also paints a similar picture, although it is worth noting that Telecoms has a miniscule beta of 0.09 despite being one of the most volatile sector. In down markets, investors may want to consider lower beta (i.e. <1.00 beta) sectors as they will likely capture less of the downside.
Absolute worst performance: This is an interesting statistic that shows how much an investor can expect to lose in a single month. For most of these sectors, the worst month occurred in October 2008, the height of the GFC. This was widely considered "a black swan" event that occurs very infrequently. Consumer Goods, Healthcare and Utilities saw losses of 15% in a single month, while others dived 20-30%.
In the chart below, we sum up all the negative months of each sector for the past 15 years, and compare it to the S&P 500:

Consumer Goods, Utilities and Healthcare have outperformed other sectors during down markets.
Technology and Basic Materials have fared the worst.
Clearly, no sectors generated a positive return, it's all a relative game.
Takeaways
Investors should not construct their portfolios solely in preparation of a bear market, as one may not be around the corner. However, a reasonable investor can take steps to:
Examine their portfolio exposures to ensure that do not have over-exposure to a single, or multiple higher-volatility, higher-beta sectors, such as Technology or Financials, despite the cheapness of some of the stocks in these sectors.
Move out of expensive stocks within higher-risk sectors, as these will likely lose momentum and fall faster than cheaper, higher quality stocks in the same sector.
Buy some cheap stocks in more defensive sectors, such as Consumer Goods. However, we would note that this will likely be a challenging exercise as this has been the best performing sector over the past 15 years, resulting in elevated valuations relative to the sector's long-run history.
Ensure that there is sufficient cash at hand to scoop up some bargains after a market drawdown. We believe that cheap (value) stocks in higher beta sectors will be best placed to capture the subsequent market bounce.
In our next article, we will provide our monthly update of US sector price momentum, to see which ones are worth considering and avoiding in the current market environment.
For additional reading, we welcome readers to check out these articles in our Bear Market Investing series:
Disclosure: I/we have no positions in any stocks mentioned, and no plans to initiate any positions within the next 72 hours.
I wrote this article myself, and it expresses my own opinions. I am not receiving compensation for it (other than from Seeking Alpha). I have no business relationship with any company whose stock is mentioned in this article.