Last week, I wrote that the turnaround in Chevron (NYSE:CVX) is here to stay as the company's focus on improvements in the upstream business will allow it to benefit from higher oil prices. Moreover, the fact that Chevron is pursuing the LNG opportunity is another tailwind that investors could count on in the long run.
But, apart from these segments, Chevron will also benefit from an improvement in the downstream segment going forward. In my opinion, investors should not miss the opportunity that Chevron's downstream business possesses because demand for products in this segment is set to boom in the long run. Moreover, Chevron has placed itself in a decent position to benefit from downstream growth. So, in this article, we will take a look at the reasons why the downstream business will prove to be a key driver for Chevron.
Strong demand growth in the cards
The market for petrochemicals, distillates, and gasoline is expected to record robust compounded annual growth rates in the coming decade, driven by growth in key regions such as the Asia-Pacific, Latin America, Europe, and the Middle East. The chart below clearly demonstrates the expected growth in demand for various petroleum products for the next 10 years: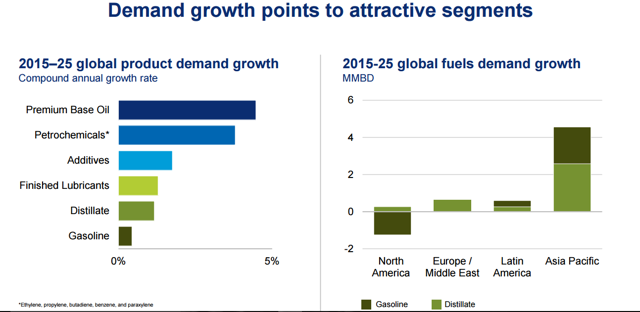 Source: Chevron
The improvement in demand for the above-mentioned products, especially in the Asia-Pacific, will drive growth for Chevron going forward. More specifically, the market for petrochemicals on a global basis is expected to clock revenue of almost $758 billion by 2022, according to Grand View Research. This increase in petrochemical demand will be a result of an increase in transportation and construction, especially in BRIC nations.
Also, as seen above, the market for premium base oils is expected to clock the highest growth rate of close to 5%. In fact, by 2025, the demand for premium base oils is expected to grow two-fold, which is why Chevron has been investing aggressively in this segment. In fact, Chevron has doubled its premium base oil processing capacity by investing $1.4 billion in a refinery at Pascagoula, Mississippi.
Thus, the prospects of the downstream market are robust from a long-term perspective due to anticipated growth in demand. Now, Chevron should be able to make good use of the increase in petrochemical demand going forward as the company has a robust cost position in this segment.
Expect better margins in the downstream segment
Going forward, as demand for the downstream products of Chevron rises, the company will see an improvement in both its top and bottom lines. This is because the company expects its refining margins to get better in the future on the back of higher demand. As shown in the graph below, the net cash margins of Chevron for each barrel of refined product are expected to improve in Asia and Europe over the next five years, and stay more or less consistent in North America.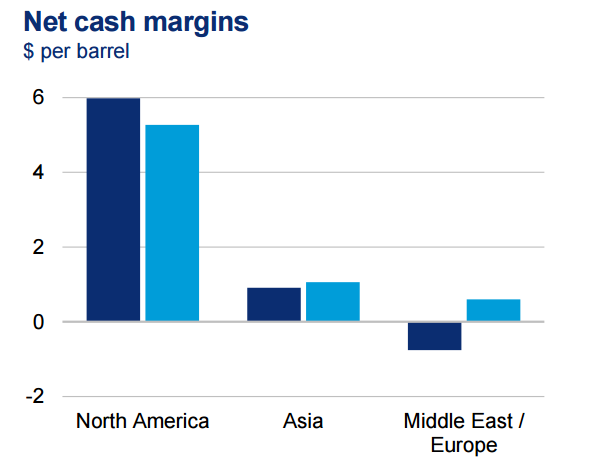 Source: Chevron
The improvement in Chevron's refining margins will be primarily driven by an increase in utilization rates and higher demand for gasoline across the globe. More specifically, an increase in vehicle sales in China will play a key role in enhancing gasoline production going forward. According to Exxon Mobil's (NYSE:XOM) long-term outlook report:
"By 2040, China's light-duty vehicle fleet is expected to be about 400 million - 40 percent bigger than the U.S. fleet - which is remarkable considering that in 2010 it was only 60 million. However, even by 2040 China will likely have only about 30 cars for every 100 people, compared to about 80 cars per 100 people in the U.S. and about 40 per 100 in South Korea."
Thus, an increase in vehicle sales in China will power gasoline consumption in the long run, thereby expanding Chevron's addressable opportunity. Apart from gasoline, Chevron should also see an increase in its ethylene margins. This is because the company's ethylene cash costs are on track to decline in the coming five years, driven by the benefit of lighter feedstocks that are being driven by a favorable oil-gas price ratio and low naphtha prices in Asia. The following chart shows the expected decline in ethylene cash costs in key markets: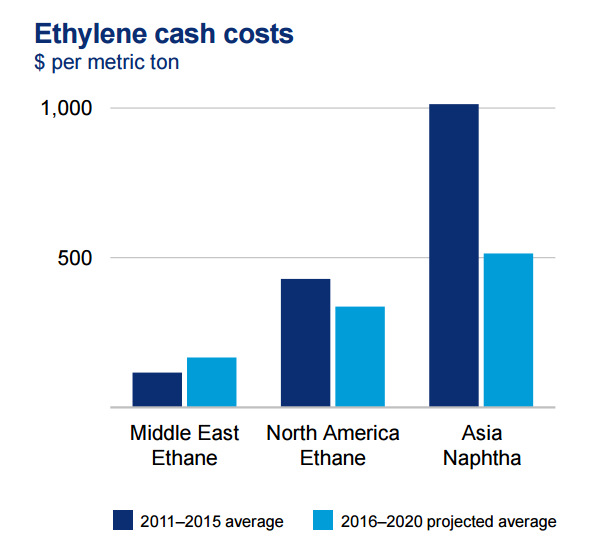 Source: Chevron
A decline in ethylene cash costs is good news for Chevron since ethylene accounts for a fourth of overall petrochemical demand. As a result, due to higher demand and lower costs, Chevron will see an improvement in its margin profile in this segment going forward.
Conclusion
Therefore, Chevron should continue to do well in the downstream segment going forward due to an improvement in demand and lower costs. As such, it makes sense to remain invested in Chevron shares going forward as I believe that a combination of downstream and upstream strength will allow it to deliver upside.
Disclosure: I/we have no positions in any stocks mentioned, and no plans to initiate any positions within the next 72 hours.
I wrote this article myself, and it expresses my own opinions. I am not receiving compensation for it (other than from Seeking Alpha). I have no business relationship with any company whose stock is mentioned in this article.