China has problems and bigger opportunities.
As we've discussed before to hear most foreign news media reporting, China's economy is about to collapse. Perhaps for the commodities sector it is. But keep in mind everything is big and so are the opportunities. In the move to consumption from investment what opportunities is that creating? Growth trends aren't exactly a dime-a-dozen in the markets right now. Ripples amongst Chinese hundreds of millions of newly middle class consumers are creating waves of opportunities, but what are they and how can average investors take advantage of them?
Tourism - Today Hong Kong, tomorrow the World
Anyone who has lived in China can tell you one truth of traveling, "Never visit a Chinese tourist during a Chinese holiday". The crush of people will overwhelm even those who like a crowd. With tourist numbers growing by 19.5% in 2015 over 2014 Chinese holidays are going to become better known around the world.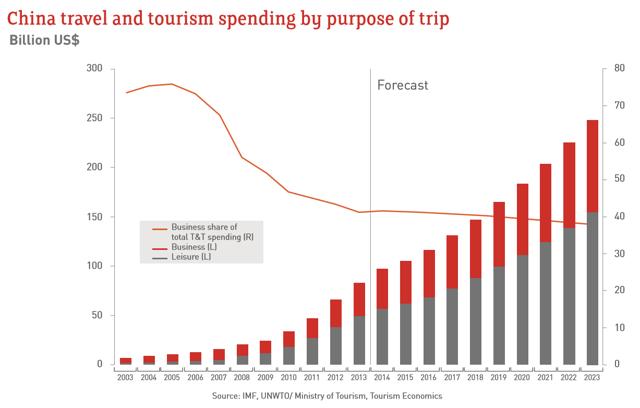 This trend is just starting.
As fast as it has been growing, keep in mind that still just 6% of Chinese have passports (around 84 million people).Further, most that do travel stick to only Hong Kong and Macau. Border crossings jumped from 83 million to about 133 million according to a COTRI estimate in 2015 1. Despite the larger number of Americans with passports Chinese tourists outpaced Americans. They collectively spent nearly $200 billion abroad last year - almost double what the 2nd placed Americans spend.
200 Million Visitors by 2020
That's today. What about when 12% or even 20% of Chinese have passports and are willing to venture beyond greater China? By comparison about 130 million Americans or roughly 46% have passports. The Chinese government itself expects that 200 million visitors per year will venture overseas by 2020. So where are they going to go?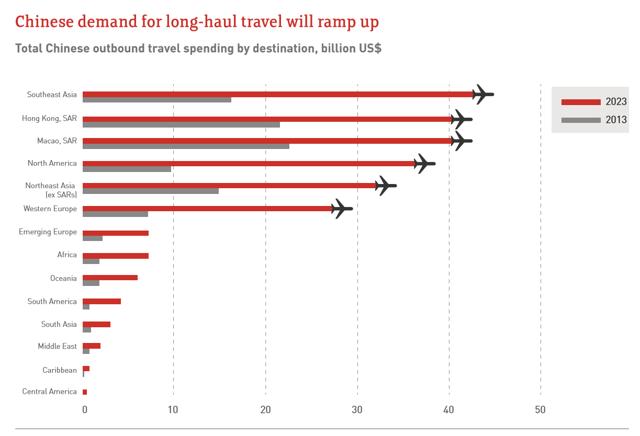 Well you can see why Chinese companies like Anbang are so interested to bid for Starwood Hotels and Fosun purchased Club Med in early 2015.
Travel Restrictions - Freer to Roam
The biggest problem with growth to date is the poor access Chinese have had visa-free access to overseas countries. The Chinese passport is ranked only 87th in the world (tied with Cambodia) with visa-free access to just 74 countries. That itself is a considerable improvement on years gone by since visa rules and length are being eased considerably. The United States, Singapore, Canada and Australia for example have all approved 10 year multi-entry visas for Chinese in recent years. Even laggards like the UK have recently inched up its offer to a 2 year multiple entry visas. Times are changing, doors are opening and the trend is clear, so what to do?
What to buy?
To determine what to buy you need to follow the money. What are Chinese tourists buying on their travels. Of course there are basics like hotel rooms, plane flights and tour groups. For our money investing in airlines is a little too indirect given the notoriously competitive industry is far more beholden to the oil price for profitability than travel demand. Hotel chains and tourist site operators seem a better bet as many recent takeovers offers indicate.
An ETF for Leisure and Entertainment
For the average investor a place to start might be PowerShares Dynamic Leisure and Entertainment ETF (NYSEARCA:PEJ) which is based on the Dynamic Leisure & Entertainment IntellidexSM Index. This is a selection of 30 stocks based on a investment indicators like earnings, momentum, value and management action. Two things to be aware of: Firstly there is limited daily turnover of shares, so be cautious giving your brokers orders "at market". Secondly this index, at least at present, seems to have a big weighting of food (like McDonald's and Starbucks) and airlines with minimal hotels, so the correlation with China's tourists isn't that strong.
So if you want to build your own exposure based on China's tourists with blue chips, here are some stocks that are most likely to benefit from a surge of Chinese tourists.
| | | |
| --- | --- | --- |
| | Sector | Capital |
| Marriott International (NASDAQ:MAR) | Hotels | $17 B |
| Priceline (NASDAQ:PCLN) | Travel Services | $63 B |
| Ctrip.com (NASDAQ:CTRP) | Travel Services | $17 B |
| Hilton Worldwide (NYSE:HLT) | Hotels | $21 B |
| Hyatt Hotels (NYSE:H) | Hotels | $6.2 B |
| Starwood Hotels (NYSE:HOT) | Hotels | $13 B |
| InterContinental Hotels Group (NYSE:IHG) | Hotels | $9.3 B |
| Six Flags Entertainment (NYSE:SIX) | Theme Parks | $5 B |
| Cedar Fair (NYSE:FUN) | Theme Parks | $3.2 B |
Disney's a TV/Movie company.
Leaving Disney off this list wasn't an accident. Even with Disney's impending opening of its Shanghai theme park and its existing Hong Kong park, the vast majority of Disney's earnings are from its cable TV and movie businesses, not theme parks. It should be judged on that basis.
More Health than Luxury
There is also shopping, and no article on Chinese tourism would be complete without the obligatory mention of luxury product shopping. Keep in mind however that the corruption crackdown has meant luxury purchases may have peaked before you load up on some LVMH stock. Domestically luxury sales fell 2% and overseas luxury purchases rose 10% although that was slower than overall tourism growth.
More interesting these days to Chinese is their health and well-being for themselves and their progeny. Companies that produce vitamins, creams, healthy or safe food like milk powders that find favor amongst Chinese have all had strong spikes in sales and on the stock market. Given this trend isn't just limited to tourists, but also encompasses a wide range of companies we will handle this topic in depth in future reports.
The real alpha is not in the mass tour group market.
Anyone who tells you that Chinese only travel on tour buses as a group on a non-stop hit list of cities is correct: for pre-2010 that is. The change in tastes of Chinese tourists over the last 5 years has been remarkable, particularly from residents of wealthier first-tier cities. They would never dream of squeezing on a tour group bus with their country-men for a day much less 20. Tour groups are still popular amongst lesser experienced travelers from second and third tier cities. Even as this business continues, the main massive growth is in wealthy independent Chinese travelers doing their own thing.
The upshot is that self directed tourists follow their interests to more obscure attractions rather than a hit list of the main postcard sights. For example the pub that hosted Chinese Chairman Xi Jinping drinking with British PM David Cameron during a recent visit now does a roaring trade. So does a Brighton pub serving the most famous fish and chips in the Chinese blogosphere. Some smaller companies that working hard to succeed in attracting Chinese visitors are transforming their businesses. And where profits go, stock prices and investor returns follow.
Small caps, Hotels and Travel Operators are the focus
In smaller listed firms it makes no sense to move the market against yourself when you are trying to take a position. So our investment management team insists that the best proprietary research be released very carefully. Being China based we have developed an insight into what companies and brands are trending and succeeding and at present we believe that hotel stocks and online travel agencies like Ctrip have the greatest potential for growth over the coming years.
References
Graph 1 & Graph 2 - Oxford Economics 2015, "The future of Chinese of Chinese Travel."
1. China Outbound Research Institute china-outbound.com/
Disclosure: I/we have no positions in any stocks mentioned, and no plans to initiate any positions within the next 72 hours.
I wrote this article myself, and it expresses my own opinions. I am not receiving compensation for it. I have no business relationship with any company whose stock is mentioned in this article.