Introduction
Online gaming is an industry I'm intimately familiar with. Massively Multiplayer Online Role Playing Games (MMORPGs) in particular are my specialty. Not only have I spent most of my life playing these games, but I also launched and operated one of the biggest (if not biggest) web portals in the U.S. about these games. My interest in the industry is why I began looking into Changyou (NASDAQ:CYOU) in the first place. Changyou isn't the first Chinese gaming company I've written about. Perfect World has more than doubled since I took a position and wrote about it. I've made a handsome return on Shanda Games as well before. Both those companies were trading at a steep discount for years before they were finally bought out by management. The same story is now poised to play out with Changyou in the months ahead.
Company Overview
Changyou.com Ltd (NASDAQ:CYOU) is the gaming subsidiary of Chinese internet company Sohu, Inc. (NASDAQ: SOHU). Changyou was spun off in an IPO on April 7, 2009 but Sohu still maintains a majority stake (68%) and nearly all voting rights (95.4%) through a combination of Class A and Class B common shares. Changyou's primary line of business is the operation of massively multiplayer online games (MMOGs), which are either developed internally or licensed from third parties. The company operates nearly a dozen or so games across PC and mobile platforms, but still derives the majority of its revenue from a single title: Tian Long Ba Bu (TLBB), which was initially released in 2007. Management realizes the need for the company to shift its focus from legacy PC titles to newer mobile games and has been making substantial progress on this front. Changyou currently trades at around $19 a share, which values the company at a bit under $1 billion. The company is profitable and reported net income of $212.7M in 2015, which translates into a P/E of less than 5.
Wave of Privatizations
Over the last few years, numerous Chinese online gaming companies listed in the US have been bought out by management led groups. Giant Interactive, Shanda Games, and Perfect World just to name a few. Dozens of other U.S. listed Chinese firms have been privatized, but I mention these 3 companies because they operate in the exact same industry as Changyou. The logic for these moves are simple. All 3 were trading at a major discount to their peers in the Chinese markets. A privatization followed by a relisting in Asia led to strong gains for insiders.
Perfect World relisted in China after privatizing its film and gaming businesses. Insiders bought the company for about $1 billion and after relisting in Asia (002624:CH) currently trades at a market cap of $2.81B, a near 3x return for insiders. While American investors weren't able to capture those massive gains, they can still capture the buyout premiums here in the U.S. Like Perfect World, Changyou is trading at an incredibly cheap valuation and I believe is ripe for privatization.
Sohu's (Changyou's parent company) CEO Charles Zhang recently offered to invest $600M in his company via stock and convertible debt despite Sohu not needing the cash. Sohu already had a huge cash stockpile before this deal was announced, which leads me to believe that the only reason to do the deal was for the CEO to boost his stake in the company without having to buy on the open market, which would have driven up the stock price. This also gives Sohu the ammunition needed to buy out the 32% of Changyou that they don't already own.
$200M+ in Hidden Value
In August 2009, Changyou purchased a 14,950 sq meter office building in Beijing for $33.4M and a second office building (56,549 sq meters) for $171M a year later. The company's headquarters is located in the Shijingshan District of Beijing, which is close to the city center. These real estate assets are lumped into "fixed assets" on the balance sheet and carried at cost and depreciated yearly. Since these assets were purchased, office prices in Beijing have increased substantially. According to data from Savills (as seen below) it looks like these office properties are worth about twice what Changyou paid for them in 2009 and 2010, but this isn't reflected on the balance sheet.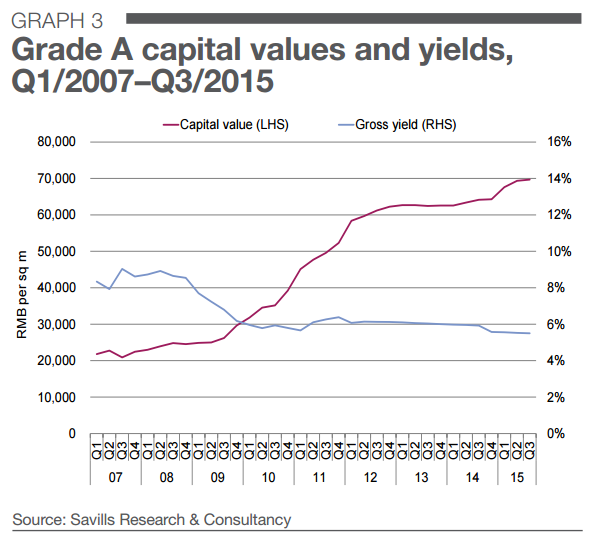 Source: Savills
$200M in hidden value is a big deal for a company with a market cap of $1 billion.
Extreme Value
The main reason I'm interested in Changyou is because it's incredibly cheap. The operating company is being valued at near nothing. Even if we assume intangibles and goodwill are worth $0 (they're carried at a bit over $136M), book value would still be higher than the reported $19.74 after adjusting for the $200M in appreciation for the office assets. The beauty of Changyou is that the assets are relatively straightforward and easy to value. Most of it is cash, time deposits, receivables, and real estate. Given that Changyou is trading below their reported book value, the market seems to be assigning a negative value to the operating business, which is absurd since it has been consistently profitable and generated $213M in cash in 2015. Valuing the operating business at 5x cash flow (extremely conservative) would value the entire enterprise at ~$39/share.

Source: 10-K
On the negative side, earnings aren't growing, but they aren't really declining either. Changyou's flagship game is 8+ years old now, but it still generates a bit over half of the company's revenues. Management hasn't been sitting on its hands all this time either. They've implemented strict cost controls to boost profitability and have been introducing new titles over the years.
Although I've extensively researched the market position of every single one of Changyou's games and I'm excited about the potential of Warframe and Tree of Savior in particular, I'm not buying Changyou for growth. I'm buying for value. On the positive side though, despite stagnant online game revenues, the company's other businesses have been growing. Online advertising is up marginally year over year and the movie business (categorized under "other" in the image above) is booming.
Risks
As we all know, there's no such thing as a sure thing in the market. One of the risks involved in Changyou is that the company has only one possible suitor, Sohu. Sohu is also publicly listed in the U.S. and owns 68% of Changyou. While Sohu is also incredibly cheap, I'm more interested in Changyou because it's a business I understand and a consistently profitable one. Another risk is that the company decides to spend its huge cash reserves on acquisitions which may not pan out, as they've done in the past with Raidcall (written down to near $0) and the Dolphin browser (also written down). It's also possible that poor execution across the board could lead to a decline in profitability, but the odds of this are relatively slim, as the company has proven themselves capable.
Conclusion
I've made a bundle investing in Perfect World and I see the same story playing out with Changyou in the months ahead. Western markets aren't assigning any value to Changyou's operating business and management sees that. I expect the company to privatize and relist in Asia and even though management will capture most of those gains, I'll be content with the 20-30% premium offered. Buying Changyou today at ~$19 has quite a bit of downside protection, as you're basically buying a pile of cash and some prime Beijing real estate with the operating company being tossed in for free.
Disclosure: I am/we are long CYOU.
I wrote this article myself, and it expresses my own opinions. I am not receiving compensation for it (other than from Seeking Alpha). I have no business relationship with any company whose stock is mentioned in this article.