Editor's note: This article was submitted in March as an entry in the Seeking Alpha Ultimate Stock-pitching competition being held on April 9th, 2016.
By Diego Salas and Carlos Elias Campos
Introduction
Lockheed Martin (NYSE:LMT) continues to trade at its highest, and it is expected to steadily grow as result of a consistent diversification policy and as result of the increasing demand for its production, especially warfare technology given the ongoing situations shaping the international belligerent arena. This combination of endogenous diversification and exogenous increase in demand creates a viable argument to assure the stability and sustainable growth of LMT in the financial markets.
LMT is one of the biggest military contractors in the world, and its economic activity is highly correlated with the adjudication of defense contracts by the United States of America government; nevertheless, the company is aiming to benefit from official military programs and diversify into other advanced technology sectors such as civilian supersonic aircraft, aerospace industry, and laser/supersonic technologies.
As LMT CEO Marillyn Hewson recently mentioned:
Lockheed's major technological innovations would soon make their way into the futuristic weapons that defense officials have boasted for years.
Now, LMT has the technology to start delivering beyond the illustrations on a computer screen or drawing board. The company could build a hypersonic demonstrator aircraft the size of an F-22 stealth fighter for less than $1 billion, which is pocket-change for military programs nowadays.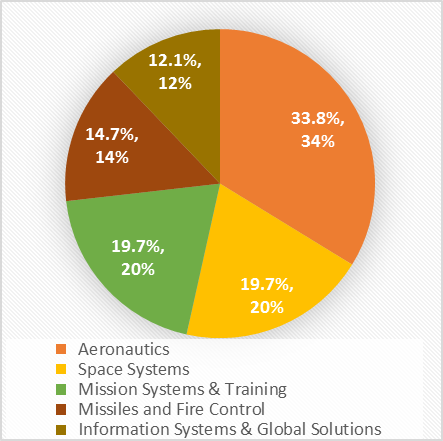 Source: Bloomberg as of December 31, 2016

LMT relies on the U.S. defense budget, which is certainly aiming for expansion considering the asymmetric and increasingly dangerous threats in the international arena. Conventional weapon arsenals are not enough to combat terrorism; therefore, the U.S. Department of Defense is relying on companies such as LMT to introduce new and less conventional weapons and vehicles to confront the global threat of terrorism that is increasingly affecting the world, especially the Western nations.
The chart above shows the bidirectional dependency between corporations such as LMT and the U.S. Department of Defense, showing a substantial growth in dividends as global threats increase and the United States government increases its involvement whether it is direct through military mission or indirect through military aid. As described by George Schneider in his 2015 article "Retirement FrontlLne: Investing In The Fight Against Terrorism Alongside Defense Contractors For Growing Dividends," corporations such as LMT are making lemonade out of lemons.
Even though the company focuses mainly in military aircraft and other conventional weapons manufacturing, there is a recent shift, where it is starting to use supersonic technology to rescue and re-introduce the supersonic civilian aircraft technology abandoned in the early 2000s by the French company Concorde. It is estimated that LMT has invested close to $2 billion in the design and innovation of this new aircraft that would not only just reduce the air time, but will also increase the environmental sustainability as result of its low consumption of fossil fuel and high dependency on solar energy and other renewable sources.
Furthermore, the company is highly invested in the aerospace industry, being as well one of the most important suppliers of NASA - in this area, LMT is expecting to be the first company to create the first aircraft to transport civilians to the space as part of a pilot project encouraged by NASA by 2040. Also, Lockheed is a main protagonist in the development of the Exploration Mission-1 (EM-1) on Mars. During Exploration Mission-1, Orion will travel thousands of miles beyond the moon over the course of about three weeks. To get ready for that mission, a full-size test version of Orion's service module provided by the European Space Agency (ESA) will be tested at NASA's Plum Brook Station in Sandusky, Ohio. Testing of the service module begins in early 2016, creating a positive expectation on LMT's full incursion on aerospace missions.
Macroeconomic Analysis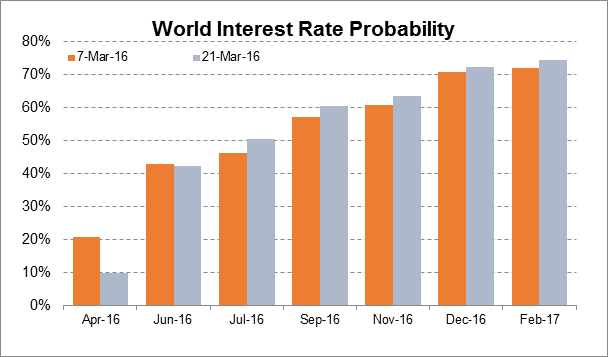 Source: Bloomberg
Weaker global growth and financial market turmoil drove the U.S. Federal Reserve's ("the Fed") decision to leave the range for its target funds rate unchanged at 0.25% at its latest meeting on March 15-16, 2016, while reducing the number of projected hike for this year from four - projected in the December meeting - to two. The Fed also sounded cautious as to when the next rate hike will be, providing no clear guidance of when to expect the next one. The latest labor reports, which can be a significant source of volatility, came in solid in February after a softer announcement in January that warned about potential danger in markets throughout the first two months of the year. The report, in essence, puts to rest concerns about job growth deceleration and unemployment that had clouded the market.
A slow growth in global production has driven oil - and other commodity - prices since late-February and throughout March as a tentative freeze - or slowing - in global production by both OPEC and non-OPEC is within reach. China's economy continues its noticeable deceleration as it continues to shift from a manufacturing economy to a service-oriented one, with "industrial" jobs shifting to other Asian economies that have lower labor costs such as India and the Philippines. Other commodities, such as iron and gold (after Fed didn't rate hikes), have posted strong gains in recent weeks as the market has changed its perception on the Chinese economic data. For the purpose of this article as of March 22, 2016, it is a good place to be in terms of purchasing stocks with the S&P 500 posting roughly 7% gains in the past month. This is good news for LMT as equity markets are rallying. Within LMT's overlapping sector, the Dow Jones Industrial Average is up approximately 7%, and this trend is expected to continue into the next week and throughout the year (Source: WSJ Market Data Center).
Financial Analysis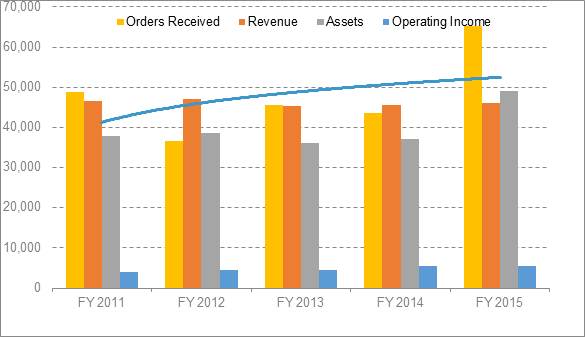 Source: Bloomberg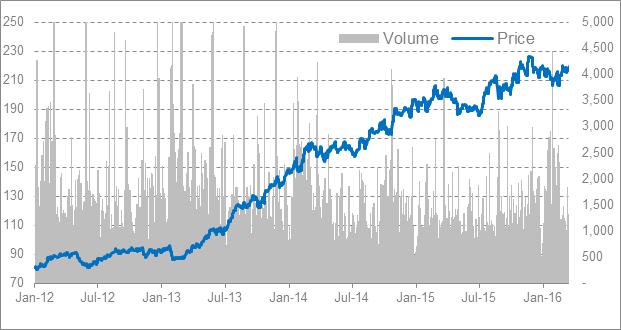 Source: Bloomberg as of March 22, 2016
As investors continue to have an appetite for equity markets and LMT continues to post strong numbers in its next quarterly presentation in mid-April - which it will - the company will continue to boost its price and its liquidity. LMT is trading at an all-time high due to its exceptional financial position. Among its many attractive characteristics is the growth trend that the company has seen since the past two years. Orders received, which are a driver of the company's financial performance, have increased from $48,799 million in 2011 to $82,600 million in 2013 to $99,600 million at year-end 2016, which consequently boosted the company's revenue and income. Although the increase is not huge, it is steady, and considering that 2014 was the year that the U.S. - main source of revenue for the company - invested the least in the past decade as a percentage of its GDP in the military, we believe that the key statistic is underplayed and isn't making as big of an effect as it should on the stock price. It is understandable in nature, as speculative markets tend to be inefficient, but studying key trends is vital to gaining insight into the company's real performance. As the world continues its fight against terrorism, we expect these figures to grow consistently throughout the next 2-3 years - especially with a Republican President - giving LMT increased prospective future orders, prospective cash flows and the ability to quickly turn over its increasing order backlog.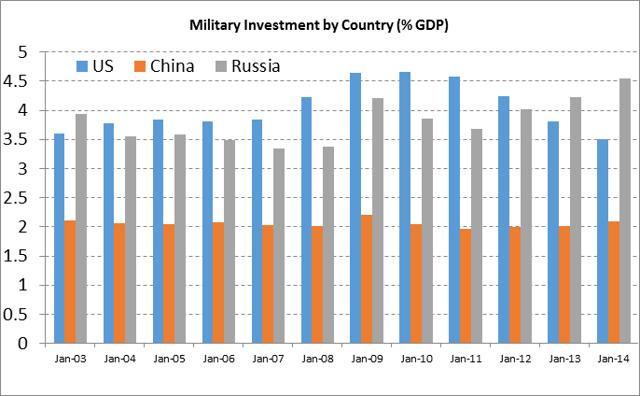 Source: Bloomberg
In addition to this, we believe the company is looking for opportunities that allow it to expand its project horizon - including its acquisition in November 2015. In order to execute the transaction, LMT, which is rated Baa1 by Moody's, BBB+ by S&P and BBB+ by Fitch, issued Notes in the international debt capital markets in order to fund its acquisition of United Technologies' (NYSE:UTX) Sikorsky Aircraft Unit for ~$9 billion. This move was the largest acquisition since the company bought Martin Marietta Corp. for about $10 billion 20 years ago and a very bold strategic move by CEO Marilyn Hewson. Sikorsky Aircraft is the U.S.'s largest helicopter supplier, and while this could create conflicts of interest with the government - because of the elimination of competition - we believe it to be ultimately beneficial as it remains the number one provider of military technology to the U.S. institutions. This acquisition not only provides access into the helicopter sector for LMT as it did not previously produce them, but it also allows the management to shed or sell less profitable business units. Namely, the issuance into the debt capital markets should not be a problem for LMT as it has more than enough in its reserve account to cover both interest payments and the principal of its bonds - which also should be aided by the Fed keeping rates still in March. We expect the long-term debt to be partially offset by the continued increase in sales as well as the boost from the acquired helicopter business unit.
Relative Value Universe
As we compare LMT to other peers in the industry, we can observe the relative value of the company; keep in mind that Lockheed is the largest company of its kind and has exclusive contracts to the government. We have chosen a few key competitors and their respective profitability ratios as a measure for comparison:
| | | | | | |
| --- | --- | --- | --- | --- | --- |
| Name | Sales Growth Yoy (%) | EBITDA Margin (%) | LTM Sales Growth | LTM Operating Margin | LTM Net Income Margin |
| Average | 1.526 | 13.114 | 4.626 | 8.361 | 5.641 |
| LOCKHEED MARTIN | 1.167 | 14.621 | 1.167 | 12.397 | 8.105 |
| FINMECCANICA SPA (OTCPK:FINMY) | -11.376 | 12.351 | -3.008 | 6.533 | 2.832 |
| SAAB AB-B (OTCPK:SAABF) | 15.552 | 9.681 | 15.552 | 3.671 | 5.010 |
| RAYTHEON COMPANY (NYSE:RTN) | 1.844 | 13.623 | 1.844 | 11.550 | 7.497 |
| GENERAL DYNAMICS CORP. (NYSE:GD) | 2.000 | 14.735 | 2.000 | 13.203 | 9.374 |
| BAE SYSTEMS PLC (OTCPK:BAESY) | 8.795 | 11.342 | 8.795 | 8.602 | 5.835 |
| KOREA AEROSPACE INDUSTRIES | 25.321 | 13.119 | 25.321 | 9.847 | 6.224 |
| COBHAM PLC (OTCPK:CBHMY) | 11.897 | 19.329 | 11.897 | 3.605 | 0.597 |
| MOOG INC-CLASS A (NYSE:MOG.A) | -4.639 | 13.444 | -6.528 | 9.127 | 5.480 |
| BEIJING AEROSPACE CHANGFEN-A | -29.772 | 5.512 | -2.152 | 0.964 | 2.945 |
| TELEDYNE TECHNOLOGIES (NYSE:TDY) | -4.006 | 16.501 | -4.006 | 12.471 | 8.147 |
Source: Bloomberg
LMT features some of the best and most improved ratios in the industry within the past five years, and these are still going strong. Specially, when considering the order backlog that the company has yet to satisfy, which is offset by the increase in employees and positive working capital LMT has achieved since year-end 2014. Please note that 12-month sales growth is around mid-table when compared to the rest of the industry. These are not recognized as revenue, but are already executed contracts that have yet to be converted into sales in future periods (Source: LMT Annual Report). As of December 31, 2015, LMT expected ~$43bn or 43% of backlog would be transformed into sales throughout 2016.
DCF Valuation
After considering all of the aforementioned variables, our discounted cash flow model yielded the current intrinsic value of the stock at ~$248 per share, which is ~$28 or 12.80% less than it is trading at today, March 29, 2016. The DCF model takes into consideration all future cash flows at present value as well as a discount rate determined by the Capital Asset Pricing Model ("CAPM"), which we estimated to be between 10% and 12%, as well as our revenue growth projections. In addition to this, we are also awarding LMT a positive outlook for the foreseeable future with our stock price projections at $275 (or +24.6%) by Q4 2016.
Conclusion
The financial success of Lockheed Martin relies on the diversification of technologies in the long-lasting love story with the U.S. Department of Defense and both the organically growing business and the redefined worldwide scenery. It is true that innovation and new waves of technological spirals will increase the profile of LMT as a multinational corporation; nonetheless, it is military spending in countries such as the United States and the emergence of new, asymmetric warfare threats that upswing the value of corporations as LMT where transparency, innovation and historical leadership create a perfect combination for national and financial security.
Disclosure: I/we have no positions in any stocks mentioned, and no plans to initiate any positions within the next 72 hours.
I wrote this article myself, and it expresses my own opinions. I am not receiving compensation for it (other than from Seeking Alpha). I have no business relationship with any company whose stock is mentioned in this article.