It has been a rough ride year-to-date to be a shareholder of Planet Fitness (NYSE:PLNT). The share price has had a number of ups and downs, but we have held firm and plan on doing so for a while to come. We still believe that the company is incredibly well positioned to take advantage of a boom in health and wellness that could see it double its market value in time.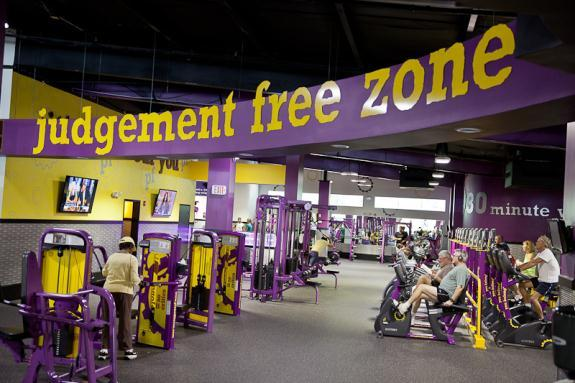 The Planet Fitness IPO last year was not as successful as many investors have probably been hoping for. But its listing price of $16.00 is within sight now, which should come as a relief to early investors. We can understand exactly how they feel, though. We bought shares early in January and since then they have been on a wild ride. The good news, for us at least, is that we are seeing gains now which is quite pleasing. As you can see on the chart shown below, the shares were down by as much as 14% at one stage.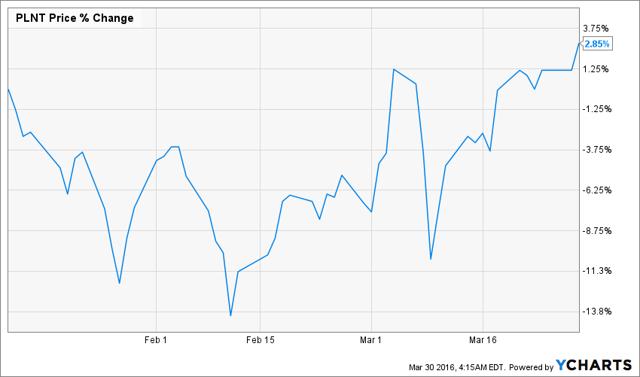 (Source: Ycharts)
To be quite honest, if history is a good indication of the future then we feel there is a good chance there will be an almighty crash in the share price coming. Each time the share price has rallied since we bought in, it has come tumbling back down.
One thing that could be different this time is that analysts do seem to be viewing its prospects favorably. Cowen and Company recently reaffirmed its outperform rating and $18.00 price target on the stock, and Wedbush did the same but with a$20.00 price target. The stock even got a bit of praise from Jim Cramer in late March. Things are looking up and we certainly will be holding on tightly to our shares.
We were very pleased with the Q4 results and its forecast for the year ahead. The company's guidance is for adjusted FY2016 earnings of 60 cents to 63 cents a share on revenue of $355 million to $365 million. This was ahead of the analyst consensus estimate of 59 cents a share on revenue of $320.2 million.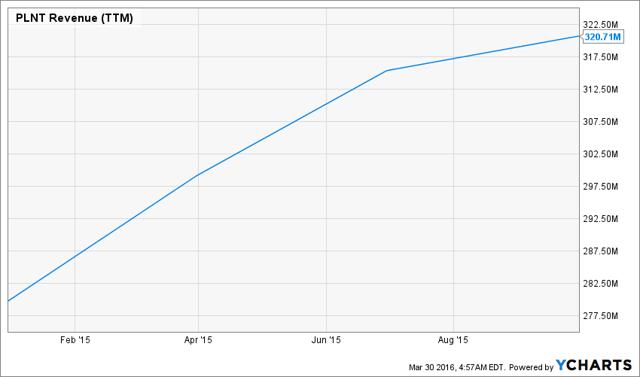 (Source: Ycharts)
We are very confident that Planet Fitness will be able to at least hit the high end of the guidance offered, carrying on its strong and consistent revenue growth shown above.
The health and wellness boom is creating a growing market for the company to work in. We feel as it continues its aggressive expansion of its gym network, it will be able to capture a significant amount of this demand. There will of course be competition from the likes of Soul Cycle (SOULC), LA Fitness, and Anytime Fitness, but the attractive low pricing of membership at Planet Fitness gives it an edge over its competition in our opinion.
Those fees start at just $10 per month for the basic one-gym membership, or $19 per month to use any Planet Fitness gym and gain a bunch of extras such as tanning and hydromassage. Both come without a joining fee. Considering disposable income is rising from low gas prices, these fees are very affordable compared to other gyms. Anytime Fitness starts at $39 per month with a $50 joining fee, and LA Fitness is $30 per month with a $99 joining fee.
Although we don't expect Planet Fitness to raise prices any time soon, we feel there is the option for it to raise them by $2-$3 without it being overly damaging. Netflix have done exactly this with new subscribers and it doesn't appear to have hurt its prospects. This could provide a sudden boost to the top line in the future.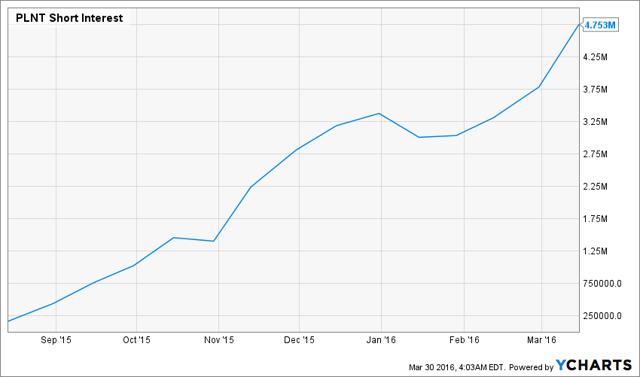 As you can see above short interest is growing. We are not entirely worried by this however. If the company produces strong quarterly results, then we think it could create a lot of buying pressure as shorts look to close their positions. This is by no means a low risk investment, as its ups and downs have shown this year. We do however feel as though the potential long-term upside makes the reward enough to justify the risk. We don't see any reason why if the company can deliver on its plans to open the 500 additional gyms in the next few years, it couldn't double its market cap in that time.
We are sticking with our forecast of full year revenue coming in at $388 million. Previously we based our valuation on a price to sales ratio of 4.3, but we feel sentiment has shifted somewhat and feel comfortable working on a multiple of 4.5 times sales now .
We have a one-year price target of $17.63. This is based upon a price to sales ratio of 4.5, shares outstanding of 99 million, and our assumption that the company will grow revenue in FY 2016 to $388 million. $17.63 represents a return of 11.1% from the $15.86 last close price.
Disclosure: I am/we are long PLNT.
I wrote this article myself, and it expresses my own opinions. I am not receiving compensation for it (other than from Seeking Alpha). I have no business relationship with any company whose stock is mentioned in this article.