In an article earlier in March, I had established the fact that Chevron's (NYSE:CVX) dividend is safe. I had pointed out that unlike ConocoPhillips (NYSE:COP), Chevron is better-positioned to overcome the weakness in the oil patch on the back of its aggressive cost cuts and strong liquidity position. However, the good thing is that the oil patch is improving, and this has helped Chevron record impressive gains on the stock market this month.
In fact, Chevron is up over 15% in March on the back of a sustained improvement in oil prices. More importantly, it is possible that the recent rally in oil prices will continue in the future and help Chevron continue its rally, and also keep the dividend in good health. As such, in this article, we will take a look at the reasons why investors should stay long Chevron.
Chevron's high oil price sensitivity is a tailwind
Chevron is highly-sensitive to crude oil prices. In fact, for each $1 increase in the price of oil, Chevron sees an increase of $325 million-$350 million in its operating cash flow each quarter. In fact, Chevron has the highest sensitivity to oil prices when compared to other big oil players such as Exxon Mobil (NYSE:XOM) and ConocoPhillips as it has got a higher exposure of 67% to crude oil. This is higher than Exxon's 54% and Conoco's 48%.
This is good news for Chevron investors as Brent crude oil prices have made a concrete comeback this quarter after starting the year on a weak footing. This is shown in the chart below: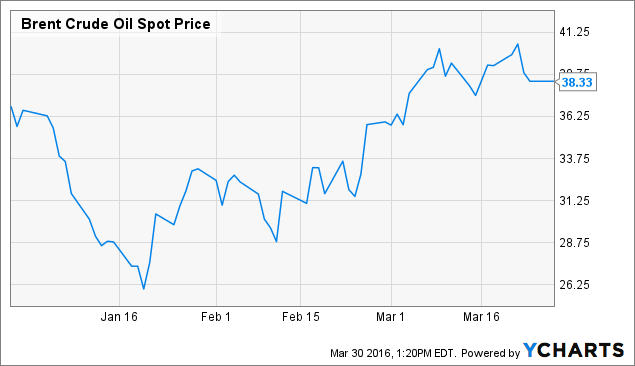 Brent Crude Oil Spot Price data by YCharts
Of course, it cannot be denied that the current Brent price levels are lower than what they were in the first quarter of 2015, but at the same time, we should not miss the fact that the latest recovery looks quite sustainable. This is because both OPEC and non-OPEC production are anticipated to be weak this year, while demand will rise at the same time.
For example, the month of February saw OPEC oil production go down by 79,000 bpd, driven by a production drop of 125,000 bpd in Iraq, along with the decision of key producers such as Saudi Arabia, Russia, and Venezuela to freeze production. Now, I won't be surprised if OPEC production continues to remain weak going forward since producers are taking concrete measures to control production. For instance, in April, a meeting of both OPEC and non-OPEC producers will take place to discuss production caps. This could be a significant meeting and give a boost to oil prices as "about 15 OPEC and non-OPEC producers, accounting for about 73 per cent of global oil output, supported the initiative."
On the other hand, non-OPEC production will see a drop this year to the tune of 750,000 bpd as oil production in the U.S. goes down due to budget cuts. As such, due to these steps to control production, the oversupply in the oil market will come down, leading to an equilibrium between demand and supply that will support better pricing, as shown below: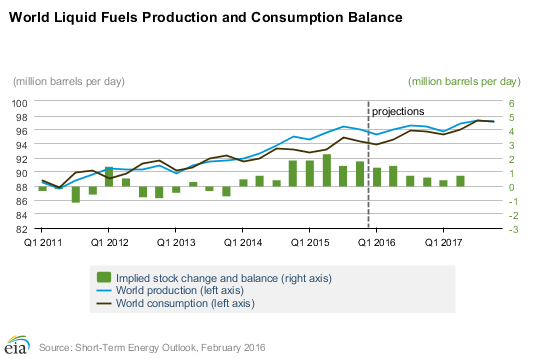 Source: EIA
Chevron's cost cuts and efficiency gains will help it benefit from oil's rally
Chevron has taken robust steps to bolster its production profile so that it can generate more production at lower costs. For instance, in the Permian Basin, the company has been increasing lateral lengths and is using a horizontal drilling strategy to improve drilling efficiency. On the back of this strategy, Chevron is looking to reduce development costs and increase recovery rates at the same time, which will allow it to generate robust margin growth.
In fact, Chevron has been able to reduce its horizontal well costs by around 40% in the Permian, driven by an increase of 115% in frac stages and a 45% increment in drilling footage per day. As a result of these moves, Chevron has been able to reduce its drilling days impressively, while also achieving a 10% rate of return at 1,300 operated wells at a WTI oil price of $40 or below. This is shown in the chart below: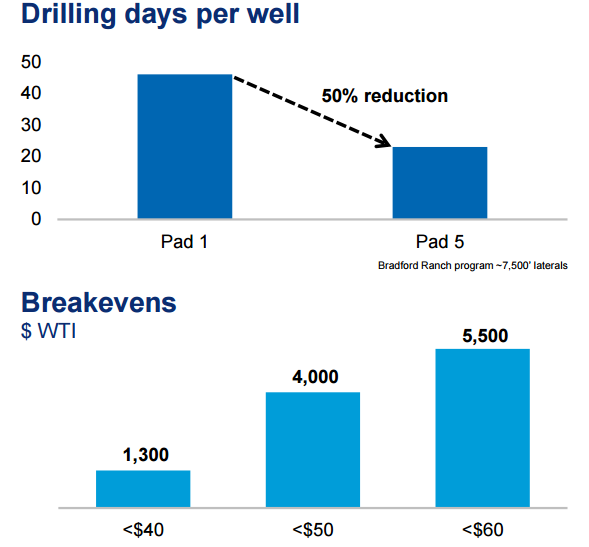 Source: Chevron
More importantly, due to its efforts to improve efficiency in the Permian basin, Chevron will be able to reduce the base decline rate going forward. This means that the company will be able to record robust production growth, and as the base decline rate flattens, its cost base will also decrease since it will need to invest less capital to keep production rates high. The following chart shows the anticipated drop in the base decline rate of Chevron going forward: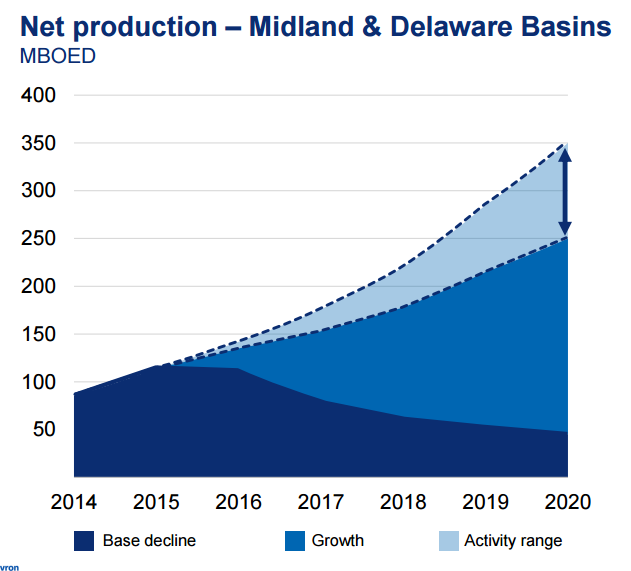 Source: Chevron
Conclusion
Thus, it is evident that Chevron is now in a stronger position to benefit from an improvement in oil prices since it has managed to improve the efficiency of its production. Additionally, as the oil price environment is getting better, Chevron will see further improvements in its financial performance. So, Chevron remains a good investment after a strong run in March since it is can scale new heights on the back of the above-mentioned tailwinds.
Disclosure: I/we have no positions in any stocks mentioned, and no plans to initiate any positions within the next 72 hours.
I wrote this article myself, and it expresses my own opinions. I am not receiving compensation for it (other than from Seeking Alpha). I have no business relationship with any company whose stock is mentioned in this article.