Every investor knows the chart below. The 40%+ drop in both natural gas and WTI oil. This dramatic change leaves opportunity in the energy sector. I am not looking at buying high quality names like Exxon Mobil (NYSE:XOM). I am looking at buying junk. When selecting junk, an investor has to be prudent and select "fine junk." This fine junk is a mixture of equity, convertibles, and bonds that offers a strong risk/reward play.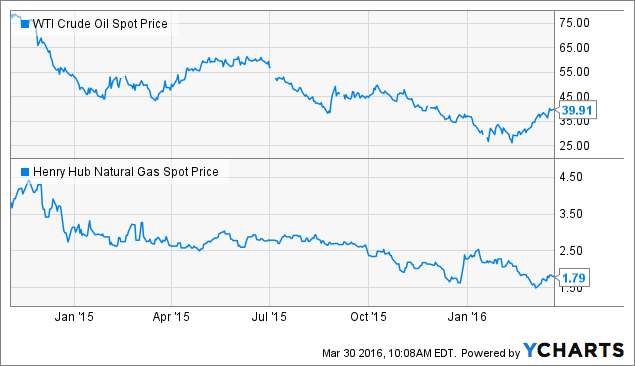 Why Am I Buying Junk?
With the oil and natural gas market finding a bottom in the last few months, some of the bankruptcy fears have dissipated. If you think oil will drop to $20 and stay in that range, this junk is not for you. If you think oil will stay in the $35-$45 range for the rest of 2016, then this strategy will reward. Some will ask why not invest in The United States Oil ETF (NYSEARCA:USO), the ProShares Ultra Bloomberg Natural Gas ETF (NYSEARCA:BOIL) or their 3x equivalents?
First, they are bad long-term investments due to high management fees (.5-1.5%), and lose value over time due to contango. Since they are short-term investment vehicles, market timing can be difficult. Some will hit it big, but the only constant winner is the ETF providers. I would rather look in other areas to invest for the long-term recovery of energy prices.
First, we need to look at junk bonds. Bonds are a nice tool to use to reduce risk but can still pay out decent returns. In a bankruptcy, bondholders are paid out before equity holders. Bondholders also have a fixed payout unlike dividends, which are often first to go when a company is in trouble. Kinder Morgan (NYSE:KMI) who few thought would slash their dividend, did so with investors in dismay. This move dropped their yield and stock price.
Equity is not always the best choice for this example, it was the worst. The stock traded at roughly $24 a share before this event. Currently, they are down 25% on principal, with a 1.7% yield on cost. Preferred shareholders are sitting on a 1% increase in principal while locked into a 10.75% dividend for nearly 3 years. After they receive shares, which at this price needs the high dividend to keep them ahead, 2020 bondholders would be locked into a 5.4% yield to maturity, and currently their principal is also up.
This is one example, but it is similar across the industry. Bonds and convertibles are like buying equity with built in put protection. KMI is unlikely to default, which is why their bonds are priced higher. Chesapeake Energy (NYSE:CHK) still has a potential albeit low. Before I discussed the difference in buying the shares or bonds. Since then, equity is currently down 15, while falling as low as $1.60. Bondholders for the 2021 bonds are up 55% and locked into a 25% current yield. Yield to maturity for them is 47%. I am still recommending bonds over equity, as they offer a better risk/reward. Currently a $10,100 investment will yield $1592 a year in coupons with $26,000 in face value.
Marathon Oil (NYSE:MRO) has a decent balance sheet that is running into issues with the current oil slump. They will likely continue to cut their dividend to 0, to minimize any risk of default. Currently, their 2020 bonds are offering a 7% yield to maturity. This play is at little risk for default and offers a decent yield. A rebound in the sector however will quickly favor equity holders, but that is what bondholders give up for that reduced risk they take.
For those who are unable to spread into multiple bond positions, the SPDR Barclays Capital High Yield Bond ETF (NYSEARCA:JNK) is the passive way to enter. This fund invests in BB and below, otherwise known as junk bonds. The yield is currently 6.75%, but an improvement in the energy industry will increase the price of the fund. This fund is heavily invested into the energy sector bonds which is what we are looking for.
For those looking to buy equities, diversify across the industry in an ETF like the Energy Select Sector SPDR ETF (NYSEARCA:XLE). This fund spreads across 47 companies in the energy sectors from mid cap to large cap. This diversification will protect against unnecessary risk of owning a handful of stocks. XLE is 36% off its highs, and offers a strong 4% yield (which will likely drop a bit).
Before hitting the buy button with your broker on your energy favorites, always look at the other offerings a company has. Bonds and convertibles can offer a better investment opportunity. If the company has default/bankruptcy risk, the bonds will offer large returns. Always remember dividends will vanish well before a default happens. Distressed debt is a key part of my portfolio, is it yours?
Disclosure: I/we have no positions in any stocks mentioned, but may initiate a long position in XLE, VARIETY OF ENERGY BONDS over the next 72 hours.
I wrote this article myself, and it expresses my own opinions. I am not receiving compensation for it (other than from Seeking Alpha). I have no business relationship with any company whose stock is mentioned in this article.
Additional disclosure: Please look into all prospects and risk before investing.