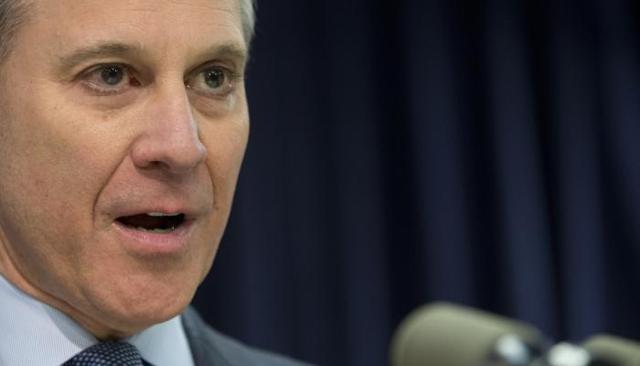 NY Attorney General Eric Schneiderman. Source: Associated Press
A few weeks ago New York Attorney General Eric Schneiderman launched an investigation into 16 health insurance companies' coverage of HCV and their restrictions. I concluded that [i] by offering more access to high-priced HCV drugs, insurers might incur higher benefit payouts and [ii] insurers could potentially form coalitions to negotiate steeper discounts from Gilead (NASDAQ:GILD) and AbbVie (NYSE:ABBV).
SA Author Jonathan Weber's thesis is that the AG's action could lead to higher HCV sales and is therefore, positive. I believe the AG's actions could put major health insurers at odds with Gilead. That could be negative for the company for the following reasons:
Gilead Could Have Difficulty Finding New HCV Patients
It's no secret that the pharm has peaked. U.S. starts fell from 60,000 in Q1 2015 to 33,000 in Q4, largely due to the loss of VA sales. However, Q3 was relatively flat compared to the 62,000 garnered in Q2. In Europe, Q4 starts of 30,000 were flat versus 29,000 the prior quarter. According to Stat News, starts could fall further:
While the American market seems large, with more than 3.5 million people infected, there are few new cases of hep C these days. The remaining untreated patients are disproportionately poor, homeless, or incarcerated. And many of those who have lived with the disease for decades aren't inclined to seek treatment, sometimes because they were scared off by the bad side effects of older generations of medicines, or because they aren't experiencing troubling symptoms.

Newly installed chief executive John Milligan told CNBC reporter Meg Tirrell on Wednesday that looking forward, "the big barrier to treating everybody will be identifying them and getting them into treatment."
Management expects HCV sales to flatten out in 2016. With the entry of Merck's Zepatier into the HCV space, flat sales could be optimistic. Gilead will need to attract a large pool of patients to simply keep U.S. starts from falling further. That could create leverage for New York health insurers.
16 Health Insurers Could Extract Huge Discounts
The price war with AbbVie drove the now infamous "46% gross to net" discount. Though certain health insurers may be late in garnering discounts, it could work to their advantage. I believe that by negotiating as a group, they could have more negotiating power. Secondly, they could piggyback off of discounts garnered by Express Scripts (NASDAQ:ESRX), CVS (NYSE:CVS) and the VA to either match or exceed them.
In Q3 2015, Gilead's HCV revenue per start was bout $53,000 in the U.S.; in Q4 it rose to nearly $73,000. VA sales in Q4 were limited due to uncertainty over funding. While total HCV sales in the U.S. fell sequentially, I believe the loss of VA sales also caused revenue per start to spike. Q4 results give an indication of the cost per regimen for non-VA patients in the U.S.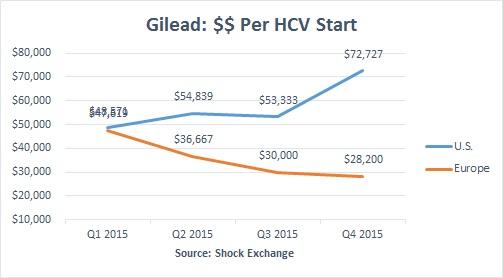 The price for veterans is estimated to be about $40,000 per regimen; management has also intimated that veterans receive half off the full price. If veterans receive the lowest rate then that could be a starting point for negotiations for health insurers in New York, and ultimately other states, if they decide to negotiate as a bloc.
Potential Loss Of Scale
The volume Gilead gained from its price war widened the pool of available patients and increased volume. For instance, Q4 2015 HCV sales and total product sales grew Y/Y by 27% and 16%, respectively. Meanwhile, the company's operating margins increased to 66% from 59% over that time frame. That might not be the case going forward.
The more infected Gilead and its competitors cure, the smaller the pool of potential patients becomes. If a large pool of customers from insurers like Anthem (NYSE:ANTM), Aetna Inc. (NYSE:AET) and EmblemHealth Inc. receive heavily discounted prices, average prices decline while reducing the HCV runway. Gilead has infrastructure in place to support nearly $5 billion in HCV revenue. When that revenue trails off its operating margins will likely fall from a loss of scale.
Conclusion
As an economics major in college, the first tenet I learned was, "People are rational." The economist in me says if Gilead believed lowering prices and unlocking pent-up demand from patients of major health insurers was positive, it would have done so already. It would have been "irrational" not to have.
My thesis is as follows: A large pool of HCV starts in the U.S. on par with past performance will likely come from the VA and U.S. health insurers at steep discounts. The company's $53k/per start (normalized rate) would fall in that scenario. If the company holds out for higher prices its starts may decline, drawing more speculation that "the pharm has peaked." Either scenario will likely result in stagnant to declining HCV revenue in the U.S. A fight is brewing between Gilead and New York health insurers and I predict it will be a costly one. Avoid GILD.
Disclosure: I/we have no positions in any stocks mentioned, and no plans to initiate any positions within the next 72 hours.
I wrote this article myself, and it expresses my own opinions. I am not receiving compensation for it. I have no business relationship with any company whose stock is mentioned in this article.