In the sea of analysis on Apple Inc. (NASDAQ:AAPL) and talk about the disruptive or not disruptive in the new iPhone SE I miss a sound, down to earth analysis of the long-term returns an investor can expect. In order to do that I'm going to make a scenario based on AAPL's current financials and customer trends.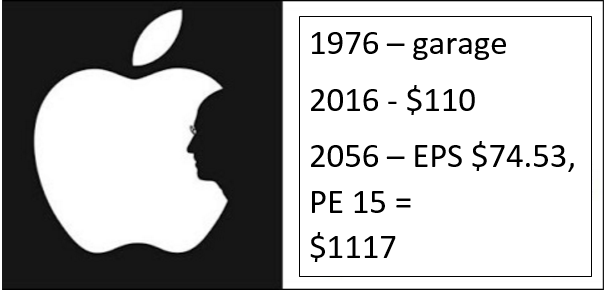 What do we get for the current price of $110?
That gets $38.8 in cash per share of which 93% is outside of the US. AAPL is waiting for a tax holiday in order to repatriate that cash without paying the 35% US corporate income tax rate. The last time a tax holiday was voted by the US Congress was in 2004 when corporations were allowed to repatriate offshore cash at a tax rate of 5.25%. Corporations brought $362 billion to the US economy on that occasion. This is essential for long-term investors as sooner or later the tax holiday will probably be voted and AAPL's offshore cash will be available for dividends and buybacks.
The issue with the tax holiday is that we cannot know when or if it will be voted but looking at the logic behind it I find it an inevitable thing. If Trump wins the elections the tax holiday is practically a sure thing. On the other hand, in 2009 the US Senate voted against a new tax holiday so it all boils down to the current political situation and we all know how that, like the markets, is always in a continuous change.
If the tax holiday is not voted AAPL will just continue to keep its cash invested abroad and collect interest on it until better political times arise for AAPL's cash. In case of need AAPL can always bring home some cash and pay the US tax. The offshore cash is invested in various securities that yield $2.9 billion in interest and dividends, implying a 1.4% yield on the cash and investments (2015-10K). Therefore, it is very logical that AAPL uses debt to finance repurchases and dividends while it waits for a tax holiday seeing that the weighted average interest rate AAPL pays for its debt is around 1.97%. When including the benefit of AAPL's effective tax rate of 26.1% there is no loss in the continuation of such behavior.
I think AAPL should raise its debt to the level of cash it has and use the $150 billion for repurchases and dividends. This possibility will probably feed the new capital return program due in March 2017. With a constantly lower number of outstanding shares and higher capital return programs long-term investors are in for a treat. Let us take a look at the long-term business perspectives for AAPL and see if they are stable enough to feed the continuation of the high return and growth.
Long-term scenario
For a long-term scenario, we have to look at the product and at the developments in future sales. As I'm sure everyone is very familiar with the product (even with a miserable ad budget of $1.8 billion in 2015 or 0.7% of sales) I will focus on the latter part. AAPL has reached the milestone of 1 billion active devices. With a customer retention rate close to 90% we can easily estimate future revenues for AAPL.
Figure 1 AAPL's retention rate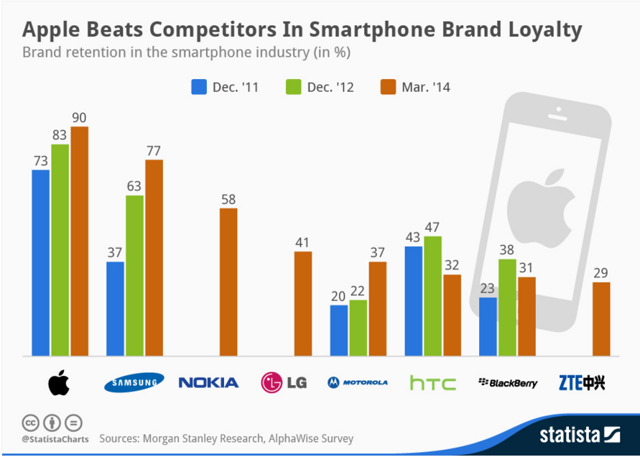 Source: statista.com
If we assume that you can use a phone for two years on average, or let us say three to be more conservative and also include other products that are not upgraded so often, we can assume that AAPL will sell around 300 million devices per year just to satisfy the current customer base.
Figure 2 AAPL's unit sales by product and relative revenue.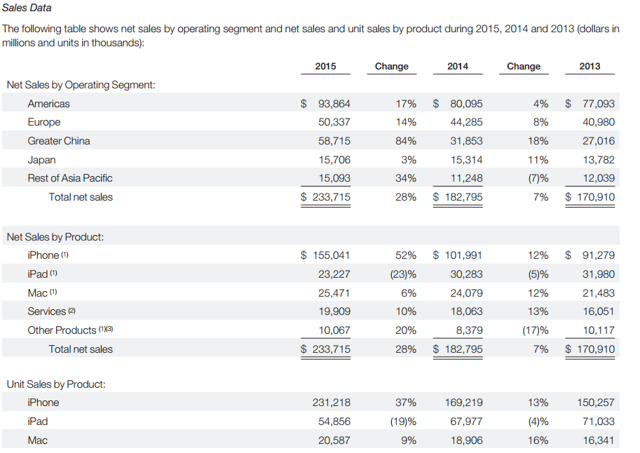 Source: AAPL's 10-K
The estimated 300 million unit sales are just 6.6 million shy of AAPL's unit sales in 2015 that brought total sales of $233.7 billion and net income of $53.4 billion. Thus AAPL's numbers in the future will be similar to AAPL's numbers in 2015. Such a stable scenario with the constant decrease in the number of shares outstanding is already a good sign for the long-term investor. The number of outstanding shares has decreased by 6.1% in 2014 and 5.5% in 2015.
Figure 3 AAPL's number of shares outstanding

Source: AAPL's 10-K
If we estimate a constant decrease in the number of shares outstanding of 5% per year and the above mentioned constant scenario AAPL's EPS would grow at a rate of 4.7% per year.
Table 1 AAPL's future earnings in a stable scenario

Source: Author's estimation
As the 1st of April is AAPL's 40-year anniversary by extrapolating the current buyback trend for the next 40 years AAPL would end with only 700 million shares and EPS of $74.53 (keeping current earnings constant) in 2056. Here we do not even consider AAPL's potential new products that could even increase its market share or global GDP growth and population increases.
AAPL is undervalued when compared to general market
With a PE ratio of 11.7 and a stable future outlook with a loyal consumer base I find AAPL very undervalued in comparison to the market where the S&P 500 average PE ratio is 22.42. AAPL's revenue grew by 21.1% per year in the last four years and it is very unusual to see such a low PE ratio attached to such marvelous growth. AAPL's PE ratio is similar to the IBM's (NYSE:IBM) PE of 11.10 and IBM has seen revenue falling by a yearly average of 5.5% in the last four years. With the current customer base, the new iPhone SE and the 90% customer retention rate I do not see AAPL's revenue declining by 5% per year as the current stock price is suggesting. Another comparable stock is Microsoft Corporation (NASDAQ:MSFT) that has seen declining earnings in the last four years and revenue growing by only 7.7% per year but boosts a healthy PE ratio of 38.5. AAPL's real undervaluation can be seen by comparing it to Amazon.com Inc. (NASDAQ:AMZN) that had similar revenue growth as AAPL in the last four years (22.1% per year) and has a PE ratio of 475.
Conclusion
AAPL has been around for 40 years now. According to the Lindy effect where the longer a technology has been around, the longer it's likely to stay around it is more and more probable, day by day, AAPL will be around for another 40 years. Applying the Lindy effect on the iPhone and other AAPL's products should imply that AAPL's sales will increase in the future and not decrease as the market is suggesting given the current valuations. The $38.8 of cash per share and the high customer loyalty rate give a large margin of safety which makes AAPL a low risk long-term investment. Any positive catalysts like a probable tax holiday a new innovative iPhone that will most likely come out in September if APPL continues on its current iPhone development cycle can only add to the stable returns an investor can expect from AAPL at this moment. To conclude, by buying AAPL now an investor gets limited downside, current EPS of $9.22, a dividend of $2.04, indirect returns by repurchases of about 5% of the number of outstanding shares per year and the potential AAPL has to positively surprise the market with innovative products.
Disclosure: I/we have no positions in any stocks mentioned, but may initiate a long position in AAPL over the next 72 hours.
I wrote this article myself, and it expresses my own opinions. I am not receiving compensation for it (other than from Seeking Alpha). I have no business relationship with any company whose stock is mentioned in this article.