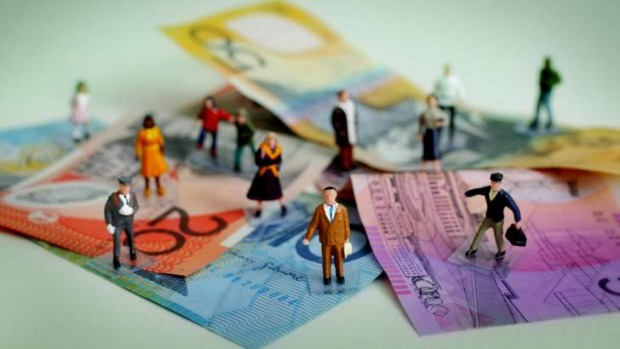 Just when everything seemed to go according to plan at long last, Janet Yellen went and spoiled the party once again. After a week of the market (ourselves included) getting quite excited about possible rate hikes by the Federal Reserve coming sooner rather than later, Yellen appeared to dismiss this from being the case with her dovish speech.
The normally very dovish St. Louis Fed President James Bullard was the reason that hopes were rising. Mr. Bullard was very hawkish last week in an interview causing the U.S. dollar to strengthen against many major currencies. Bullard, who is an FOMC voter, implied in his interview that an April rate hike was a real possibility.
Janet Yellen's dovish stance has now created a lot of uncertainty with some market commentators expecting only one rate hike now this year. We previously were expecting a good report from the non-farm payrolls on Friday sealing the deal for an April or May rate hike. Because this is looking less and less likely now, central banks around the world will have to revisit their monetary policies fast or risk being left behind.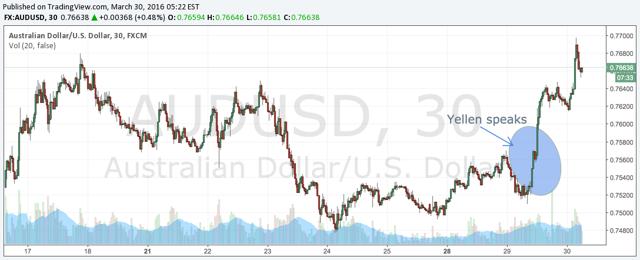 Sourced from DailyFX
The chart above shows the effect that Yellen's speech had on the Australian dollar. It had been trending downwards in the week leading up to it, but all this has been undone now.
Is the Australian dollar heading to 80 U.S. cents?
Australia's biggest bank, the Commonwealth Bank of Australia (OTCPK:CBAUF) today stated that the way things are going, it sees the Australian dollar heading up to 80 U.S. cents. While this view is a long-term one, it doesn't see the Australian dollar heading much lower than where it is right now.

Sourced from Business Insider
As you can see above, the bank has shifted its forecast by 8 cents across the board. This is still contrary to the view of the rest of the market, which sees it heading down below 70 U.S. cents, but is definitely worth taking into account.
Richard Grace, the bank's chief currency strategist, says there are four factors that will work in favor of the Australian dollar in the year ahead. He's named them as:
"Australia's economic resilience, a bottoming out in global commodity prices, lowered expectations for U.S. rate increases and an expected improvement in Australia's current account deficit."
We think that Mr. Grace makes some great points, but we just don't believe the Reserve Bank of Australia will allow this to happen. Especially considering how vocal it has been on its view that the Aussie is just too strong for their liking right now.
The Reserve Bank of Australia must act.
Through comments from a voting member of the Reserve Bank committee, we have established that 65 U.S. cents is seen by the bank as being the desired level for the Australian dollar presently. This would be a great boost to its struggling exports, which is shown below, as well as help it hit its inflation targets.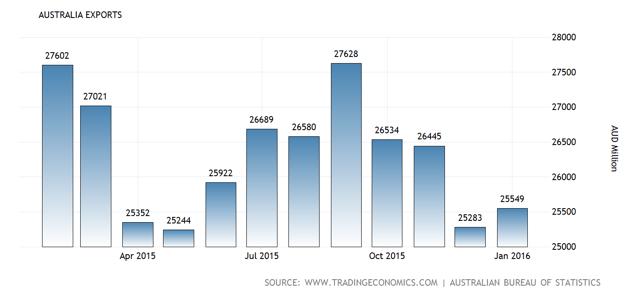 Sourced from Trading Economics
The Reserve Bank of Australia meets next Tuesday to discuss interest rates. We feel the pressure is mounting on Governor Glenn Stevens to act and this meeting could now be the one where something finally happens. For a long time now, we believe the Reserve Bank of Australia has been hoping that the Federal Reserve would do the heavy lifting when it comes to monetary policy. But we think it is now time to forget about the Federal Reserve, and the Reserve Bank need to take the initiative and bring the Australian dollar down. Next Tuesday's meeting could prove to be the most important one in many years, and all eyes will undoubtedly be on it.
What we are doing now.
We are still shorting the Australian dollar, but acknowledge that the failure of both central banks to act as expected is causing a lot of problems in the FX markets. A lot of patience will be needed, but we do believe, like Morgan Stanley, that the Australian dollar will drop to 65 U.S. cents in the months ahead. It simply has to for Australia's economy to prosper.
If you are brave enough to take on the AUD/USD pair, you can short the CurrencyShares Australian Dollar Trust ETF (NYSEARCA:FXA) or do like we do and short it through futures contracts. Right now, it certainly isn't for the faint-hearted.
Whichever you choose to do, we wish you great success in your trades!
Disclosure: I/we have no positions in any stocks mentioned, and no plans to initiate any positions within the next 72 hours.
I wrote this article myself, and it expresses my own opinions. I am not receiving compensation for it (other than from Seeking Alpha). I have no business relationship with any company whose stock is mentioned in this article.
Additional disclosure: Short AUD versus USD via futures contracts