Unveiling Tesla Model 3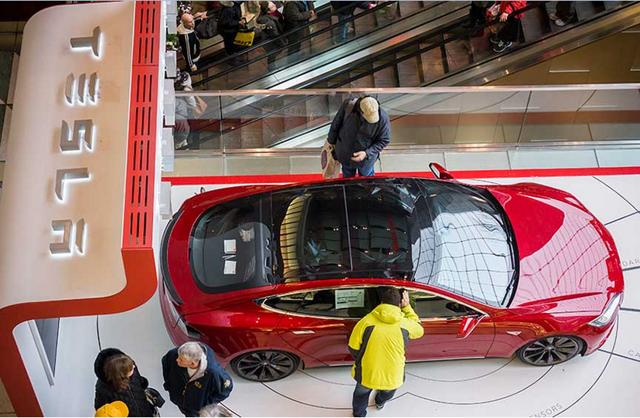 Courtesy of the Author
Thursday, March 31, Tesla (NASDAQ:TSLA) unveils its brand new mass market lineup of Model 3 electric cars. For the company and electric car enthusiasts, this is the holy grail expected to come off the assembly line in late 2017. Investors, take note of the significant departure from the niche luxury electric vehicles the company has previous produced. The key question is can Tesla produce cheaper profitable electric cars at scale for mass market consumers in a market where their competitors can afford to sell them at a loss? This will be determined by price and quality. At the moment, the most optimistic estimates, before incentives, suggest the Model 3 will sell for $35,000. This is approximately half their entry level Model S sedan or the Model X crossover. The quality factor remains to be determined for a mass produced vehicle. Presently, Tesla cars have not appeared in the J.D. Powers Initial Quality or Vehicle Dependability Studies.
Taking Stock of Tesla Motors
High hopes for Tesla to succeed in building and selling large numbers of the new model 3 have pushed up Tesla's market capitalization to $30 billion, a sizable 7.5 times annual revenues.
Share values have been nothing short of a roller-coaster ride during the last 3 years.
Q4 earnings were much worse-than expected with an adjusted loss of 87 cents per share on $1.75 billion in sales. Revenue rose 59 percent from the previous year. In spite of this, Tesla's shares rose 10% in after-hours trading on a positive outlook for 2016. Expectations are that they will sell between 80,000 and 90,000 new cars.
Tesla Stock Chart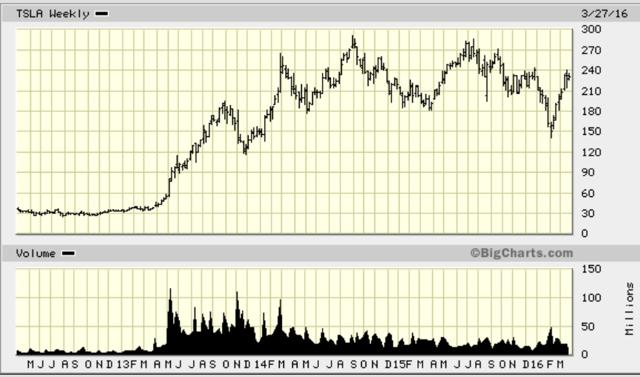 Graphic Courtesy of the Author
Shares closed at 226.89 on March 30, 2016, up 36% from the most recent February 10 low of 143.67 The stock is down 5% for 2016 after gaining 8% in 2015. During the last three years there has been accelerated growth rocketing 344% in 2013, and 48% in 2014.
Analyst Opinions
Analyst opinion is mixed. Overall, it is mildly positive. Reuters tracks calls: five call it a strong buy, four a buy, and six are in the hold or underperform group.
Research notes conclude that the silhouette of the Model 3 does not give much away, but there is an expectation that the car will not be ordinary potentially pushing the auto industry back to the design board. All this pre-unveiling hype has pushed up expectations for something revolutionary.
That hype has pushed shares well above some analysts' price targets. On Wednesday, Global Market Intelligence Analyst, Efraim Levy cut his opinion to a sell stating "that shares had become too volatile and are now trading well above his 155 price target."
He further stated: "The shares have rallied sharply recently in anticipation of the model 3 reveal later this month and amid bullish comments from some equity analysts. While we expect sales and EPS to surge in 2016, we see significant execution and valuation risk in the premium priced stock."
On the more negative side, short seller Citron Research recently targeted Tesla stock expecting supply and demand problems as the company attempts to scale up production to meet anticipated demand and come through on "build-quality", where it has faced some criticism.
Kelley Blue Book analyst, Karl Brauer is concerned that the timing of the Model 3 arrives a year after the Chevrolet Bolt which may be competitive while having "full sales and service in every state and major market." This could stress the ability of the "Model 3 to keep up in a rapidly expanding market."
Correspondingly, other analysts do not see the Chevrolet Bolt as a competitor believing that Tesla is "years ahead of auto industry competition in electric vehicle design, giving it a continuing edge."
Competition
Although Tesla is building a battery gigafactory in Nevada, it must drive battery costs down substantially to be able to meet the $35,000 price for the Model 3. Other car companies like General Motors (NYSE:GM), Nissan (OTCPK:NSANY) and Fiat Chrysler (NYSE:FCAU) build EVs or plug-in hybrids to meet increasingly demanding government fuel economy and emission standards. But, these cars are not highly profitable being costly to build and difficult to sell. Sergio Marchionne, CEO of Fiat Chrysler, has been quoted saying, "the economics of Evs don't work", with a loss of over $10,000 for its electrics." Two years ago he said, "Tesla was the only one making money on electrics." But, the Tesla models came with a high sticker price that would not sell as mass market vehicles.
Zero-Emission Game
What many investors don't understand is the zero-emission game. The basic premise is that automakers sell ZEVs (zero-emission vehicles) at a loss so they can sell larger (internal combustion) engine vehicles for large profits. This is a balancing act done to meet government restrictions which may become more onerous in the future.
In addition to selling cars, Tesla took in $8 million in revenue in Q4 selling zero-emission vehicle credits to automakers needing greener car fleets.
Take Away
The takeaway is that Tesla actually wants to mass market ZEVs for far less cost and for profit, and if they can do it, there is a huge global market waiting. Investors have to evaluate the new product, its cost and Tesla's ability to compete in mass marketing. The potential is undoubtedly lucrative, but the proof awaits. The next two years should be interesting.
Disclosure: I/we have no positions in any stocks mentioned, and no plans to initiate any positions within the next 72 hours.
I wrote this article myself, and it expresses my own opinions. I am not receiving compensation for it (other than from Seeking Alpha). I have no business relationship with any company whose stock is mentioned in this article.
Additional disclosure: The information and the data that comprise the content of this article came from external sources that I consider to be reliable, but they have not been independently verified for accuracy. although I reserve the right to express points of view, they are my reasoned opinions and not investment advice. I am not responsible for any investment decisions you make. Thank you for reading and commenting.