The recent underlying weakness in share prices does not reflect Fiat Chrysler's (NYSE:FCAU) impressive execution and growth trajectory. Overall, 2015 figures were quite inspiring with strong U.S. demand and the rebound in the European markets. With that said, sales in China were down, and the company still faces issues in South America with slowing economies.
We see continued momentum in the U.S., further rebounding in the European markets, and an overall improvement in China and South America. In the U.S, Fiat Chrysler's shipped 2.7 units in 2015, an increase of 9%, with the Jeep brand leading the charge with 865,000 units (an increase of 25%). In Europe, the company saw a return to profitability with 1.1 million unit shipments, an increase of 12%, with the Fiat brand leading the way. Shipments to China took a hit in 2015 from an explosion in the Tianjin port which resulted in only 149,000 shipments, a drop of 32%. However, even with the decline in Chinese shipments, the company grew revenue and earnings in 2015. We expect this to continue.
Amidst this growth in the business, shares have crumbled over 25% in the past 12-months and now trade at less than four times EV/EBIT. This fact, coupled with the following key factors that the market is missing, are all strong reasons long-term investors should give Fiat Chrysler's strong consideration.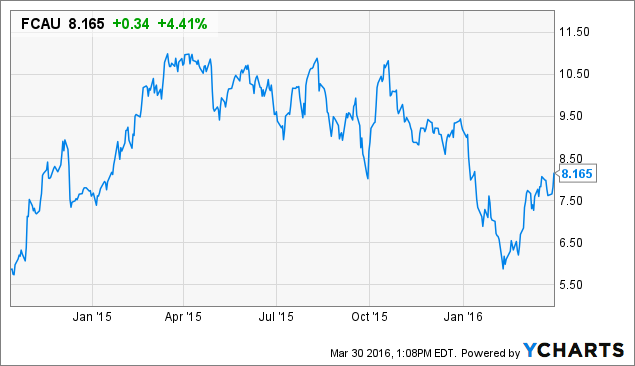 One of the largest automobile companies in the world
Fiat Chrysler was founded in 1899. Through an ambitious transformation in an ultra-competitive market, the company has become one of the world's largest automobile companies in the world. In a market riddled with inefficiencies, management decided that scale should be the primary focus to remain competitive. Fiat acquired the troubled Chrysler in 2009 and increase market share dramatically as a result. Fiat Chrysler owns numerous major brands including Chrysler, Fiat, Jeep, Dodge, Lancia, Ram, Abarth, and Alfa Romeo, and Maserati. The company just spun-off Ferrari in January, which should have a positive effect of over €1.5 billion on the Fiat Chrysler's net-debt.
The company's moves over the years have led to increases in market share in most major geographic areas. Excluding Asia, Fiat Chrysler holds significant market share across the globe.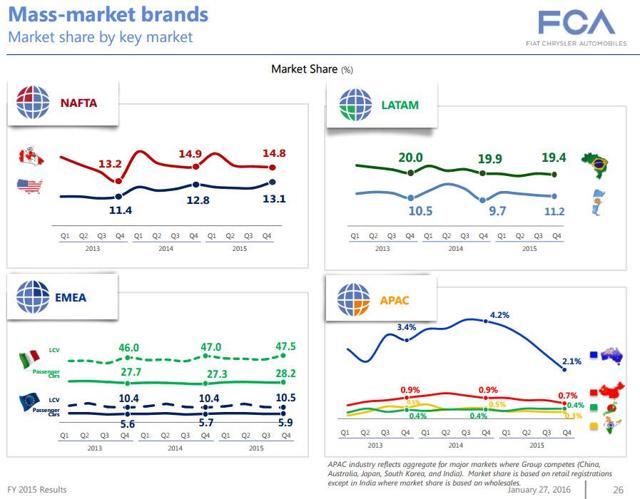 Long-term global growth wave
Population and GDP growth around the globe position Fiat Chrysler well over the long term through increased demand for transportation. Also, the company is positioned well for growth from strategic advancement and operational discipline.
The company has focused on expansion into emerging market, mainly India and China. This initiative should lead an increase in growth over the coming years as population increases and the shift from lower-class consumer to middle-class consumers continues to trend upward over time in those areas. The company plans on rolling out the Jeep Cherokee and two additional Jeep vehicles in the Chinese market, as well as rolling out Fiat vehicles in India.
I expect demand for cars across the globe to increase along with the population. In the recession of 2009, we saw vehicle sales decrease to 10 million globally. However, I expect 15-18 million global vehicle sales to be a relatively conservative number over the long-term. With this number in mind, as well as Fiat Chrysler's market share, the company should do very well as it rides the wave of global population growth.
Management is one of the best in the industry and shareholder-friendly
CEO Sergio Marchionne owns around 1.1% of the company. Marchionne is known as one of the best operators in the industry and is known for being a low-cost producer with an innovative mindset and substantial financial expertise.
The company has proven itself to be incredibly shareholder friendly in the past, using spin-offs to improve the balance sheet. In addition, management has done a good job in operating the combination of two behemoth companies.
Also, Exor owns 46.13% of the company. For those unfamiliar, Exor is run by John Alkann. Alkann is known as an incredibly savvy investor and businessman, and believes in an investing philosophy similar to Buffett. Exor has generated exceptional returns for investors over the long term. Having Marchionne and Alkann at the helm certainly helps me sleep better at night.
Investor takeaway
Fiat Chrysler has just made the transition to a single, global organization, becoming the 7th largest carmaker in the world. The company certainly won't blow your socks off in the short-term, but the company should do well by investors over the long-term.
Let's make no mistake about it - Fiat Chrysler is a long-term play, and its shares aren't for those looking to make a quick buck. The stock has fallen more than 25% over the past 12 months alone and sits 52-week lows. However, Fiat Chrysler has the size, scale, technological, and operational advantage versus many of its slower moving competitors across the globe.
Also, there are numerous catalysts for the company over the coming years, such as additional share repurchases and spinoffs or sales of brands, like Ferrari. There is already a significant amount of negativity priced into the stock at an EV/EBIT of less than 4. Given modest growth assumptions, it's not difficult to see tremendous upside potential for this company.
The sentiment is weak right now, but vehicles will always be needed as the world continues to grow (whether they are driverless or not). The long-term potential looks very attractive at current levels. Investors with a long-term horizon should consider investing in this automotive powerhouse. If Fiat Chrysler stock continues to fall, I will look to establish a long-term position in the company.
Top Holders: Mohnish Pabrai | Guy Spier | Bill Nygren
Source of Figures and Stats Above: Company Presentation
Disclosure: I am/we are long FCAU.
I wrote this article myself, and it expresses my own opinions. I am not receiving compensation for it (other than from Seeking Alpha). I have no business relationship with any company whose stock is mentioned in this article.