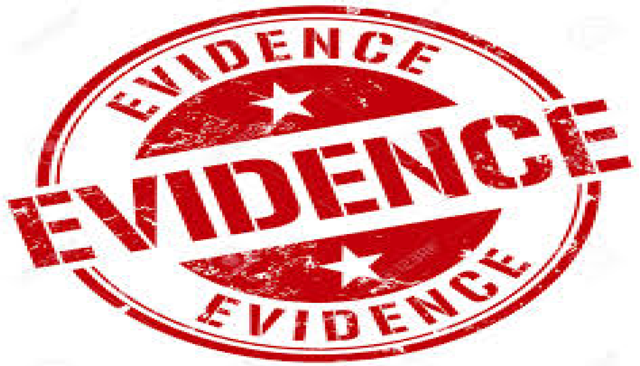 There comes a point where a company has fallen so far that it is illogical to continue to point out how low it is. Such is the case with Francesca's Holdings (NASDAQ:FRAN), a specialty retailer in boutique-like stores for 18-year old to 35-year old women. But it doesn't mean it is inappropriate to acknowledge when statistics and percentages are misleading as compared to when statistics and percentages are telling. For example, suppose a company with $100 million in sales incurred eight periods of decrease at 10% per occurrence. The $100 million would dwindle to just $43 million. Should the company then incur a double-digit 15% bump in sales, many may pronounce excitement because of the double-digit growth. But the company's sales at $49.5 million would still be over 50% off course. Furthermore, at such a point, it may be tempting to declare a turnaround. But it would be more prudent to determine if the slide has truly leveled off before declaring an uptrend. So, rather than simply declare Francesca's as returning to its former growth pace because of a decent holiday quarter, it is wiser to evaluate the company based on its current status, its recent history and its near-term projections.
Starting at store count because it is the primary source for generating sales, Francesca's operated 14.3% more boutiques at year-end 2015 compared to year-end 2014. Sales in the fourth quarter increased 25% over the same quarter in 2014. This reflects both the increase in store count and an increase in comparable store sales. The company did manage a second quarter of same-store sales growth and actually delivered 11% for the holiday quarter. For the full year, sales increased 16% year over year, and same-store sales growth was 3%. Before the 3% is bemoaned, it is pertinent to recognize that it is the first year of same-store sales growth in three years.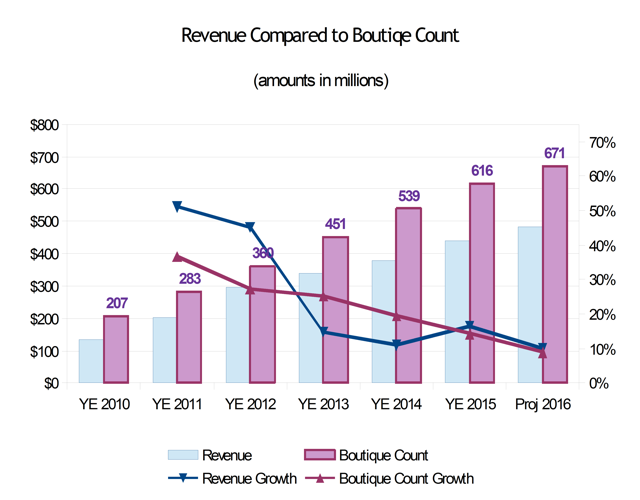 (Source: Author-created from company data)
What may be a clearer gauge, at this juncture, is revenue per boutique. The following chart depicts this gauge since 2010. As a guide, the average for three of the past five years, just under $730 thousand, is displayed. To determine the average, the high and low of the five years (2012 and 2014) was set aside.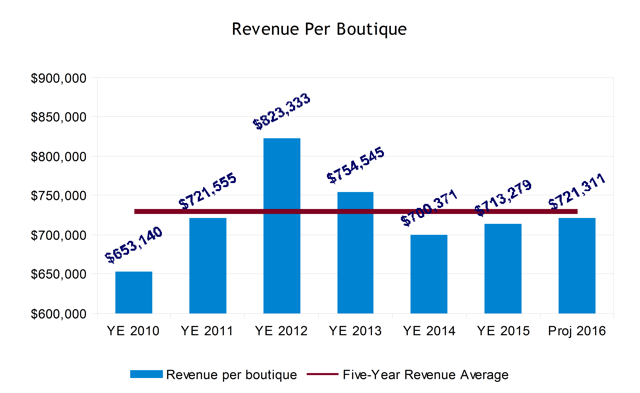 (Source: Author-created from company data)
As shown, Francesca's midpoints for boutique growth and sales from the current year's guidance is included as a projection. At the midpoint, the company will register just below 2011's production.
One key element that can change the average revenue per boutique is the square footage of a boutique. At year-end 2014, boutiques averaged 1350 square feet, the lowest in the company's history. In 2015, the company migrated to boutiques with at least 1400 square feet. The new CEO, Michael Barnes, was insistent during the fourth-quarter earnings call about the size of future boutiques:
"... with the type of stores that we're opening today I am very much online with the fact that we need to have 1,400 square foot to be optimum."

"We've started going back to the slightly larger size in our mainline boutiques in 2015 and that's something that I fully intend to continue. If I look at our fleet of boutiques, one of the factors that kind of stands out is that size does matter in terms of the fact that if they're too small, we just don't get the right guest environment and we're not able to give them the right experience in there. It's just not as shoppable as, say, an average 1,400 square foot or slightly larger even boutique can give our guest."
The chart below compares the average square footage per boutique and the average sales per square footage. As shown, now that the company has determined an optimal boutique size, going forward, pushing the average square footage per boutique higher should help bolster the average sales per square footage.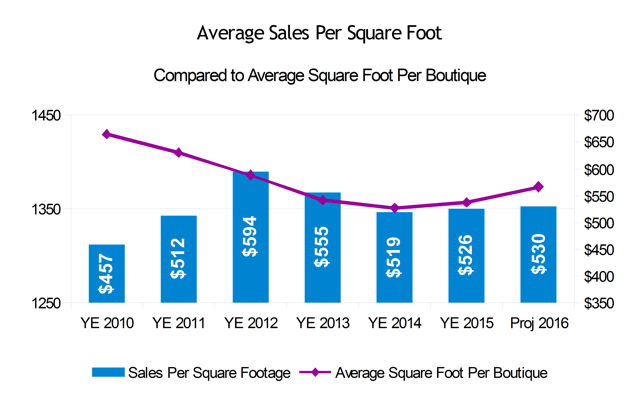 (Source: Author-created from company data)
Increasing sales has not been an issue for Francesca's, but the growth has not been organic. Store growth has supported revenue growth since 2012. The next chart depicts the growth story for the recent past and near future.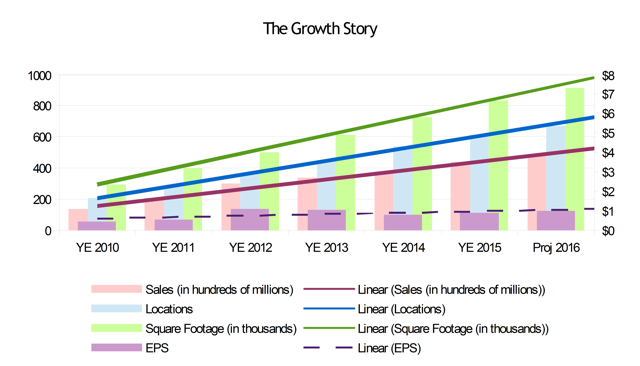 (Source: Author-created from company data)
It's evident in the above chart that sales and EPS growth, the so-called top and bottom lines, have not trekked alongside location growth. Two primary factors impacting the bottom line are the cost of goods sold and SG&A expenses. The next chart tracks gross margin, which is the direct impact of subtracting the cost of goods sold from sales. As shown, there was some progress in 2015 after a significant 6-point slide. The company expects modest improvement in its gross margin in 2016.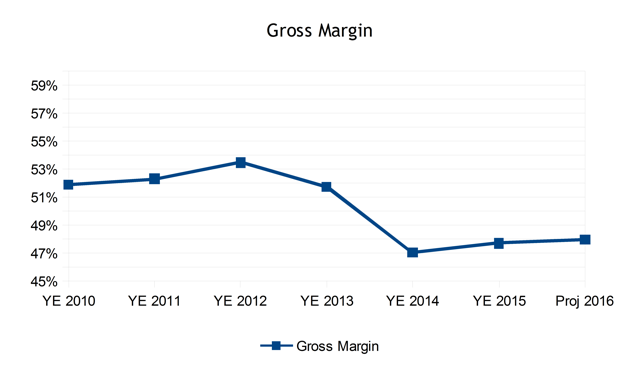 (Source: Author-created from company data)
Selling, general and administrative expenses, too, obviously grow as the number of locations grow. The next chart depicts both the total SG&A expenses per year and the year-over-year growth rate. For 2016, Francesca's expects an increase in the high teens. The company added not only executive positions in 2015, but managers and directors as well. There are additional expenses for marketing and social media activities. The company is planning IT system upgrades. Initiatives will also continue on its e-commerce capabilities.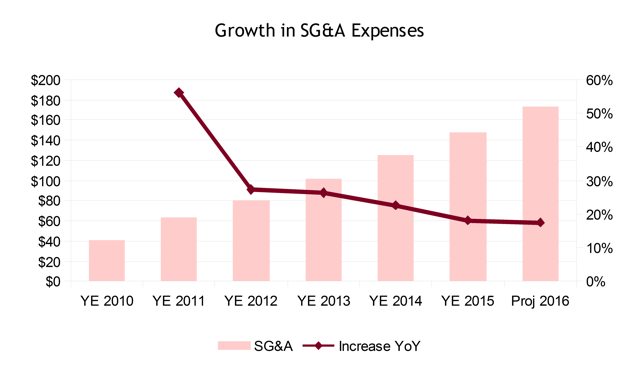 (Source: Author-created from company data)
If Francesca's gross margin increases to 48% in 2016, based on the projected midpoint for sales of $484 million, gross profit will equate to approximately $232 million. Using 17.5% as the high-teen increase for SG&A expenses means those expenses will total approximately 173 million. Therefore, gross profit in 2016 should tally approximately $59 million, which is shy of the 2015 total at just over $62 million. Yet, Francesca's is expecting an increase in diluted EPS to a range of $0.93-1.03, with a midpoint of $0.98.
The key to improving diluted EPS will be decreasing the outstanding share count. Francesca's has $16.8 million remaining on its existing 2013 repurchase authorization. The company announced that its Board has approved a new authorization of $100 million. At the end of fiscal 2015, the outstanding share count was barely over 42 million shares. Francesca's predicted the average outstanding share count in 2016 would be 40.2 million shares. Thus, it is obvious the company intends to repurchase shares, which is the only way it can achieve its diluted EPS projection.
Another pertinent unknown is tied to those executive hires mentioned previously. While some analysis claims Francesca's has not experienced management changes in years, in reality, the number of variations of its management team in the past few years is nearing double digits. It is true, through all of the variations, Francesca's had the same chief merchandising officer. But that changed in August 2015. The company's new CMO began her tenure on November 30th, 2015. It is obvious the holiday shopping season's merchandise was already ordered and being delivered when the new CMO started. Therefore, the new CMO is still, basically, unproven at Francesca's.
Declaring a turnaround or a return to its previous growth trajectory seems to be premature for 2016. The chart below depicts the compound annual growth rate from 2010 to 2015 was over 24% as the company expanded from 207 locations to 616. Yet, as the company projects growth to 900 locations by 2020, the compound annual growth rate will decline significantly to just 7.9%.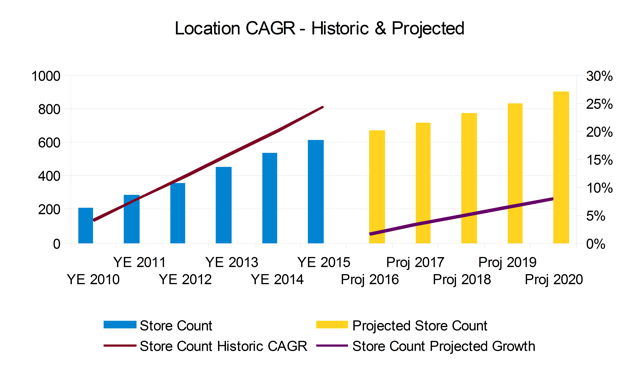 (Source: Author-created from company data)
Therefore, the argument that Francesca's should be valued based on its growth would be valuing the company based on its history rather than its future. Further, the historical "aggressive" growth is specifically relative to boutique growth rather than a corresponding top line or bottom line growth. It cannot be ignored that 2016's bottom line improvement will be driven by share buybacks.
Francesca's, admirably, operates without long-term debt. The company has proven it can aggressively open new locations with its cash flow. With that pace lessening in the near term, covering the expense of new location openings should not be a problem. As well, the company has determined an optimal size for the new boutiques.
Francesca's has changed its marketing efforts, with effectiveness still to be proven. The company has beefed up its upper management team, with effectiveness still to be proven. It also still has to prove it can continue to increase sales in existing locations outside a holiday season. The company still has to prove it can stock appealing merchandise through the seasons. It still has to prove gross profit can outpace expense increases. There's still plenty to prove.
Disclosure: I/we have no positions in any stocks mentioned, and no plans to initiate any positions within the next 72 hours.
I wrote this article myself, and it expresses my own opinions. I am not receiving compensation for it (other than from Seeking Alpha). I have no business relationship with any company whose stock is mentioned in this article.