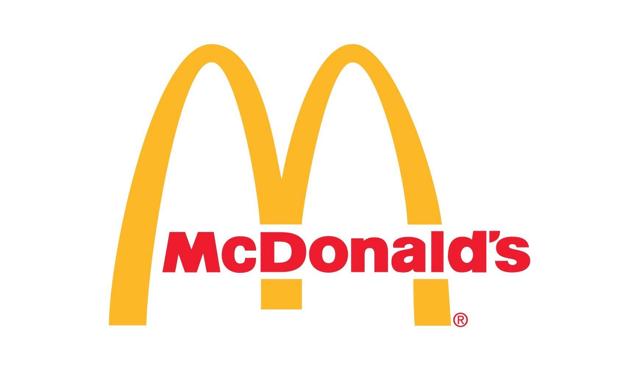 McDonald's (NYSE: MCD) is the largest fast food chain in the world, and this company is often looked to as a pillar of the American economy. We want to take a deeper look into MCD's stock price, and assess whether the recent tremendous surge in MCD's stock price since the last quarter of 2015 is warranted. The stock price is now at a record high level, and has increased by $35 over the most recent six month period. Although there was a brief correction after peaking at a little over $124, the stock has recovered and is back up to where it was before. We will discuss why we think McDonald's may be overvalued, and why you may want to search for value elsewhere.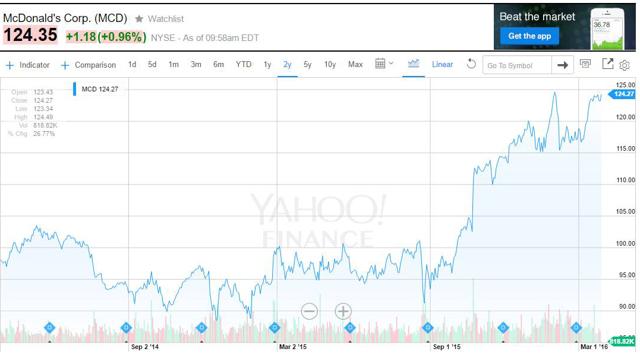 Price/Earnings Ratio High
One of the most fundamental measures of value is the price/earnings ratio for a stock. Looking at MCD's P/E ratio, we see that the current level is now hovering around 25, which is perfectly acceptable for a growth tech or pharma company that is capable of producing rapid expansion and growth (either organic or acquisition-based growth). However, many analysts including ourselves have noted that this P/E may be high considering the bricks and mortar nature of MCD's business.
P/E Predictions Made by NASDAQ.com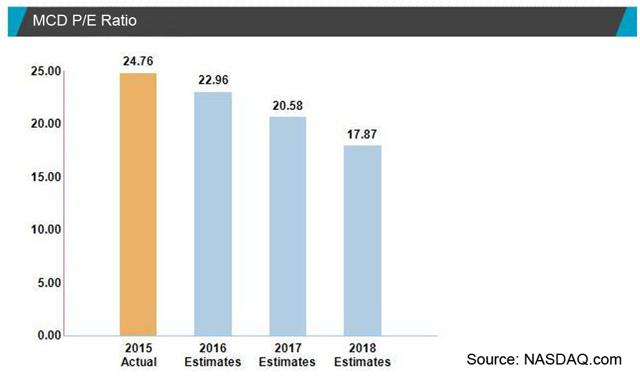 When one looks at the above chart published on NASDAQ.com, it is clear that market sentiment and analyst predictions for average P/E ratio of MCD is on the bullish end of the spectrum. Of course, if the average P/E level were to continue to fall as expected, the only way for stock prices to remain at current levels or increase would be for earnings to grow at a faster rate than the rate of the drop in the P/E ratio, or for the price to come down in lock step. We will discuss shortly reasons why growth may become a problem for McDonald's, so we view the macroeconomic risk of spillover from average expected P/E ratios declining seriously, as this may significantly impact McDonald's stock in the medium to long-term.
Sales are Down
The reality is that McDonald's is not making as much money as in its "golden" years. In 2015, McDonald's saw its revenues and profit fall by $2 Billion and $300 Million dollars respectively, in spite of reduced commodity costs (chicken, beef, etc.) which helped to partially offset this loss of revenue. In a bricks and mortar business where the primary driver of growth is same store sales, we see top line growth declines as a major consideration in analyzing a company like McDonald's which has traditionally relied on its increasing brand presence to produce great long-term results. While revenues and earnings are robust, we are concerned that McDonald's may have peaked, and this negative trend may continue.
Another area of concern for us is the recent announcement of the sale/closure of over 3,000 company restaurants in a bid to cut expenses and shore up McDonald's balance sheet. Such a scenario, while prudent in the short-term, may have negative long-term consequences for the brand and further store closures may lead the market to believe that something is wrong with McDonald's profitability model. Indeed, if McDonald's is forced to cut 3,000 stores today, this indicates to us that the traditional growth model of opening more restaurants every year (net of closures) may be broken, and the discounted cash flows analysts use to value the stock may not be correct. We suggest caution here, and will monitor the stock over the coming months to see just how many stores will be closed in the coming year as an indicator of financial health.
The Price of Growth
In the face of declining restaurant sales and mass closures of restaurants, McDonald's has looked at ways to increase its same store revenue. One recent announcement which best exemplifies this is McDonald's new "all-day breakfast menu." While all-day breakfast has clearly been marketed well and is receiving positive acclaim, the numbers show a different story. The company has had to update and upgrade its kitchens to allow for all-day breakfast/lunch items, and is now paying the price of providing convenience to the consumer - a major loss of efficiency, which may be eroding profitability. Additionally, it has been noted that management turnover has increased significantly, and store morale has decreased - one cannot help but tie these cause-and-effect scenarios together.
The Fed and the Price of Commodities
We watch the Fed closely, as any announcements (good or bad) affect interest rates, and indirectly, commodity prices. We have seen with the recent announcement of Janet Yellen taking an interest rate hike off the table in the short-term, that commodity prices may increase throughout the year. A stronger U.S. Dollar tends to bode well for a company like McDonald's since the vast majority of its revenues are domestic, and it imports many of the commodities it uses in its restaurants. We view the U.S. Dollar continuing to follow its bearish trend due to continued ZIRP or NIRP policies as a long-term risk, and are not completely sold on the idea of higher interest rates in the U.S. at this time due to global economic uncertainty.
Conclusion
The recent run-up in McDonald's stock price has pushed its valuation to levels that we do not believe are sustainable. Slowed revenue and earnings growth, combined with more planned store closures and profitability issues leave us with a bearish view of McDonald's in the short to medium-term. We will continue to monitor MCD and will look to see if any material changes will arise that may change the investment landscape. For right now, we're bearish on MCD.
Disclosure: I/we have no positions in any stocks mentioned, and no plans to initiate any positions within the next 72 hours.
Business relationship disclosure: This article was written by a third party and represents the opinions of the author.