Back in December I was rather bullish on apparel retailer American Eagle Outfitters (NYSE:AEO) as I saw the combination of higher comp sales, higher margins and insider buying as good indications that shares were headed higher. But subsequent to the report the entire market was whipsawed and AEO fell to just $13 before rallying back to $17. Given that shares are slightly ahead of where I called them a buy, were Q4 earnings good enough to push AEO past its recent highs at $18 once and for all?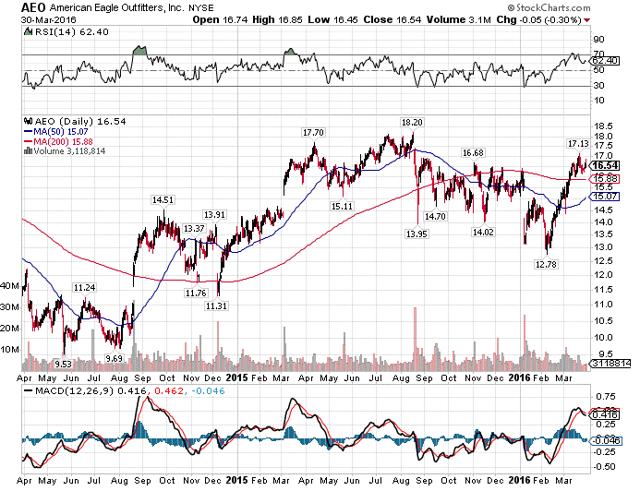 AEO's revenue was only up 3% during the quarter but the comp number was better at +4%. AEO is in the midst of a turnaround that includes revamping its store base so total revenue growth isn't going to fly higher anytime soon. However, the +4% comp gain was very nice and a continuation of strong performance in Q3. AEO's merchandising strategy and pricing is working and it is allowing the company to produce higher sales numbers.
I mentioned that higher margins were part of my bull case after Q3 and in Q4, we saw a bit of a mixed picture. Gross margins were flat at 35.1% as gains in fewer markdowns as well as lower rent costs were offset by higher incentive costs and delivery fees. The good news is that the increases in costs - delivery and incentive costs - are both due to higher levels of revenue. Delivery costs are painful but that means people are buying AEO merchandise so it is simply part of the deal. In addition, higher incentive costs normally mean that a business is meeting or exceeding its objectives, again, indicative of a strong business. The fact that the company's operational costs such as rent and product margins were stronger is much more important to me than incentive and delivery costs eating into margins. Higher demand is what we're looking for and AEO has that; the margin growth will follow.
SG&A costs increased at the same rate as revenue so on a percentage basis, we saw 10bps' worth of leverage there. The company's push into digital marketing and those incentive costs we talked about offset a gain from a warehouse sale. However, the company's SG&A level is 21.1% of sales, a very manageable level that allows for strong operating profits.
And speaking of operating profits, AEO's Q4 level of 10.5% was flat but the full-year number of 9.1% flew 280bps higher against 2014. That is the single biggest reason why I like AEO right now and why I liked it after Q3; operating margin growth like that is exceedingly difficult to find and investors would do well to take notice. In addition to 2015's level being significantly higher than 2014's level, AEO's operating margins in the back half of the year were improvements over the front half, indicating there may still be some meat on the bone here. Low or mid-single digit revenue growth doesn't get me excited; double digit operating margin expansion does, however.
AEO guided for mid-single digit comps in Q1, a continuation of the foundation built in 2015. The fact that AEO's guidance for Q1 is so bullish is very reassuring to me as it means AEO's management has the confidence to tell investors 2015's performance was not a one-and-done type of thing. In addition, EPS is slated to be a few cents higher than last year's Q1 total, indicating margins will remain intact or potentially continue to grow. This is key for the bull argument so the fact that AEO's guidance implies continued strong performance is great news.
At 13.6 times this year's earnings and just 12.5 times next year's consensus, AEO is still sporting a value multiple. That's to be expected as AEO is a mature chain and will not be producing massive revenue growth. The entirety of AEO's sales gains will need to come from comp increases and while AEO is certainly on track to continue that good work with its Q1 guidance, the fact remains that AEO's revenue growth will be subdued.
Where it has the chance for continued outsized profit growth - and where the stock could prove cheap - is in operating margin expansion. AEO's SG&A level is pretty strong at just 21% of revenue but as comps continue to increase there is the potential for some leverage there. In addition, as incentive targets are re-rated higher for this year and beyond, AEO's incentive costs should come down. It also should see some SG&A leverage from marketing costs as its push towards digital marketing anniversaries and potentially gets dialed back. These levers are all fairly incremental in terms of magnitude but in concert, could produce some significant gains in SG&A leverage. This is something I'll be keenly watching as AEO begins to report earnings for this year.
Based on continued comp sales growth and the potential for higher operating margins, I think AEO is still a decent value here. It offers a true turnaround story but one that has the benefit of a mature store base and a talented management team that is pulling all the right levers. AEO still has some benefits it can accrue from its turnaround efforts despite the fact that it has made tremendous progress so far. SG&A has some opportunity for leverage and product margins certainly do as well if AEO can maintain its pricing discipline and gain some scale with its supply chain costs. I think 2016 will prove to be another strong year as AEO leverages its on-point merchandising strategy to beat earnings estimates. AEO is not a double from here but I think a run to $20 is certainly in the cards for 2016.
Disclosure: I/we have no positions in any stocks mentioned, but may initiate a long position in AEO over the next 72 hours.
I wrote this article myself, and it expresses my own opinions. I am not receiving compensation for it (other than from Seeking Alpha). I have no business relationship with any company whose stock is mentioned in this article.