It is a well-known fact that there is an inverse correlation between commodity markets and changes in the value of American currency, which, more precisely, depends on the inflationary and deflationary trends. Inflation pushes upwards commodity prices, deflation pushes them downwards. In general, the American currency moves a step ahead of commodities, but factors like war, natural disasters, and political struggles can directly affect commodity prices irrespective of the changes in the US currency.
It is necessary to take into account that metals and energy are the most influential and important constituents of commodities market because of their tremendous influence on manufacturing, GDP and, consequently, on global economic growth in general. Based on historical data, the metals prices are correlated with the US dollar more strongly than the energy prices.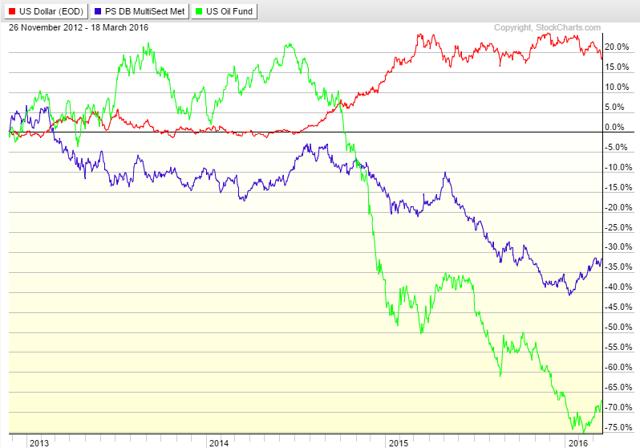 (Source: Stockcharts.com)
Base Metals
From mid-2014, oil prices began to fall due to a weak growth in global consumption of petroleum products, as well as because of an increase in shale oil production in the US and OPEC's refusal to reduce oil production quotas. As a result, the US dollar has increased significantly, raising the risk of deflation, which, in turn, contributed to the reduction of global production. This situation immediately provoked a fall in prices of industrial metals.
Currently, the growth in metal prices is caused by the rise in oil prices. In turn, this dynamics weakens USD against other currencies. Despite the seemingly logical sequence (the growth of commodity prices causing the devaluation of the dollar) is unlikely to work. We have to keep in mind monetary policy, as well. The Fed is not able to reduce interest rates further and can only push them upwards. In addition, this increase should happen in the near term. To remind, the Fed decided to leave interest rates unchanged at 0.5% two weeks ago, just at the time when the inflation rate began to rise again.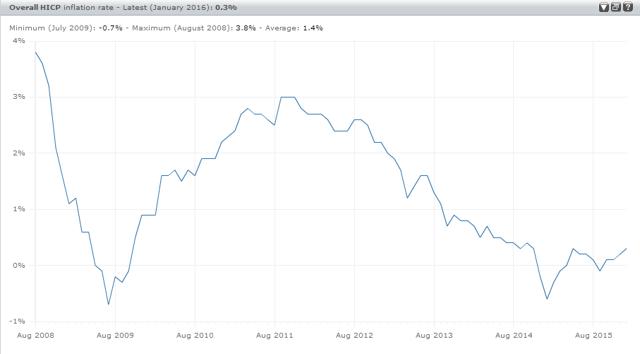 (Source: ECB)
This conjuncture indicates a high probability of increasing interest rates, as we think, in the middle of Q2 2016.
OPEC arrangements and further increases in oil price pushed metal prices upwards and, consequently, caused inflation to accelerate. In the present time, the European Central Bank, along with the Fed, hopes for growth in inflation through the expansion of global production by increasing commodity prices. However, the problem is not in the weak supply but in the fall of demand.
Aluminum
Aluminum (NYSEARCA:JJU) prices began to rise in mid-January 2016, triggered mainly by the increase in the price of crude oil. Aluminum prices depend primarily on the Chinese export volumes, the relative value of the US dollar, and on the price of oil. All three factors have recently been serving as a tailwind. In January 2016, Aluminum exports fell by 12% year-over-year. Also, the general data on exports of aluminum show a gradual decline in production and exports of the metal. Producers such as Alcoa estimate that 70% of aluminum smelting capacity in China is cash-negative at current prices which may lead to the perception that China might cut capacity. We believe that the growth in aluminum prices will not last long because when the Fed raises rates, Chinese aluminum production and exports will start to rise, which should immediately send the price downwards.
Copper
The main influencing factors on the price of copper (NYSEARCA:JJC) are Chinese imports, the value of the dollar, and the price of oil. As you know, China's economy began to slow down which has had a negative impact on the manufacturing sector. Thus, the decline in the Chinese production has reduced copper imports. The January 2016 copper volumes were 17% lower than in December 2015. Copper producers, however, are not going to reduce copper production in 2016, as they expect consumption growth in less developed countries. In general, the price of copper will be moving sideways in 2016 until the value of the US dollar changes significantly, because the demand for copper will not change significantly this year.
Zinc
In response to falling demand, a lot of key zinc producers [e.g. Zinco Do Brasil (OTC:ZNBR), Canadian Zinc (OTCQB:CZICF), Horsehead Holding (OTCPK:ZINCQ)] have greatly reduced their production. This factor is predominant for zinc prices. However, this decision was not triggered by market fundamentals, such as demand and supply, but purely psychological (behavioral) reactions of the market's participants. We also think that the price of zinc will depend entirely on the value of the US dollar during this year.
Conclusion
In our opinion, prices of base metals (aluminum, copper, zinc) will moderately grow in the coming months. After that, we expect a slight pullback and a sideways trend onwards. The economic situation in China is worse than expected. The recent statistics on corporate loans in China have shown their significant growth relative to GDP. This foreshadows a further deceleration in China's economic growth to a point where serious restoration measures will be accepted. The Fed's interest rate increase should have a positive impact on the manufacturing sector in China. On the other hand, this will hinder a further increase in copper and aluminum prices. Currently, it seems that only a fall in the value of the US dollar relative to other currencies can provide a long-term bullish trend in the market for base metals.
Societe Financiers is an investment research team focused on long-term, long- and short-only ideas. Our research objective is to cover equities in various regions, such as North America, EMEA, Asia, Australia, and Emerging Markets.
Readers should consider whether any advice or recommendation in our research articles is suitable for their particular circumstances and, if appropriate, seek professional advice, including tax advice. The price and value of investments referred to in our research articles and the income from them may fluctuate. Past performance is not a guide to future performance, future returns are not guaranteed, and a loss of original capital may occur. Fluctuations in exchange rates could have adverse effects on the value or price of, or income derived from, certain investments.
Certain transactions, including those involving futures, options, and other derivatives, give rise to substantial risk and are not suitable for all investors. Transaction costs may be significant in option strategies calling for multiple purchase and sales of options such as spreads.
Disclosure: I/we have no positions in any stocks mentioned, and no plans to initiate any positions within the next 72 hours.
I wrote this article myself, and it expresses my own opinions. I am not receiving compensation for it (other than from Seeking Alpha). I have no business relationship with any company whose stock is mentioned in this article.