In my most recent article, Why Most of What You Believe About Gold May Be Wrong, I discussed the findings of a recent academic paper on the actual investment characteristics of gold. Not surprisingly, this paper found that gold has done a remarkable job of maintaining real value (value adjusted for inflation). Just by glancing at this graph should lead you to believe the same.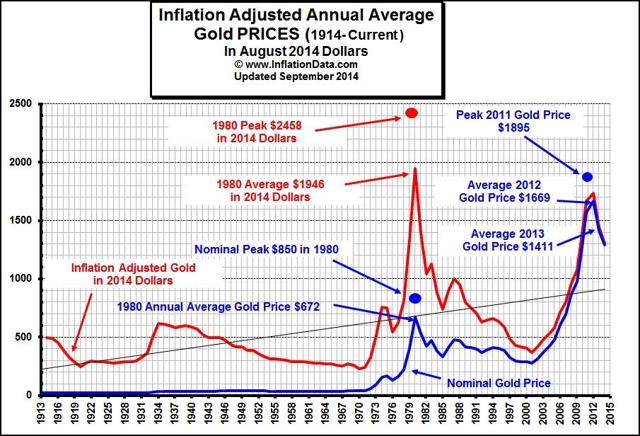 As you can see, the real value of gold has gravitated towards $400-$500 2014 dollars since at least 1914. More specifically, the real value of gold has repeatedly seen spikes followed by declines which have gradually lost steam at around the $400 level; with volatility increasing greatly since the U.S. officially and for the last time went off the gold standard in the early 1970's.
With gold currently valued at around $1,200 2014 dollars, we can infer either of three things from this graph. Either markets are expecting very substantial inflation in the future, markets believe there is another reason to bid up the price of gold, or they believe gold has disjointed from inflation.
Let's take a look at these different possibilities. The first explanation seems fairly plausible. Many are worried that the environment of prolonged cheap could end up causing hyperinflation in the future. This would mean that markets believe prices will end up almost tripling, though. That's harder to believe.
The second possibility is that investor's have another reason to believe gold should be priced where it is currently. After all, gold has historically done well in avoiding market turbulence do to a low correlation with other financial markets. Perhaps this is related to some of the price increase with a global recession still a looming possibility. Still, I find it hard to believe that this warrants a real gold price triple the historical average.
For current valuations to make sense, markets must believe that gold is no longer acting as a proxy for inflation. As was shown in the paper discussed in my last (linked above) article, this has happened before. Gold markets can move very far off of the price that would be expected from inflation-tracking, but in the long-term, it returns to these levels.
Because of all of this, I believe gold will see significant price declines over the next decade or so. It seems reasonable to believe that these declines will occur at a rate faster than the stock market will appreciate during the same period. For that reason, I believe shorting gold will be a market-beating investment.
Disclosure: I/we have no positions in any stocks mentioned, and no plans to initiate any positions within the next 72 hours.
I wrote this article myself, and it expresses my own opinions. I am not receiving compensation for it (other than from Seeking Alpha). I have no business relationship with any company whose stock is mentioned in this article.