Intro:
I have been very Bullish on Cancer Genetics, Inc. CGIX since the firm completed its IPO. However, after CGI's performance over the past two quarters, my opinion has soured. Management has made statements and issued goals that they haven't reached. This article will address the key factors that will have a strong impact on CGI's ability to become cash flow breakeven.
During CGI's March 10th conference call management's big issue was getting scale and becoming cash flow break even by 2017. If management can pull this off it will be great for investors. However, if Cancer Genetics does not start moving towards cash flow break even more dilution is on the way.
Masking Declining/Stagnant Revenues.
CGI reported its Q4 and full year 2015 financial results on March 10, 2016. In 2014 the company reported revenues of $10.2 million and in 2015 $18 million, a 77% increase. At a first glance, this increase appears to be significant revenue growth. However, with a deeper look, most of CGI's revenue growth is not organic. Since its IPO, CGI has purchased 3 companies. The firm's most recent purchase was Response Genetics. These purchases have effectively masked CGI's stagnant or declining revenue growth of CGI's core business. Take Q4'15 for example. CGI's revenues from its core business, not including the recent purchase of Response Genetics, actually decreased YOY Q4.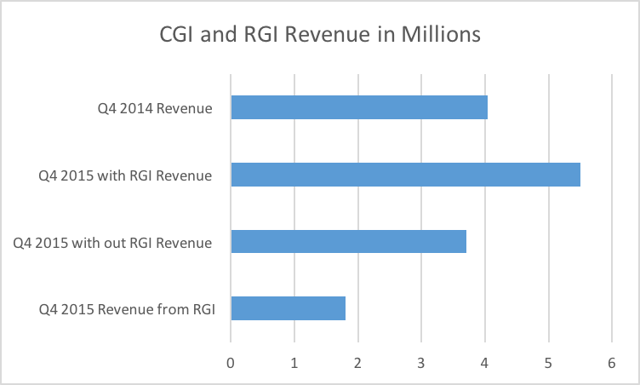 Figure 1
As figure 1 indicates, Q4 2014, before the Response acquisition, CGI had $4.04 million in revenues. After the purchase of Response, CGI reported $5.5 million as a combined business. RGI's business accounted for $1.8 million of CGI's total $5.5 million in revenue. That leaves roughly $3.7 million core business before the RGI acquisition. The $3.8 million of CGI's core business in is actually a $.34 million decrease YoY for Q4 revenue, which is a far cry from the superficial 37% increase in revenue growth that the company reported. Management has been masking the stagnant and declining revenue of CGI's core business, by purchasing other companies and integrating the purchased companies revenues' into the core business of CGI.
Mergers and acquisitions can be a great way to grow a business. However, purchasing existing businesses costs a lot of money, and CGI's business model cannot be self sustaining without becoming cash flow break even. Most companies use their retained earnings or special public offerings to raise the capital to purchase a business. CGI is not a profitable company. Therefore, it needs to use company stock or sell more stock to raise the capital, which results in large amounts of dilution, to make these acquisitions.
Cash on Hand
Currently CGI's burn rate is around $5 million dollars a quarter, and it has around $19 million cash on hand. At this burn rate, CGI has enough cash on hand for roughly 4-5 more quarters. Therefore, CGI desperately needs to become cash flow breakeven before it runs out of money, or it will be forced to issue more stock and dilute the existing shareholder pool even further.
Becoming Net Positive and Cash Flow Break Even
CGI still has many cards up its sleeves to help create organic revenue growth, to reach scale, and to become cash flow break even. The most important of these are synergies with RGI to significantly improve the gross margins, the relationship with ICON to increase the top line through biopharma sales, and signing contracts with national in network providers.
a. Synergies with RGI
In the long run the Response purchase could pay many dividends, currently however, it is not. RGI's revenues and financial state were in a seriously deteriorated positon when CGI purchased the assets of the company. CGI needs to trim the fat of RGI and rejuvenate the company's sales and existing customer base quickly in order to make the purchase worth it. The company paid $14 million for the assets of RGI. Roughly $7 million in cash and $7 million in stock. Using this cash forced CGI to issue a secondary public offering in order to have enough cash to continue its own operations and take on the increased costs of operating the assets RGI. Management believes that the incorporation of RGI will add an additional $10- $12 million in revenues over the next twelve months, and it will save roughly $5 million in synergies with the combined business. Only time will tell if management is right, but based off of the current numbers from Q4, they are not on track to meet those objectives. Hopefully, the coming quarters will show a recovery of RGI's revenues.
b. Relationship with ICON
Management has been very high on the relationship with ICON, by claiming it has brought CGI to negotiating tables it would have never been involved in without the agreement. They have also been very vague about the agreements as well. Panna Sharma, on several occasions has stated that there have been several "wins" because of ICON. However, there haven't been any announcements on contractual agreements that been made since CGI announced they were in a relationship with ICON. Mr. Sharma did mention, during his presentation at Source Captial's Disruptive Growth & Health Care Conference, that the nature of the agreement with ICON gives CGI limited ability to make public announcements. This nature of the agreement puts investors of CGI into a very difficult position, because they don't have a firm grasp on how to value the relationship.
Management needs to become more transparent with its biopharma contracts. Mr. Sharma stated, during the most recent CC, that management is putting most of its energy into the biopharma side of the business. Given that the clinical side of the business has been declining in sales and the Medicare reimbursement rates have been up in the air over the past year, management has decided that creating biopharma relationships is the most promising way to make scale. Therefore, the ICON relations has arguably become the most important aspect of CGI's currently business model.
c. National in Network Providers
CGI needs to have its tests adopted by hospitals and doctors. In order to do this, the company needs to expand its reimbursement capabilities. As Mr. Sharma stated in March 10th CC, the best way to do this is by establishing relationships with national in network providers. CGI has started to gain some traction with the Blue Cross Blue shields. However, CGI needs to concentrate on getting the larger national providers on board, to have its test adopted, receive reimbursement, and to further increase its scale.
Conclusion
CGI's management needs to start delivering. There has been little to no organic overall growth for CGI, it is burning to much cash. The current state of the company's revenues and cash flow will not sustain everyday operations through 2017. Therefore, CGI needs to increase its revenues to management's target of $10 million a quarter. CGI has the potential to reach cash flow break in the distant future. However, this author does not believe CGI has sufficient cash on hand to carry it to profitability. CGI will likely need to issue another secondary public offering before it reaches the breakeven point.
Disclaimer: This article is not a recommendation to buy or sell any stock mentioned. These are only my personal opinions. Every investor must do his/her own due diligence before making any investment decision.
Disclosure: I hold no positions in any of the stocks mentioned above and do not play on purchasing shares within the next 72 hours.
I wrote this article myself, and it expresses my own opinions. I am not receiving compensation for it (other than from Seeking Alpha). I have no business relationship with any company whose stock is men
Disclosure: I/we have no positions in any stocks mentioned, and no plans to initiate any positions within the next 72 hours.
I wrote this article myself, and it expresses my own opinions. I am not receiving compensation for it (other than from Seeking Alpha). I have no business relationship with any company whose stock is mentioned in this article.
Editor's Note: This article covers one or more stocks trading at less than $1 per share and/or with less than a $100 million market cap. Please be aware of the risks associated with these stocks.