Over the past several quarters, Oracle (NYSE:ORCL) has been plagued with slowing revenue growth and negative foreign exchange rate headwinds. Additionally, Oracle's financials have been negatively impacted as it has made the transition from software to a cloud/subscription-based model, a move that has negatively impacted their operating margins. However, Oracle's recent Q3 performance released in mid March indicates that the company shows excellent potential in the cloud services industry. In the Q3 2016 results, Oracle reported healthy EPS growth, a $10B share buyback plan, and increasingly strong cloud metrics. Over the past several quarters, the decline in their licensing segment, which is their traditional business line of selling licensing for software installed on corporate systems, 9% has proven to be an impact on their transition into the cloud market. In their Q3 report, Oracle reported strong SaaS revenue of $585 million, a year-over-year increase of 61% versus guidance of around 50%. Additionally, management announced 942 SaaS and 1,143 PaaS customer wins, bolstering Oracle's penetration into the competitive cloud-based software markets. It is reasonable to believe that Oracle's customers will stay with it during this period of transformation due to the sticky nature of Oracle's products and high costs of switching in the industry.
While Oracle lacks the sexiness and high growth rates of pure-play cloud service providers such as Salesforce.com (NYSE:CRM) and Workday (NYSE:WDAY), Oracle's years of investment in building unique and company specific cloud based applications allows it to successfully hold onto its core customers, which include Fortune 100 companies. Oracle continues to win some of the largest companies as customers in their cloud services offerings and new cloud signings continue. This is due to their constant innovation that is driven by products such as the new Oracle 12c, which gives its users the benefits of in-memory and cloud options. The databases provided by Oracle contain key data for companies, allowing them to manage their business through dashboards and applications, all of which is best provided by Oracle's cloud offerings. While cloud-based services market is very competitive, Oracle is the only software vendor with a nearly complete suite of Software as a Service applications. Oracle is poised to benefit from several drivers over the course of 2016 and 2017 including the potential for sales force productivity improvements, the "in-memory" option in Oracle Databases, increasing adoption of Fusion Applications and Platform as a Service offerings, and the market opportunity for Engineered Systems. Increased product offerings, coupled with Oracle's established brand recognition and name in the software space, should bolster sales growth going forward.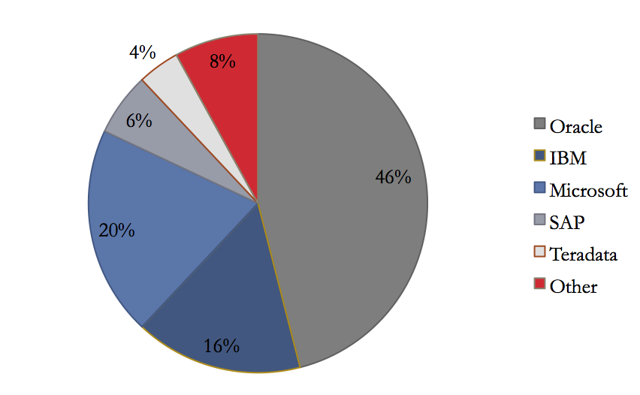 Oracle is trading below the mean and median multiples of other mega-cap technology stocks.
Over the past year, Oracle has ramped up its sales force and has incurred increased amounts of Sales, General, and Administrative expenses from marketing and training this larger sales force, incurring SG&A costs at 22.8% of sales in 2015. This will be streamlined over the next few years, and we should expect to see a decrease in SG&A related expenses over the next five years. Additionally, gross margins should continue to improve after some erosion over the past year, with operating margins moving from an average of 40% over the past three years towards above 80% in the coming years in the cloud segment.
Similar to Oracle, Microsoft (NASDAQ:MSFT) also has made a move to the cloud based services business. Both mega cap companies depend on large businesses for their revenues (Microsoft on PCs, Oracle on databases). Microsoft has been given a lot of credit for this transition, while Oracle has received questions, while in many ways they are better positioned. This can be seen in the valuation of the two companies - Microsoft is 26% more expensive on projected full year 2017 P/E and 15% more expensive on projected 2017 EV/FCF. Microsoft has entered the rapidly growing public cloud market where Oracle is catching up in the Software-as-a-Service market. Microsoft, however, has entered the lower-value layer of the cloud in increasingly commoditized areas of storage and servers. Oracle on the other hand is looking more into cloud computing, which will result in higher margins and stickier revenue streams. This, I believe, puts ORCL in a much better position moving forward, and their ability to cross-sell these products in an established market of customers will enable their cloud segment to grow over the next several years.
The second release of Database 12c will be a driver of licensing segment revenue through 2017, which has been declining over the past several quarters. This second release will include an in-memory option for flash cache. In-memory options are seeing the highest uptake of database option. This second release is expected to be as important to Oracle as the RAC was in the early 2000s. Oracle's ability to cross-sell its products to existing customers will allow Database 12c to successfully gain traction, boosting operating margins and slowing the decline of revenues in the licensing segment.
In this transition, the largest competition that Oracle faces is from pure-play cloud providers, like Salesforce. Oracle's strong customer relationships and ability to cross-sell protects it from these competitive pressures. Another risk to investors is that their new products do not gain traction and the decline in licensing revenues cannot be offset by the cloud segment. Even if Database 12c does not gain traction as quickly as expected, management remains confident that growth in the cloud will continue to grow up to 61% into the fourth quarter of 2016 and will continue to grow into 2017.
Forex headwinds combined with the lag from their transition to a subscription-based service have caused Oracle's share price to become increasingly undervalued. Oracle's ability to retain customers through their established sales networks and established brand reputation while continuously innovating their product offerings allows them to maintain and increase revenues from existing customers as they transition to updated and new products. Oracle shows strong upside potential as it concludes its multi-year transition to the high-margin cloud business, a transition which has caused the market to undervalue Oracle based on transient trends in their margins and growth. The economic moat provided by the sticky nature of Oracle's products in combination to high switching costs protects Oracle against an industry of increasing competitive pressures. An expansion of their cloud services combined with the streamlining and cost rationalization efforts of ORCL's workforce provide it with expanding gross margins in the future and organic revenue growth of 4-7%. I recommend a buy of Oracle, with a fair value estimate of $45-50, providing an upside of 12.5 - 25% to investors from the current price ($40).
Disclosure: I/we have no positions in any stocks mentioned, and no plans to initiate any positions within the next 72 hours.
I wrote this article myself, and it expresses my own opinions. I am not receiving compensation for it (other than from Seeking Alpha). I have no business relationship with any company whose stock is mentioned in this article.