The Craft King has lost some steam
In the past year Boston Beer Co.'s (NYSE:SAM) stock has fallen 28%. Those who had major stakes in the company are probably very disappointed by this turn of events, but let's face it the valuation was never really there to support the $300 a share price tag last year.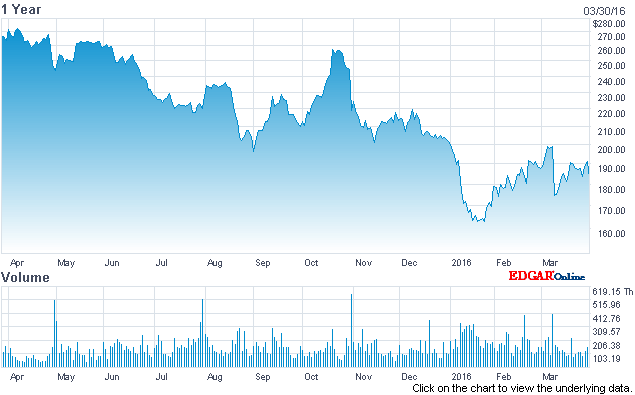 (Nasdaq.com)
Let me be perfectly clear, I LOVE THE COMPANY. I want to own it. I desperately want it to be the dream stock like it's beer is. Unfortunately, we missed the boat. I don't see the huge potential of another stock price surge. The craft competition is growing. Bigger competitors are making their own version of craft brews, while the little guys take a piece of the pie as well.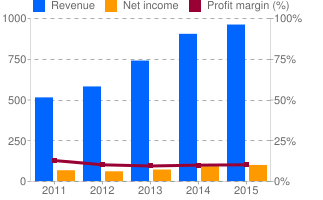 (Google Finance)
Yes the revenues still grew in 2015, but not at the pace of the past. More importantly to me, profit margins aren't keeping up. The massive growth story of Samuel Adams already happened. That's not to say that the company isn't still offering value to investors. With a fresher and more appealing P/E of 25, Boston Beer Co. is still okay. I also like the improvements in earnings per share. What bothers me more than anything is the way in which Boston Beer Co. has failed to increase profit margins. If you look at the income statements over the past 4 years; revenues, gross profits and operating income have grown annually. I even like the balance sheet. They avoid debt like the plague (a plus in my book). What I don't like is how their cost of goods sold has been growing at higher rates than their revenue stream.
| | | | | | |
| --- | --- | --- | --- | --- | --- |
| Boston Beer Co. | 2011 | 2012 | 2013 | 2014 | 2015 |
| Revenue | $513,000,000 | $580,220,000 | $739,050,000 | $903,010,000 | $959,930,000 |
| % change | | 13% | 27% | 22% | 6% |
| Cost of goods sold | $228,430,000 | $265,010,000 | $354,130,000 | $438,000,000 | $458,320,000 |
| % change | | 16% | 34% | 24% | 5% |
| Net income | $66,060,000 | $59,470,000 | $69,880,000 | $90,740,000 | $98,410,000 |
| % change | | -10% | 18% | 30% | 8% |
| Diluted EPS | $ 4.81 | $ 4.39 | $ 5.18 | $ 6.69 | $ 7.25 |
Boston Beer's attempts to maintain growth are going outside the traditional beer category. They are producing results such as hard root beer, or their last big catalyst, their angry orchard hard cider. The stuff is delicious but I'm not going to drink it over and over again. My hope and prayer (as a devout Boston lager fan) is that Boston Beer co. doesn't screw up their costs by acquiring craft brewers with inefficient practices. Stuff like hard root beer just doesn't seem to have the large scale appeal needed for the growth of the past.
The one way that I see this stock having huge upside potential would be in a buyout situation. I imagine Jim Koch would shed a few tears over this, but has stated that he'll probably be the "last American owner" of Boston Beer Co. Much of the controversy has to do with corporate taxes which are a real problem. Who knows, Koch may get an offer he can't refuse.
The thing that makes the company great is also what will hold it back.
Boston Beer's greatest asset is they are entirely about the product. It's this same sentiment that will keep them from growing. Jim Koch cares deeply about Boston Beer Co. and does everything in "its" best interest. They do very little with their cash other than reinvest in beer. These people are PASSIONATE about beer. Heck, they've helped the competition. The problem is this sort of thinking gets investors thinking "forget that, show me my return." Boston Beer is not a stock for those guys. I don't see how they can please shareholders without giving up what makes them special. Sadly, the craft ways that make it so awesome, are also what will keep it from ever being Anheuser Busch (NYSE:BUD).
Disclosure: I/we have no positions in any stocks mentioned, and no plans to initiate any positions within the next 72 hours.
I wrote this article myself, and it expresses my own opinions. I am not receiving compensation for it (other than from Seeking Alpha). I have no business relationship with any company whose stock is mentioned in this article.