Prologue
On 9 July 2015, I wrote an article where I listed "10 Warning Signs Regarding Equities That Investors Shouldn't Ignore." The next day, I also asked, "Is Something Really Bad Going To Happen Soon?" which was the first part of an ongoing series (here are part II and the most recent part III)
Nine months later, following Janet Yellen's dovish tone and as we reach the end of a very volatile Q1, I find it both interesting and important to look at the main risks that lie ahead.
The S&P 500 (NYSEARCA:SPY) is marching higher and soon enough the index may be threatening to break the all-time high. In this article, I'll also try to provide answers to two of the most important and immediate questions:
Will the S&P 500 manage to break the 2,134.72 level?
... and if it does, will it hold up? Will the current resistance level turn into a support level?
From July 2015 to March 2016
"A picture is worth a thousand words" and so are a few charts that tell the story of the past nine months better than thousands words:
Here is how the main US equity indices ETFs (SPY, QQQ, DIA, IWF, IWB) have performed over the past nine months: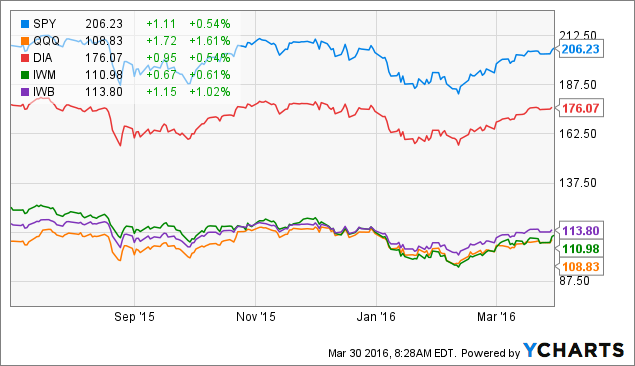 Here is how the main equity sectors ETFs (VNQ, XLF, XLE, XLK, XLV) have performed over the past nine months: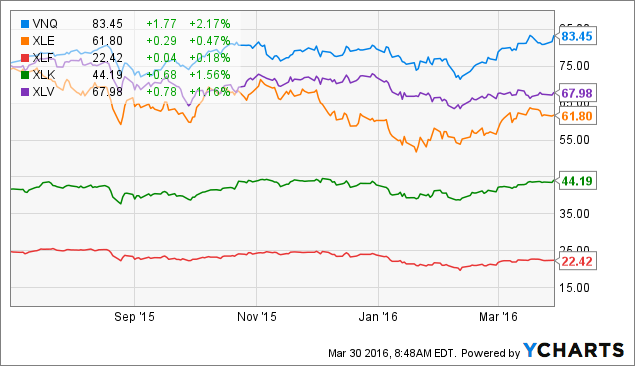 Here is how the main non-US equity indices ETFs (EFA, VWO, VEA, EEM, EWJ) have performed over the past nine months: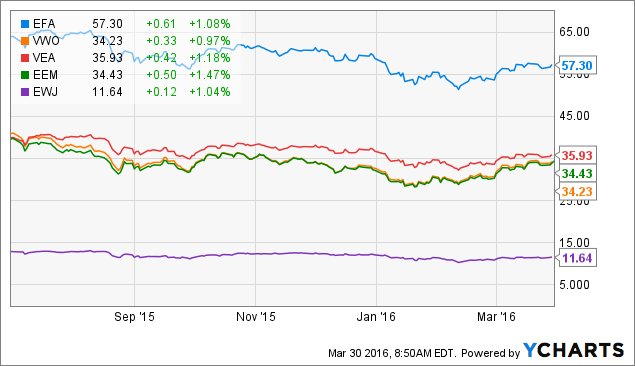 Here is how the main fixed income ETFs (AGG, BND, LQD, HYG, JNK) have performed over the past nine months: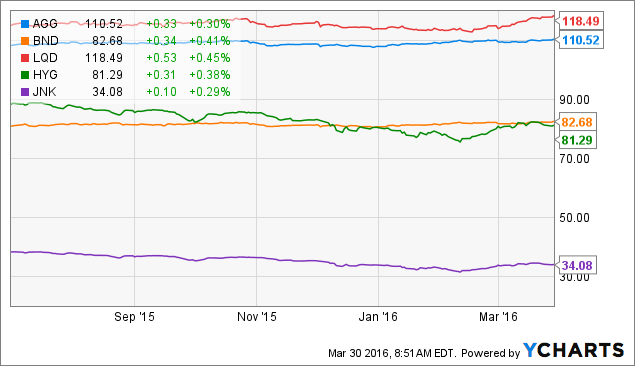 Here is how the main commodity and US Treasury ETFs (GLD, SLV, USO, TIP, TLT) have performed over the past nine months: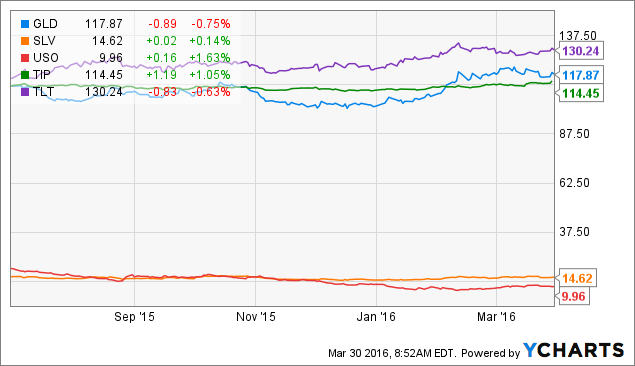 A few immediate observations out of these charts:
Q3/2015 was clearly a negative period for equity markets, i.e. the warning signs materialized very quickly.
During Q4/2015, equity markets have gained what they lost in Q3/2015.
Q1/2016 is very similar to what we saw during Q3 and Q4 of 2015 though more to the extreme on both magnitude and tenor fronts. What we experienced from 1/1/16 until 2/11/16 is similar to what we saw during Q3/2015. Similarly, what we've experienced since 2/12/16 feels very much the same as Q4/2015 felt.
Correlation runs very high. Not only that (since 2/11/16) everything is up but everything is up simultaneously. It's quite rare and mostly odd to see that all asset classes - US and foreign equities, US Treasury notes, Investment Grade ("IG") and High Yield ("HY") debts, precious metals and energy prices - are going up together.
While the Technology and Healthcare sectors are outperforming, Financial and Energy are lagging.
Current warning signs
Most of the old original warning signs are off the table, especially after we finally got the most warranted e current list of warning% correction during Q1. Nonetheless, there are still more than a handful warning signs that investors should pay close attention to:
Poor debt quality as being reflected through credit ratings. As a matter of fact, according to the S&P, the average corporate credit rating is at a 15-year low.
P/E ratios are way above their long-term averages. While this is very much attributed to the suffering energy sector, even if you eliminate temporary/seasoning factors, the P/E ratio still doesn't look compelling compared to historical data.
The EPS is already on the decline since July 2015 (A perfect warning sign!). What is amazing to see is that earnings expectation keeps getting worse:

The rally is on but it can't last forever. True, we got our 10% correction, which I believe was a very welcome and needed one. Nevertheless, after ticking the "10% correction" box, we may be looking at a more significant correction down the road; perhaps even a decisive end and a final accord to this over 7-year (!) long rally. This may come in the form of entering a bear market territory, i.e. a minimum 20% correction.
The Fed's tightening policy and rising interest rates. "Hiking or not hiking?" - That is the real question! Or is it not? It's hard to understand the Fed policy and it's even harder to follow the frequent swings between Fed members' speeches... As long as we will get no more than the 2 hikes, or 0.5% in total, that are in line with the current consensus (simply based on Yellen's most recent speech) there's not much to worry of. If, however, the Fed for whatever reason decides to raise more than 0.5% - we may see the market reacting nervously and aggressively.
US elections. The US presidential elections - scheduled for Tuesday, November 8th, 2016 - are not that far away anymore. We are about half way into the caucuses and while we have clear front-runners, it's hard to make a final call as to who is going to represent each party and it's much harder to predict who is going to win these elections. Different people have different views and that's true not only when it comes to politics but also to the implications of politics over the markets. Is candidate X winning/losing the elections good/bad for the markets? Nobody really knows but that's a threat for sure!
Where is the S&P 500 headed to?
As I write this article (3/30) the S&P 500 is at 2069, already positive YTD, and only about 3% off its all-time high. That's quite amazing taking into consideration where we were just seven weeks ago (1,810.10, February 11th). Where are we heading from here?
Short term: In light of Yellen's speech and the combination of both the end of Q1 and the beginning of Q2, I definitely don't rule out a break of the all time high 2,134.72 level. Yet, I give this scenario less than a 50% chance because I believe that many investors would cash out before we break this level.
Furthermore, I see too many factors and warning signs - as indicated above - that make it very hard for this market to keep marching higher significantly, out of which the most troubling factor is the upcoming earnings season that is about to start and is expected to be quite disappointing. On the one hand, the low expectations are already built in and shouldn't come as a surprise. On the other hand, after a very fast and furious over 14% run up, it seems like the slightest disappointment can take these markets down easily.
Long term: I stay very cautious when it comes to the market as a whole. I strongly believe this is a stock-picking market - and this is true for a couple of months already. The glory days of "buy the market and go to sleep" - and easy money that comes along - are over. Investors will need to work hard, much harder than they may recall, to make money out of this market.
My top sectors for this market are:
Interest-rates sensitive instruments. BDCs, mREITs, eREITs, even (to a lesser extent) MLPs. I don't expect the Fed to raise interest rates more than twice and if anything, I expect less, not more. It seems like low interest rates, like diamonds, are forever with Janet Yellen playing the role of James Bond (saving the world)... Low rates are here to stay. That's a fact. Low rates are supportive for the market as a whole and especially for interest-rates sensitive instruments.

Even the UST 10-2 years spread has widened yesterday (UST10Y down 7bps, UST2Y down over 8bps), following Janet Yellen's speech. While one day means nothing, the message I take from that is that even in such a day, when one would expect the long end of the curve to react way more aggressively than the short-end of the curve, the spread still widened. The trend (of the spread) is (and will be) your best friend!

I don't know for how long and to what extent will this continue but the fact is that mREITs and BDCs - two very depressed segments until two months ago - are experiencing one of the biggest rallies in years.
Large cap energy stocks. There are many reasons to be bullish on oil prices. Not only that I expect energy prices to recover but investors should bear in mind that despite oil's decline, energy companies win with equity offerings as well as that stock dilution is OK for energy investors, because the alternative is far worse. Energy stocks have had a tremendous run up over the past two months, but even there, not all (energy) stocks are born equal and there are many E&P companies that have outperformed the S&P 500 Energy Index by more than 10 percentage points since their respective offerings YTD: EGN, OAS, DVN, MRO, NFX, CPE, FANG, WFT, QEP, HES, SYRG. Others are outperforming the index by 1-10 percentage points: PXD, GPOR, PDCE, MTDR and there's one company, COG, that in spite of its recent offering is underperforming the index.
Epilogue
Early July 2015 was a time where many warning signs clouded in the sky. Those signs materialized during Q3 of 2015 but the skies turned bright again during Q4 of 2015.
Early January 2016 was a time where a major correction has started, the first one of its kind in circa seven years. After an over 15% drop, from peak to through, the S&P 500 has recovered completely - and even added some gains - since February 11th.
It's hard to predict where we are headed from here but it's very easy to identify many warning signs that still hang above us. The upcoming earnings season will be very significant to the market direction. While I believe that in the short term we might see a new all-time high, this isn't my main-case scenario. More important, even if the S&P 500 makes an all-time high, I expect it to test the 2000 no later than the end of Q2.
How low underneath - I really can't say, but I strongly believe that investors should get themselves ready for a very hot summer!
This is a stock picking market, and therefore, I strongly recommend to have your level of safety and protection in place. Since I believe in certain sectors, I'm mostly running a LONG-SHORT hedged strategy that will, hopefully, allow me to benefit from my LONG picks more than I may suffer from my SHORT picks, but let's leave some stuff for future articles.
Disclosure: I/we have no positions in any stocks mentioned, and no plans to initiate any positions within the next 72 hours.
I wrote this article myself, and it expresses my own opinions. I am not receiving compensation for it (other than from Seeking Alpha). I have no business relationship with any company whose stock is mentioned in this article.