The 2015-2016 DRAM downcycle continues apace: Micron Technology (NASDAQ:MU) missed FQ2 revenue estimates (while beating on EPS) and guided in its earnings slides (.pdf) for FQ3 revenue of $2.8 billion-$3.1 billion and EPS of -$0.05-$0.12, below consensus estimates of $3.2 billion and $0.04.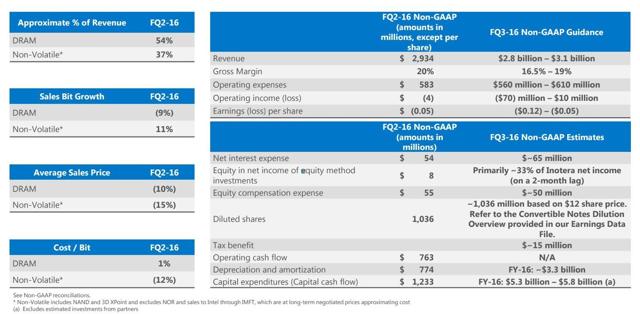 Source: Micron's FQ2 earnings slides
Lower NAND costs prop up EPS
Helping FQ2 EPS beat estimates: Though down from FQ1's 25% and the year-ago period's 34%, gross margin of 20% was at the high end of a 17.5%-20% guidance range. Gross margin is expected to drop to 16.5%-19% in FQ3. A 12% Q/Q drop in non-volatile memory (mostly NAND flash) cost/bit propped up Micron's FQ2 gross margin. DRAM cost/bit rose 1% as Micron continues its 20nm process transition. Also lifting EPS: FQ2 operating expenses of $583 million were below a $592.5 million guidance midpoint.
Price pressure remains intense: DRAM and non-volatile ASPs, respectively fell 10% and 15% Q/Q, after dropping 13% and 7% in FQ1. DRAM bit shipments fell 9% Q/Q (seasonality played a role), while non-volatile bit shipments rose 11%. DRAM fell to 54% of revenue from FQ1's 58%; non-volatile rose to 37% from 34%.
DRAM and NAND challenges
Notably, Micron forecast DRAM industry bit supply growth - lifted in recent quarters by Samsung's (OTC:SSNLF) capacity ramp - would drop to the low-to-mid 20% range in 2016, and stated on its earnings call supply growth could drop as low as 20% in 2017. But it didn't give a number for 2016 bit demand growth. Rather, the company admitted "the current environment remains challenging," and forecast "longer-term" bit demand growth would be in the low-to-mid 20% range.
NAND bit supply, boosted by 3D NAND ramps (including Micron's), is expected to be in the mid-to-high 30% range - Micron doesn't provide a bit demand growth forecast, but does predict 3D NAND's cost and performance benefits will provide a sales lift. A boost to PC and server/storage SSD penetration rates certainly seems possible, as the delta between SSD and hard drive prices (on a $/GB basis) narrows further.
The company reiterated guidance (provided at February's analyst meeting) for its DRAM bit shipments to see a 20%-30% CAGR in FY16 and FY17 (ends Aug. 2017), and for NAND bit shipments to see a 30%-40% CAGR.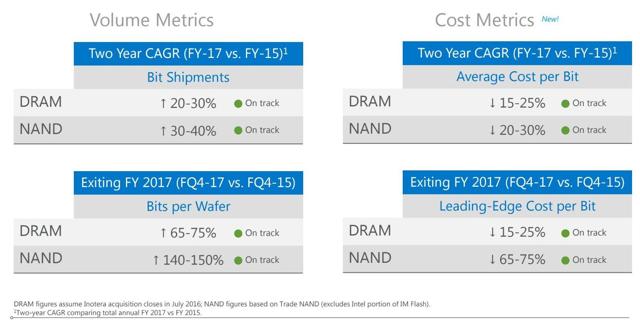 Source: Micron's Feb. 12 analyst meeting slides
Looking at Micron's DRAM end-market performance in FQ2, sales were pressured not only by soft PC demand (a fact of life for some time), but by mobile weakness - mobile accounted for a low-20s % of DRAM revenue, down from the low-30s % in FQ1. PCs remained in the mid-20s %.
On the call, Micron mentioned mobile DRAM sales were hurt by "the timing of product qualification as we transition customers to 20-nanometer versions of LPDDR4 products." Softer-than-expected iPhone sales could also be weighing, judging by the guidance provided by various other iPhone suppliers. iPhone 7 launches should provide a lift later this year.
On the bright side, server DRAM sales were a low-20s % of revenue, up from the high teens in FQ1. And specialty DRAM (networking, graphics, auto, etc.) rose to the high 20s % from the low 20s %. Aggressive capex plans from Facebook (NASDAQ:FB), Google (GOOG, GOOGL) and other Internet giants will likely help prop up 2016 server DRAM sales.
Looking at non-volatile (i.e. NAND) end-market sales, mobile fell to a low-teens % from a high-teens % in FQ1, and consumer (memory cards, USB drives, components) rose to "more than 50%" from roughly 50%. SSDs remained at a mid-teens %, as did auto, industrial and other embedded sales.
Micron's goals and analyst commentary
As of this moment, Micron is down over 3% and trading just above $10. If there's a silver lining here, it's that the losses and margin pressure being seen by Micron during this DRAM downcycle pale relative to the ones seen in past cycles, as some numbers provided by UBS' Stephen Chin (Buy rating, $14 target) highlight:
"DRAM margins declined to 21-22%. We believe gross margin increases could be moderate going forward given the soft demand backdrop, but are encouraged that ASPs of c.$4/GB remain well above cash costs of c.$2.10."
Going forward, Micron is counting on its 20nm DRAM and 3D NAND ramps to prop up margins. One unanswered question remains how much cost reductions brought up about by 3D NAND ramps will be offset by the ASP pressure created by higher NAND supply.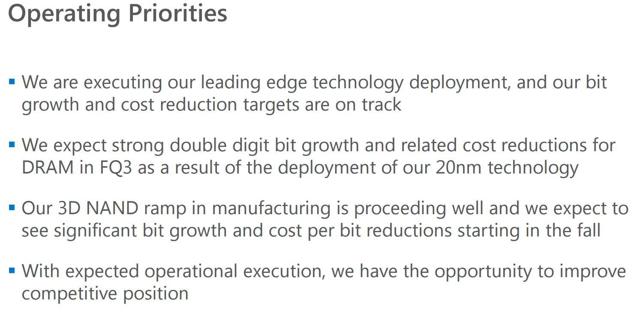 Source: Micron's FQ2 earnings slides
Cowen' Tim Arcuri (Outperform rating, target cut by $7 to $13) is cautious about the near-term, but doesn't see much downside at current levels:
"May was supposed to be the [quarter] where we began to see the big 20nm-related cost-downs in DRAM - and it is (we estimate cost/bit likely down ~10% Q/Q). The problem is that ASP declines are still more than offsetting these declines MU is building inventory, and the window for big cost declines in DRAM is fairly limited as 1x is going to start to become a slight headwind in FQ1:17 ("NOV") and F2:17 (Feb)… a big move back to $20 seems off the table for now. Even so, the stock is trading at [tangible book value] and unless EPS materially worsens from here - which we just don't see - the directional bias seems to be flat or up for the stock even if MU continues to lose money for another several [quarters]."
RBC's Doug Freedman (Outperform rating, $18 target) is still staunchly bullish:
"Our investment thesis remains 2H16 centered, where we see multiple margin expansion opportunities, including: 1)on-track production ramp of 20nm DRAM and 3D NAND, 2) business model transforming with full ownership of Inotera acquisition, 3) a more rationalized DRAM market with production adjustment at Samsung. Current risk/reward profile appears attractive with good downside support…"
Disclosure: I/we have no positions in any stocks mentioned, and no plans to initiate any positions within the next 72 hours.
I wrote this article myself, and it expresses my own opinions. I am not receiving compensation for it. I have no business relationship with any company whose stock is mentioned in this article.
Editor's Note: This article discusses one or more securities that do not trade on a major U.S. exchange. Please be aware of the risks associated with these stocks.