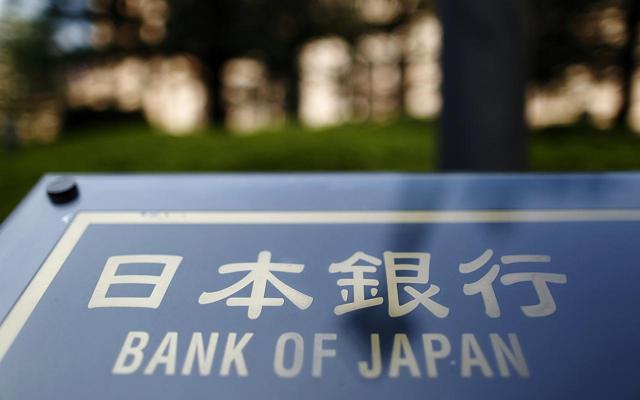 Janet Yellen - the uber-dove.
We expect the Bank of Japan had been very hopeful of a hawkish speech from Janet Yellen this week to help weaken the Japanese yen. Did they get this? Not one bit. Prior to her speech a lot of the market and ourselves were anticipating rate increases from the Federal Reserve coming sooner rather than later. Dr Yellen's speech this week seemed to rule them out completely in the next few months, making St Louis Fed president James Bullards's hawkish comments last week meaningless now.
The normally very dovish Mr Bullard had hinted that a rate hike was coming soon, and some even expected an outside chance of one in April following his comments. Interestingly, though, his comments have proved to be quite true in some respects. He criticized the Federal Reserve for not following through on proposed action. Saying this sort of behavior could damage a policymaker's credibility. Well in our eyes it has.
It is of course unfair to blame the United States for everybody else's problems. Perhaps also it could be proven one day that what they are doing is the right thing. But there are a whole range of economies out there which are struggling to cope with their strong currencies and have no real means of bringing them down. Normally when a central bank cuts interest rates, it has the effect of lowering the returns on financial assets, encouraging investors to move into higher-yielding currencies. A weaker exchange rate makes foreign imports more expensive, which boosts inflation and makes exports more competitive.
The Bank of Japan's attempt to weaken the Japanese yen has been an abject failure. New Zealand's central bank cut its interest rates, which worked for a day or two, but now the currency is stronger than it was pre-rate cut as you can see below. In fact, the New Zealand dollar just recently hit a high for 2016. This 25 basis point rate cut has really been a waste after the Federal Reserve backed down from its proposed action.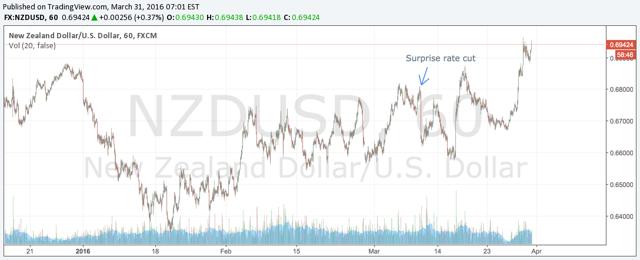 Sourced from DailyFX
What will the Bank of Japan do now?
The question now is what the Bank of Japan can do to bring down the yen. Although the aim is not necessarily the yen, but rather hitting its inflation targets, the yen is seen as a major part of the problem. Its strength makes it incredibly hard, if not impossible, for the Bank of Japan to reach its 2 percent inflation target. It is also damaging to its exports, and as you can see below, they have been dwindling fast causing the balance of trade to be largely negative.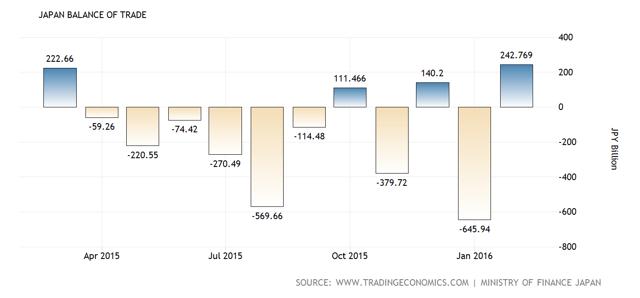 With the Federal Reserve looking very unlikely to increase rates any time soon, the onus is on Governor Kuroda and the Bank of Japan to take action. On Thursday Governor Kuroda once again reiterated his view that there were no limitations to the Bank of Japan's easing. We believe this almost guarantees either further interest rate cuts or perhaps even a new quantitative and qualitative easing program at its next meeting in around four weeks' time.

Sourced from Trading Economics
What to do now.
We continue to be bullish on the U.S. dollar in the long-term. The Federal Reserve's reluctance to lift rates again is certainly testing our patience, but we have always had a long-term view on things. The Bank of Japan certainly needs to weaken the yen, lest it suffer from another lost decade to deflation. We don't believe Governor Kuroda will allow that to happen, though. As tough as it may be for them to figure out how to bring it down against a dovish Federal Reserve, we think they will get there eventually.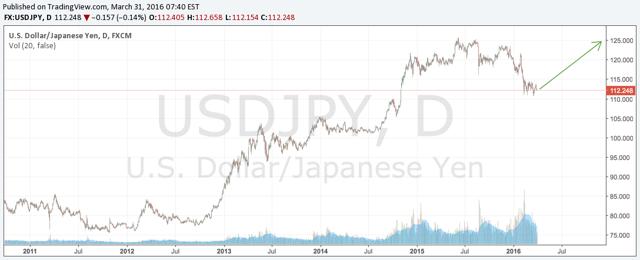 Sourced from DailyFX
Our view is that the U.S. dollar will eventually strengthen to 125.000 against the yen. This is a massive 11.3 percent gain from where it trades now, hence why we believe this is worth sticking with.
We use futures contracts to trade the USD/JPY pair, but investors can use the CurrencyShares Japanese Yen Trust ETF (NYSEARCA:FXY) to short it (or of course go long the yen) to achieve similar results. Patience will be needed, though, so short term traders would be better looking elsewhere in our opinion.
Best of luck with all your trades!
Disclosure: I/we have no positions in any stocks mentioned, and no plans to initiate any positions within the next 72 hours.
I wrote this article myself, and it expresses my own opinions. I am not receiving compensation for it (other than from Seeking Alpha). I have no business relationship with any company whose stock is mentioned in this article.
Additional disclosure: Long USD versus JPY through futures contracts