Southwest Airlines' (NYSE:LUV) price soared over 18 percent in the last 6 months. But is that the end? Well, I don't think so.
While people have been talking about the deep value in JetBlue Airways (NASDAQ:JBLU) and Delta Air Lines (NYSE:DAL), Southwest does stand as a strong contender among all the growth companies out there.
Below are my 5 favorite reasons why Southwest is a potential buy right now.
Steady Revenue Growth -Boasting of a 5-year quarterly revenue growth of 60.39%, just be American Airlines' 74.05%, Southwest has shown steady revenue growth over the last 5 years.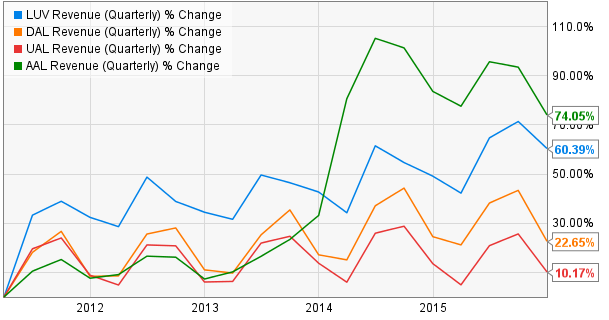 Holding the top position with 18.2% total domestic market share above Delta Air Lines and American Airlines (NASDAQ:AAL), as per US Bureau of Transportation, and the leading position in highly active city areas like Denver, D.C., Las Vegas, LA Basin and Bay Area, Southwest has a great control over the southern and the southwestern area of the country.
With 69 percent share in top 100 O&D city pairs, another potential 50 markets beyond the Lower 48, and 5-6 percent capacity growth outlook in 2016, Southwest's revenue is expected to soar in the coming years.
Cost Efficiency - With (2.0)% Y/Y change in CASM, excluding special items and profit sharing, Southwest has shown its cost efficient nature in the past. That is proven by the high operating margin, when compared to its competitors.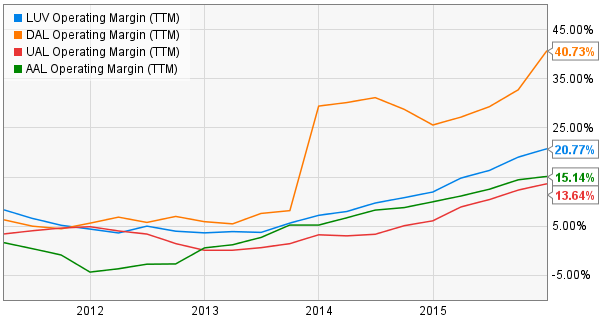 Fuel and oil expenses have gone down to as low as $3.6 billion in 2015 from $5.76 billion in 2013. (Low fuel price is also a factor to this.) With successful fuel hedging, Southwest has earned $2 billion economic fuel savings since 2000. In fact, economic fuel costs are expected to be around $1.75 per gallon, compared with first quarter 2o15 economic fuel costs of $2 per gallon.
Apart from this, aircraft rental expense has gone down to $238 in 2015 from $361 in 2013. Restructuring and modification being the primary focus with a nominal 2 percent or even lower fleet growth outlook through 2018, it can be said that the company is working towards maximum utilization of its assets, just like Delta Air Lines.
Unrestricted Cash Flow - Cash is the lifeline of a business, especially in a capital-intensive industry like airlines, and Southwest is pretty impressive in this regard. Looking at the graph below, we can see that while the Delta and United Continental have recently seen a spike in their free cash flows, Southwest's line has always been quite constant.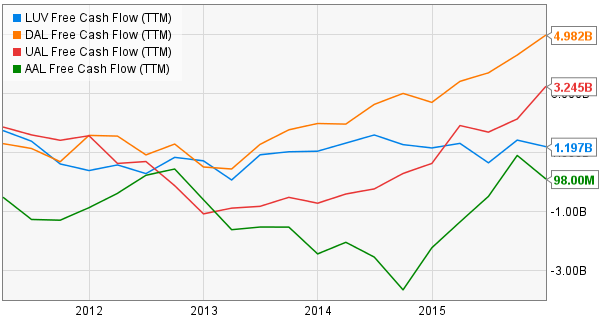 American Airlines seems to be struggling yet.
With potential acquisition opportunities in future or just plain expansion of market being a must, availability of cash defines the feasibility of future endeavors. For example, Southwest has already doubled up its capex to $2 billion since 2011. With $3.1 billion in unrestricted core cash and short term investments and $1 billion line of credit fully undrawn and available, Southwest should be in a sound financial position.
Low Leverage - Southwest's long term debt, standing at $3.17 billion, is lower than American Airlines' $20.56 billion, United Continental's (NYSE:UAL) $10.9 billion and Delta Air Lines' $8.32 billion. Low debt is always preferable when you can finance your capital expenditures from cash flow from operations. This maximizes return to shareholders, reduces credit risk and restricts covenants that might follow with high debt.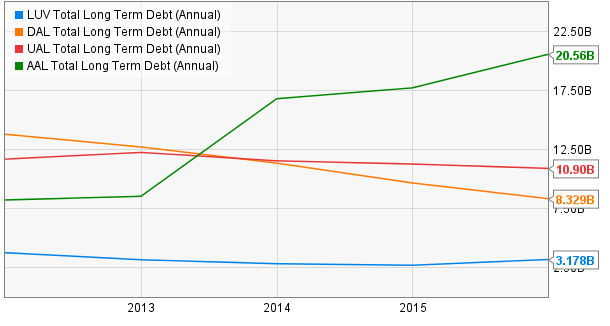 With its total D/E ratio recorded at 45.43, far lower than Delta Air Lines' 76.76, American Airlines' 368.31 and United Continental's 131.15, Southwest should be in a good position if the Fed gets stricter in future. Moreover, it will always have a favorable treatment from the banks in case of any need for cash.
Good Investment Ratings - Rated Baa1 by Moody's and Fitch, and Baa2 by Standard & Poor's, Southwest is being tagged as "investment grade" as per the world's top 3 rating companies. Recently, it has been ranked no. 7 by Fortune as the World's Most Admired Companies.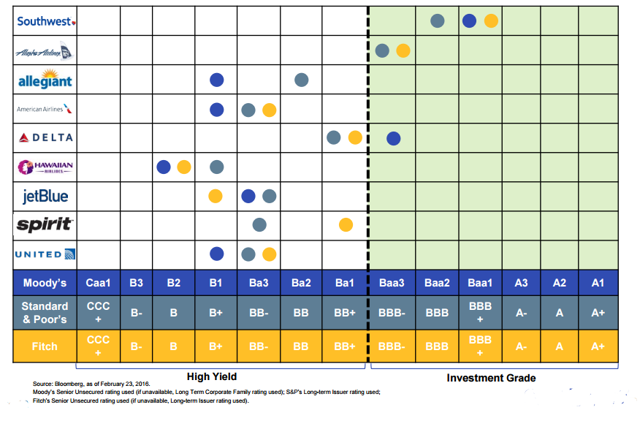 Following the Transfarency philosophy, coupled with exemplary customer service that includes Wi-Fi connection and Boeing Sky Interior, which feels roomier, and ceilings appear higher and feature lighting to match phases of flight for better ambiance, Southwest is all set to increase its popularity among the flyers as well.
Alpha Conclusion
Although it is somewhat priced more than its rivals, I am compelled to say that solid future growth potential, consistent performance track record, strong fundamentals and impeccable industry ratings all signify high value to me. And as such, they inadvertently lead several analysts like Morgan Stanley and Stifel Nicholas, as well as me, to the Alpha conclusion that Southwest is a Strong Buy at the moment.
Disclosure: I/we have no positions in any stocks mentioned, and no plans to initiate any positions within the next 72 hours.
I wrote this article myself, and it expresses my own opinions. I am not receiving compensation for it (other than from Seeking Alpha). I have no business relationship with any company whose stock is mentioned in this article.
Additional disclosure: This article is the author's personal opinion. Please consult your financial adviser before you take any investment decision.