It is Rare and Beautiful
What if I told you that there is a metal more than 20 times rarer than gold, a substance so scarce that mankind may eventually be forced to travel to space and mine it on the moon? What is this cosmic element?
Platinum.
And to put into perspective just how rare this stuff is; all the platinum ever mined could fit into your living room.
Platinum is so rare that it is difficult to find legitimate photos of large quantities of the metal.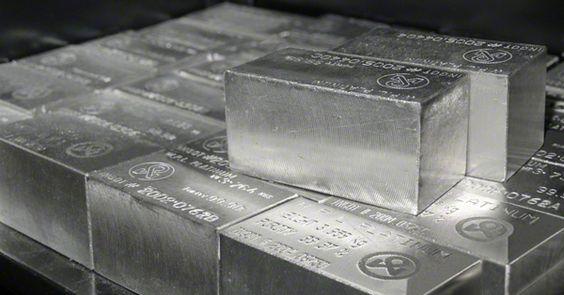 But before you convert your live savings to platinum, know that this metal has a problem. Despite being rarer and (arguably) more beautiful than everyone else, platinum sometimes feels like the unloved stepchild of the precious metals family. Gold and silver get made into bullion and jewelry, while platinum's main use is in factories and laboratories. What is the future for platinum?
Without any more sensationalism, I am going to objectively analyze the case for investing in this metal. The goal is to determine if platinum is a good alternative to other precious metals and figure out what makes its price move.
Platinum and the Economy:
It is hard to say whether or not platinum should be considered a precious metal in the same sense that gold is. Like silver, platinum's value primarily comes from its uses in industry. Most of this use is in vehicle transmission systems, catalytic converters and medical equipment. There is some bullion being stored, and some of the metal is also used in jewelry but the platinum trade is driven by economic output instead of speculation and love — yes, love — like the gold industry is.
Platinum and silver are very similar, not only in appearance but in how they should be viewed as investments. While gold should be seen as primarily a speculative play, platinum and silver should be analyzed by how much economic value they bring to the table. I hate to put it like this, but no one really cares how rare these metals are. The emotional attachment is simply not there. If we run out of ways to make money with platinum its value will drop to practically nothing.
Platinum vs. Gold:
Historically, platinum has traded at double the price of gold.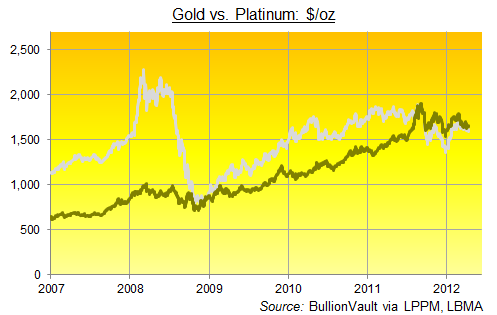 Back in 2007 you couldn't blame an investor for believing that platinum was just like gold with a little something extra. Its rare, shiny, but unlike the yellow metal, it actually has significant uses in industry. What could go wrong? The business cycle, thats what.
Yep, as I mentioned earlier the majority of platinum's use is in automotive emissions devices so when the auto industry in America was on the brink of collapse the value of platinum fell with it. Platinum lost most of its economic and speculative demand after the recession but can they come back? Well, looking at this chart it seems like demand has already come back and platinum as regained most of its price since the crash in 2008. (Note: This chart is 4 years old)
But wait, something is still not right here. Why is platinum still trading lower than gold?

In my opinion this means one or all of several things; either gold is overvalued, platinum is undervalued, speculators have given up on platinum or the global economy has never actually recovered from 2008.
Platinum Production:
There is a bullish and bearish case for the future of platinum production.
The location of platinum production is less than ideal, with over 75% of the metal being mined in one location: South Africa. This country is plagued with labor issues, including strikes and protests some of which are violent. Because the quantity of the metal is so small, one strike was capable of costing 1.9% of the entire global supply in 2011.
As BullionStreet puts it:
The geographical concentration of platinum and palladium in areas known for their political instability, unreliable infrastructure and labour problems has traditionally exposed production to significant disruptions, subjecting prices and producers' margins to substantial fluctuations over time.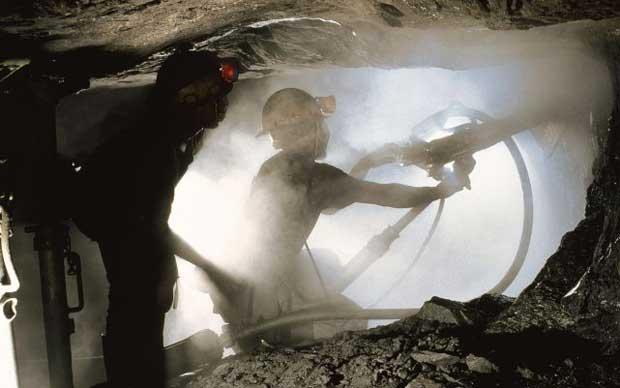 The platinum production situation is undeniably bullish but even this level of supply unreliability does little to boost the demand for the metal.
The need for large quantities of platinum simply isn't there. As the European automotive industry languishes so does the demand for the automobile catalysts that represent the majority of platinum's industrial usage. It is so bad that mines are slowing down production and some may even close. Yes, mines that are extracting a metal 20x rarer than gold are struggling to find buyers.
Conclusion
We are at the point in the business cycle where any investment that is dependent on industrial output, especially consumer discretionary output like automobiles, should be avoided. If the economy enters another recession, platinum will certainly fall even lower than it is now.
I expect platinum will continue to trade significantly below gold for the near future. Only after the economy contracts again, and we begin a new cycle, will this metal become an attractive investment again. This ties in with my previously expressed views that the short term future of gold is bullish but its long term outlook is not. For periods of 1 year to 3 years I expect gold to continue to trade above platinum but for the long term after that, assuming the economy is able to recover from its current morass, platinum has an extremely bright long term future and will return to its place at double the price of gold.
P.S. For those who were wondering why all the hip-hop artists stopped singing about platinum, now you know. This is an article of interest for holders of platinum chains, "grillz," huge watches... and the platinum-focused ETFs PLT, PPLT, and PGM.
Disclosure: I/we have no positions in any stocks mentioned, and no plans to initiate any positions within the next 72 hours.
I wrote this article myself, and it expresses my own opinions. I am not receiving compensation for it (other than from Seeking Alpha). I have no business relationship with any company whose stock is mentioned in this article.